Herraras is a hit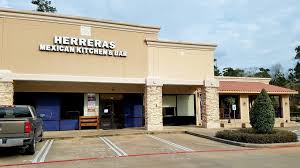 Herreras Mexican Restaurant is a family favorite of ours. In fact, it is our favorite
restaurant to order from. So, when deciding where we would be choosing to get take-out from
due to being quarantined in our house, it wasn't a hard decision at all.
Herreras is located in the Windvale Shopping Center and their address is 9420 College
Park Drive #300, The Woodlands, TX 77384. Their hours are 11am-8pm all 7 days of the week.
Herreras offers any type of Mexican cuisine you can think of, from quesadillas to fajitas
to enchiladas. Their menu is loaded with your basic traditional Mexican meals, all the way to
specialities like stuffed avocado, soups and seafood. They also have a discounted lunch menu
that is only available Monday-Friday from 11-3.
Last Friday, my family decided to order Herreras for dinner. We ordered the exact same
meal we order every time we eat from there, and that is the fajita party pack. This item
technically isn't on the menu, but if you ask for it, they'll know exactly what you want. The party
pack comes with a wide variety of food: tortillas, chicken AND beef, rice, beans, lettuce, tomato,
grilled onion, cheese, a bag of chips, guacamole, queso, sour cream, and salsa. It serves 3-4
people and for the amount of food that you receive, it comes at an outstanding price of only $35.
As soon as we ordered the food (via phone call), my dad went to go pick it up and it was
already ready by the time he arrived at the restaurant. He had requested on the phone that they
bring it out to his car, and the employees were extremely respectful with his wish, and they did
just that. When my dad got home, he layed out all the food onto the counter and my family and I
went straight into our fajita making process. Along with the food, they provide you with forks,
spoons, knives, salt/pepper packets, and napkins. You can even request for plastic cups if you so
desire.
I made two beef fajitas, loaded with rice, lettuce, tomato, cheese, sour cream and
guacamole. Along with that, my dad also ordered the chicken quesadillas which are absolutely
fantastic to go along with the fajitas. As always, the food was delicious. The meat and tortillas
were very warm and everything else was nice and cold. In my opinion, this hot and cold
combination together makes the fajitas taste even better.
I would recommend Herreras Mexican Restaurant to anyone who is craving mexican
food, particularly fajitas. I haven't had anything there besides the fajitas and quesadillas, but I am
sure that if those two are as good as I know they are, everything else will be also. There are
many, many mexican restaurants to choose from in The Woodlands, and I have been to many,
and I can definitely say this is the best I have had. If you're a fajita lover, or someone looking for
a good "family-pack" meal, this is the place to go.