TWHS style scene
Check out looks from the first month of school
Fashion is a fascinating thing because there is no right or wrong. Anyone can wear anything regardless of age and gender. It's all up to what you like and want to wear. You can express a lot through your clothes. There is a wide variety in different styles of clothing worn by people. I found some people at The Woodlands High School wearing beautiful outfits.
Senior Maiya Ondrusko describes her outfit, "I got this brown-beaded shirt from Goodwill, these cargo pants from a Goodwill shop in Ohio, this moth necklace from Etsy, these shoes from Goodwill again, and these sleeves from SHEIN." Maiya drew some inspiration for this outfit from her Pinterest board. "I was going for an earth-toned kind of outfit and wanted to add some sort of layering with the sleeves," Maiya Ondrusko said. She chose to wear this outfit for how, "comfortable and practical these pants are."
I like the way the whole look ties together. While her shirt is very thin and perfect for warm weather, her sleeves are designed for colder weather which brings an interesting contrast into her outfit. The cargo pants she is wearing are not only beautiful, but useful. Don't want to bring a purse with you? Use the pockets in your cargo. It's definitely one of my favorite garments.
Senior Lily Tirpak wears, "a black tank-top from Uniqlo, a zip-up hoodie from H&M, blue ripped jeans from Uniqlo, gray Converse shoes, and a necklace from Claire's." Lily chose to wear this outfit for comfort. "I have a lot of cold classes so I wanted to wear a warm and cozy outfit," Lily said. She also looked at Pinterest for ideas of what to wear. "I searched up 'What are some good, comfy outfits that have hoodies,' and so I saw something similar to this and decided to wear it," Lily said. She recommends shopping at, "H&M, Garage Clothing Co., Claire's, for jewelry, and shops in Japan."
Although this is a rather simple outfit, it is adorable. There is absolutely no way you could go wrong with a good pair of jeans and a hoodie. The rips in her jeans are perfectly placed and just the right amount of distressed.
Junior Emily Cordier goes in detail about her look. "I bought both my sweater-vest and pants online from an app, I got my combat boots with heels from Walmart on Black Friday, and my shirt is also from Walmart," Emily said. She looked online for some outfit ideas. "I was just in the mood for a 'dark academia' aesthetic and decided to wear this," Emily said.
This color combination is incredible. She chose to wear neutral colors and the pop of green really does it for me. There is just the right amount of bagginess and fitting mixed together. The vest is something that has been very popular recently and it's a trend that I hope people never grow out of.
Senior Lily Freile-Ortiz chose to wear, "baggy-bedazzled ripped jeans from Goodwill, a Rolling Stones shirt that was my mom's from when she went to their concert, four-year-old Dr. Martens boots that have paint all over them, a lot of bracelets that I find at thrift shops, earrings that my boyfriend's mom gifted me, and rings that my mom bought for me." Lily likes to stick to her usual style. "I wear the same sort of clothes every day, especially baggy clothes," said Lily. She suggests that you shop at, "flea-markets, Goodwill, the Hand-Me-Up shop, and Ross." Lily even wore an original creation. "This necklace I'm wearing was actually made by me!," Lily said.
I absolutely love her style. It's most definitely "giving." She styled simple garments together and brought her own uniqueness to it. She's not just wearing a Rolling Stones shirt because it's "trendy," like some people do, it actually has some sort of history/reason behind it. I'm running to Goodwill to try and find myself a pair of those jeans!
Sophomore Grady Barrows styled an outfit composed of, "a shirt from Buffalo, pants from the Hand Me Up Shop, shoes from Vans, and a necklace from Hawaii." He based his outfit on his pants. "I really wanted to wear it so I found a shirt that somewhat matched and went with it," said Grady. Some piece of advice from Grady, "find whatever your vibe is and stick with shops that carry those items."


This is certainly a "vibe." I'd say his shirt is very unique with all these different designs of flowers on one side of the shirt, and on the other with a more plain yet interesting pattern. His pants and shoes are a perfect match and bring attention to his shirt, which I adore since there isn't too much information to process. His necklace adds a nice "beachy" touch to the look.
Junior Chloe Alten got her, "baggy blue jeans from Garage Clothing Co., light green top with lace from H&M, hoop earrings from Claire's, rings from Claire's and SHEIN, and shoes from NIKE." Chloe wanted to wear, "a cool spring look," to match with her natural hair. She looks up to Maddison Beer for inspiration. "I enjoy her a lot and have been trying to mimic her," Chloe said. Chloe believes, " you shouldn't care about what others say, you like what you like."
A good pair of plain blue jeans are a must have. You can style them as simple or as crazy as you want. I like how she decided to keep it plain yet aesthetically pleasing. She is wearing pastel-like tones which is always a fabulous option when in doubt of what to wear.
Senior Elijah Lo has on, "a turtleneck from a thrift store in Colorado, a pair of shorts from an online store, socks from Amazon, and shoes from Merel." He likes efficiency. "I need this turtleneck because I have many cold classes and I need to be comfortable in order to focus on my studies," Elijah said. Elijah also states, "I am inspired by myself."
Simple with a purpose. That's how I would call his look. Although he is only wearing black with a pop of white on the shoes, his look is meant to keep him warm in class. The contrast of the winter top with summer shorts, and all-black with white shoes is interesting to me. His shoes remind me of Crocs but with a different shape. It's definitely a new concept for me.
Junior Bella Hart wears, "a merch shirt from Chloe Lilac, ripped black jeans from Tilly's, red Converse shoes, and jewelry from Target, Amazon, and Tiffany Co." She put a lot of thought into her outfit. "I picked these shoes to match the little red devil in the center of the shirt," Bella said. Bella recommends, "Tilly's, Pacsun, and H&M."
I adore the red accents. She's wearing neutral tones with a pop of red in the middle of her shirt and on her shoes. This is an amazing idea for when you feel like your outfit is boring, add a color somewhere in the outfit. Red really suits her well, in my opinion. I also like the bagginess of her look.
Senior Halle Howard got her, "daisy-printed bell-bottom jeans from Twisted Willow, graphic top from Altar'd State, earrings from a tattoo parlor, and sandals from Altar'd State." Halle wanted to wear a crop top but had to opt for something else due to the TWHS dress-code. "That was my original plan but, you know, I'm not allowed to, so I found another shirt that would match the jeans nicely," Halle said. She wanted to wear something related to, "summertime, flowers, and yellow."
This screams Summer to me and I am here for it. Once again, color is everything. She has accents of yellow which just really tie the whole look together. I like how her look fits down to her knees then opens up at the end. Having one statement piece in your closet, such as these fabulous jeans, is great.
As you can see here, fashion is subjective. I showed you from rock to hippie to comfortable styles. Everyone has a preference on what to wear and it may differ from your own. Bottom line is just wear what YOU want! You should please yourself and not others.
Leave a Comment
Donate to The Student News Site of The Woodlands High School
Your donation will support the student journalists of The Woodlands High School. Your contribution will allow us to purchase equipment and cover our annual website hosting costs.
About the Contributor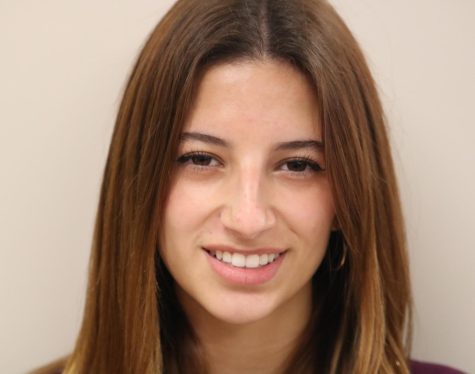 Lu Pangaio, Staff
This is Lu's first year with the TWHS Newspaper. She was born in Brazil. Lu is absolutely in love with all sorts of fashion and culture.