Taken away by Fielding's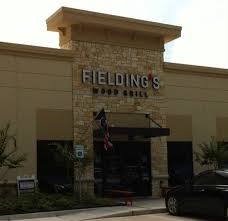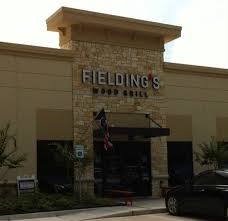 Fielding's is one of my family's favorite places to eat. There is something there for everyone.
Their menu is stocked full with burgers, sandwiches, salads, different types of fried potatoes in every
flavor and shape, but best of all: shakes.
Last Friday, my family ordered a take-out "Wood Grill de Luxe" dinner by calling in an order.
Fielding's new hours are from 11am to 8pm Mon-Sun. You can order by phone (832-616-3275) for free
take out or get it delivered to your home on Favor or Doordash.
My dad went and picked up the dinner from Fielding's which was ready about 25 minutes after we
phoned it in. The workers brought the food to the car with gloves on.
The "Wood Grill de Luke' dinner included 4 beet salads, 2 large portions of chicken spinach dip,
a bag of toasted tortilla chips, 4 Build-a-Burgers, 4 Wood Grill fries, and 4 shakes. The burgers came
unassembled with 4 toasted buns, 4 patties, chopped up tomatoes, lettuce, candied jalapenos, cheddar
cheese slices, bacon, and condiments. My family ordered 2 Nutella shakes and 2 S'mores shakes. The
total cost was $94.56.
Everyone in my family enjoyed the food and all the food came in reusable plastic takeout
containers which was super nice. The shakes were a bit of a smaller portion than what you get at a normal
sit down meal but they were still delicious. No one went to bed hungry and we even had enough leftovers
for lunch the next day.
I definitely recommend getting the family dinners at Fielding's because it saves money, comes
with a ton of food with an appetizer and a salad for each person, and includes the best part: dessert!
Ordering take-out or delivery during this time helps support local restaurants and the economy so order
away!