Three thumbs up for "Triple Frontier"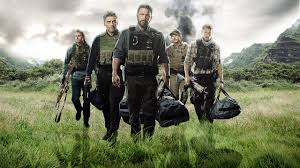 "Triple Frontier", a 2019 Netflix Original directed by J.C Chandor keeps you on the edge of your seat till the very end.The action packed and adrenaline-filled thriller was a nominee for The People's Choice Award for Favorite Drama Movie. With a star studded cast consisting of Academy and Golden Globe Award winner Ben Affleck, Charlie Hunnam, Oscar Issac, Garrett Hedlund, and Pedro Pascal, the film revolves around five former special forces operatives trying to take down an infamous South American drug lord which will cause unforeseen consequences throughout their journey.
The movie begins with showcasing each member and how they have been living their separate lives since they left the special forces. Ben Affleck's and Oscar Isaac's characters seemed to be highlighted in these scenes. Pope (Oscar Isaac) is seen working with the Colombian government to combat drug crimes. However, there is one case in particular he had been working on for years and always seemed to hit a dead end. This is until his informant was able to find the hideout of the highly sought after drug lord, Lorea. Pope realizes that this is a job that won't be possible without help. This is when Pope goes to recruit his old Delta Force friends with a monetary incentive of $17,000 and whatever money they confiscate from Lorea.
Redfly (Ben Affleck) is divorced with a teenage daughter Tess. He is struggling to make progress in his current job selling condos. Although he was the most hesitant to take on the mission, he was in desperate need of money. Ironhead (Charlie Hunnam) is working as a motivational speaker at a military facility, and only agreed to the job if Redfly did. His brother Ben, an MMA fighter agreed to the mission without hesitation. On the contrary, Catfish (Pedro Pascal) was not on the best terms with the American government so he was quite unsure as to whether he should take this on or not.
Eventually once everyone was on board with the idea, they flew to Brazil, and Redfly and Pope were directing the majority of the mission. They came with two main objectives: to eliminate Lorea without compromising anyone else, and take as much money from his house as possible.
The anticipation and intensity of multiple scenes captured and maintained my attention fairly well and truly kept me on the edge of my seat. The film was sitting on the slightly longer side of about two hours and five minutes. However, whenever I felt that the plot was being drawn out too much it quickly picked up. One aspect I think the director and writers did a great job of, was the character development. While some experienced guilt, others were struggling with greed.
In my opinion, the cast was chosen competently. They each were able to embody the different traits of their characters and portrayed them well. Overall, not only was this a movie that I enjoyed, but the rest of my family did also. The impressive acting talent, well developed plot, and adrenaline- filled action scenes skillfully blended with high levels of suspense. If you are looking for a quality thriller, stop by Netflix and give "Triple Frontier" a watch.
Leave a Comment
Your donation will support the student journalists of The Woodlands High School. Your contribution will allow us to purchase equipment and cover our annual website hosting costs.