Return to the tragedy, 'i was here' book review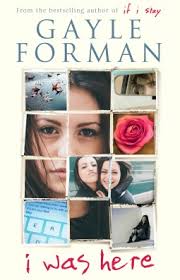 With our whirlwind schedules of school, sports, clubs, hanging out with friends, and various other activities, there isn't much time to spend at home with nothing to do. That has changed drastically over the past two weeks.
 Much of the country has received "stay at home" orders. Schools, restaurants, gyms, and most businesses in between have been temporarily closing one after the other. 
Even through a regular school year, I read a lot. With all this extra downtime, that 
seemed like the perfect way to spend at least a few hours of it. However, libraries and bookstores were no exceptions to the closings. My solution: online reading, something I try to stay away from normally, but there's nothing normal about these circumstances. 
I downloaded SORA, a library app. This was how I found "i was here", by Gayle Forman. I'm no stranger to Gayle Forman, author of bestseller "if i stay". 
"if i stay" was Forman's debut psychological drama, and "i was here" does not deviate from this genre. The book follows Cody, a community college student in a small town in Washington. Everything Cody knows about herself and her best freind-since-childhood is shattered when Meg commits suicide. Having visited once, Cody knows nothing of Meg's life at college in Seattle. Now, she takes it upon herself to put together the pieces of Meg's last months, unraveling thread after thread of secrets.
Just like if i stay, i was here is haunting, questioning unquestionable things and shaking reality. It's the kind of book that makes readers pause after finishing, and carefully process. It's the kid of book that is "part tautly paced mystery, part psychological study of suicide and its aftereffects," a Kirkus review said. 
In its essence, it is a fictional mystery with the purpose of entertainment and capturing and keeping attention. Below the surface though, it is "an engrossing and provocative look at the devastating finality of suicide, survivor's guilt, the complicated nature of responsibility and even the role of the Internet in life-and-death decisions," and at its core it is a beautifully written reminder that life, being present, being here is more important than anything else.