A toast to "Marriage Story"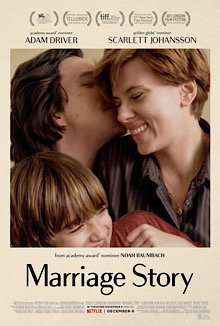 Academy Award nominee Adam Driver and Golden Globe nominee Scarlett Johanssonhave touched our hearts over and over again, and now the Kylo Ren actor and Black Widow actress do it again. Together, they give us two of the best 2019 performances in Netlfix's "Marriage Story".
"Marriage Story", contrary to its title, is a testament to the reality of divorce. The movie tells the story of Nicole (Johansson) and Charlie (Driver) and their battle over their city of residence and custody of their eight-year-old son, Henry.
The beautiful soundtrack starts with "What I Love About Nicole" and "What I Love About Charlie". Composed by Randy Newman, the orchestral pieces are featured multiple times throughout the movie's two-and-a-half hour runtime. The music perfectly accompanies the painful portrayal of the couple's relationship, light in their familiarity and more somber in their flaws.
Both characters are selfish and far from perfect, authentically mirroring many relationships and their endings in real life. "It's not as simple as not being in love anymore," Nicole says in the film. Her and Driver's performances are heartbreaking in a hollow way, not just for the reasons they very clearly don't belong together, but also for the reasons they very clearly will always hold love for each other in both their hearts.