Carr signed to Seattle Seahawks
Former coach recalls Carr's time as Highlander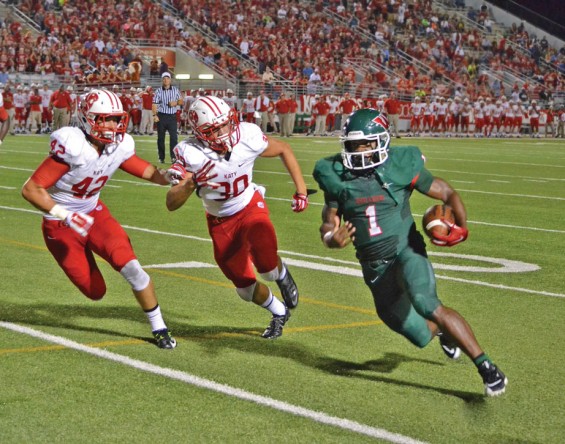 TWHS graduate Patrick Carr was signed by the Seattle Seahawks last week and is looking forward to getting to work.
"He [Patrick] always talked about having a vision of playing in the NFL," according to his high school head football coach Mark Schmid. who coached the 3 year varsity player. Schmid is now the campus athletic director and head football coach at Oak Ridge High School.
In the meantime, Carr is working out with his trainers in Katy and The Woodlands, typically twice a day for three hours.
Carr's work ethic stood out during his time at TWHS.
"Patrick never shied away from work," Schmid said. " He knew his hard work, and perseverance were an investment to get to the next level."
With the NFL training camps on hold because of COVID-19, Zoom meetings are about a week away.
Carr's agent was helpful in getting a deal done with Seattle, and he's looking forward to getting started.
"I'm very grateful I was signed, " Carr said. "There are a lot of prospects and a lot of players and to be noticed is a blessing."
Carr left the University of Colorado-Boulder after one season, and sat out the 2016 season according to the NCAA transfer rules.   He played three year at running back for the University of Houston during his remaining three years of NCAA eligibility.
Carr has no regrets about his transfer.
"Houston was a better fit for me – I matured a lot as a young man," Carr said.
Carr transferred to the University of Houston as an invited walk-on in 2017, according to Schmid, and earned an opportunity for a scholarship through his hard work and determination.
"Patrick was confident in his skills," Schmid said, "and knew he would do what it took to earn that scholarship>"
Carr was named to the American All-Academic team for the year 2017-2018 year.
Carr had advice that goes beyond football.
"Always stay true to yourself," Carr said.
"
"Stay humble, stay hungry, and always be grateful.""
— Patrick Carr
Carr, a two-year varsity football captain, still holds several Highlander football records – Career Scoring (306), Career touchdowns (51) and the career rushing record with 4932 yards, more than 1,000 yards more than the next name on the list, Daniel Lasco.
In addition to football during his time as a Highlander, Carr competed in track, and was a state qualifier for the long jump.
"Patrick took advantage of every opportunity, whether that was on the football field, the track or in the classroom," Schmid said.