TWHS welcomes 2 new Asst. Principals
Gary Madore and Adrian Cortez have been named Assistant Principals for the Senior and 9th grade campuses respectively for TWHS.
Madore has been in CISD for the past 20 years, most recently as a health teacher and the first assistant for head football coach Jim Rapp at TWHS. Madore was hired by Mark Murrell to teach health and coach football and track at Knox Junior High, and moved on to be Knox's athletic coordinator, then athletic coordinator at TWHS' 9th grade campus, and since 2007 has coached inside linebackers at the varsity level.
Madore will miss working with coaches and athletes.
"Through the many hours of practices and game preparation, you build lasting relationships with the athletes," Madore said. " I really enjoyed helping and guiding them to find success in the any situation.
He looks forward to building more relationships with students as an AP.
"As an assistant principal, I will have many more students to hopefully impact in a positive way," Madore said. "I look forward to working with the students to help prepare them for their future.
Madore's wife of 29 years,Treva Madore, is an Assistant Principal at Bozman Intermediate in CISD. His two sons, Garrett and Hunter played football at TWHS. Garrett is a Wildlife Consultant for Nature's Eye in Lufkin, and Hunter is at Texas A&M and competes in track and field throwing shot put and hammer.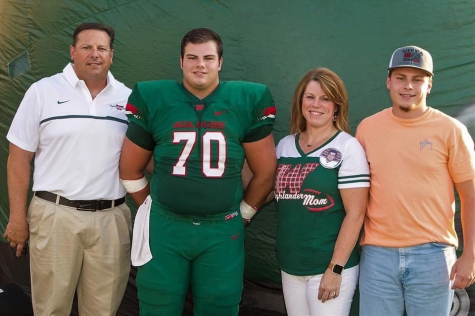 Cortez comes to TWHS from College Park High School, with 21 years' experience in CISD, Spring and Tomball ISDs, primarily as an English teacher and baseball coach, and three years' experience at McCullough Junior High as a Language Arts teacher.
"I couldn't be happier to be returning to this community to begin my assistant principal career at TWHS' 9th grade campus," Cortez said.
Teaching has been a life-long career choice for Cortez. As an 8th grader, his English journal foretold his future: "Ten years from now I'll probably be.." was the prompt he completed with "…an English teacher and a baseball coach in California."
Cortez grew up in a military family and lived in Monterey, Calif. at the time. His father was later stationed in Corpus Christi, where Cortez finished out his undergraduate days, after starting out as commuter student at Old Dominion University in Norfolk, Va.
Cortez's wife Stacey is a Special Education Life Skills teacher in the T.R.A.I.L.S. program, and they have a son, Jace, at David Elementary who loves baseball and Whataburger.
Their daughter Cate is a rising sophomore at College Park High School who loves the performing arts and is "devastated" that the Wings-N-More off 242 will not be reopening. Cortez is looking forward to working in The Woodlands again.
"I am most excited about coming to TWHS to experience what it's like to be a Highlander for the second time in my career," Cortez said.
Madore, with a Master's degree from Sam Houston, fills the position vacated after Deborah Shepard's promotion to TWHS' 9th grade campus principal last month. Cortez is an A & M Corpus Christi and Lamar graduate, who steps into the position vacated by James Bush, who was promoted to CHS 9th grade principal last month.