Alden Bridge Chick-fil-a Reopens
The Chick-fil-A in the Alden Bridge Shopping Center reopened yesterday after undergoing renovations during the past few months. The store is opening back up just in time for in-person school at the Woodlands High School to begin next week. Although the dining room is still closed for COVID-19 concerns, there have been a number of renovations to the drive-thru which customers can now enjoy.
The most noticeable change is that there are now three lines in the drive-thru that customers can order from instead of two, which should increase the speed in which employees can move cars through the line during rush hours. Additionally, awnings have been built over the drive-thru line and the meal delivery zone. The store has also removed the drive-thru window and has replaced it with a doorway employees can walk in and out of to deliver food quicker and easier.
Through these changes, the Alden Bridge Chick-fil-A has further optimized their drive-thru as well as introduced some new amenities for its customers as well as their employees. They are once again open for business, ready to serve the Woodlands area.
About the Contributors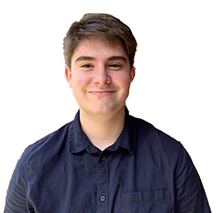 Griffin Krueger, Managing Editor
Griffin is a senior at TWHS. This is his third year with The Caledonian, and his second as editor. He has previously lived in Montana and New York.

Lauren Szot, Photographer Editor
Lauren Szot is a senior at TWHS. she moved here 5 years ago from Portland Oregon. She wants to go to Arkansas for college or Texas State. She loves being...