Student's pig 'Dallas' takes 6th at State Fair
As last week's Class 19-Yorkshire Division of the Barrow Show at the State Fair of Texas came to a close, the judges gave out their placements for the pigs that they deemed the best. After many months of hard work, TWHS senior Dominik Munoz's pig Dallas, took sixth place.
"I got Dallas, that's his name, in June." Munoz said. "He was my summer pig and was raised for this show."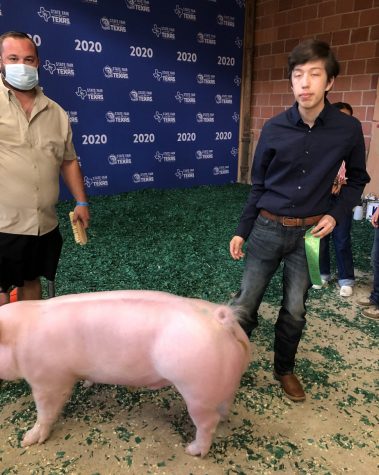 Dominik has been in FFA for a year, joining the club because, "…he couldn't find any other program where he felt at home," TWHS FFA Sponsor Floyd Woodson said as he recalled Dominik's interest in the club.
"Dominik first struck interest in market swine. He had two pigs in [the] year 2020 to go to our local county fair." Woodson said. "Unfortunately, with everything going on in the world he did not get to present them, that did not stop Dominik from accomplishing his goals. He wanted a pig for the Dallas State Fair so he could get the chance to enter the 'big ring.' For some, this sixth place may not mean much, but with the level of competition and the hour and days of work put into it, I couldn't be much prouder of him."
And it turns out that Woodson wasn't the only one that was very proud of Munoz's hard work. Munoz was also proud of his placement
"It was amazing," Munoz said. " I didn't expect such a great win for my first show. My mom says it was like placing runner up because anything above fifth place would go to auction. I was proud of Dallas and so very thankful for all the help I got to get there," Munoz said.
With it being Munoz's first show, he had a lot of things he was unsure about in the preparation, as well as in the show itself.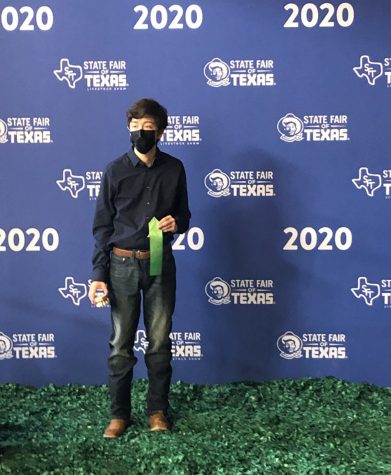 "It was my first show ever, and I had no clue how to even prepare." Munoz said. "I had to make sure I had the right clothes for sure."
During the show, Munoz had a lot of responsibilities to go over to make sure the judges would like his pig.
"The day of [the show] we let him sleep and treat him really special so he won't be tired and hungry when he walks out to see the judge." Munoz said. "When showing Dallas, I had to make sure he kept his head up at all times. I had help from a new friend Chloe to help me show him around the arena. I really was scared and nervous."
The amount of work that gets put into preparing a pig for a show, as well as overcoming stage fright shows the amount of dedication that Munoz has, which makes his sixth place prize just that much more impressive.