Cobra Kai, season 3 released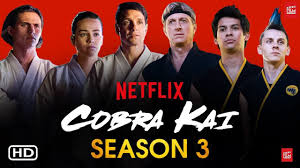 Cobra Kai is one of Netflix's most popular shows. Season 3 just came out on New Year's day and lives up to expectations.
Cobra Kai is about the lives of Johnny and Daniel and their rival dojos. The series takes place 30 years after the Karate Kid movie which premiered in 1984.
This season is about how Johnny and Daniel realize that their rivalry went too far. They team up together, so they can mend the tension between the students. However, when Daniel's car dealership begins to tank, he must return to Okinawa, Japan to promote his business. While there, he returns with his old love interest, Kumiko, and ex-rival Chozen Toguchi. While Daniel and Chozen trade karate techniques, Johnny helps Miguel, a student at Cobra Kai regain his strength after coming out of a coma from a school fight. With Daniel and Johnny occupied, the students of Cobra Kai Dojo grow stronger and more violent in their fighting technique as they more faithfully follow their sensei, John Kreese.
This is a great show to watch by yourself or with family or friends. I watched it with my family and we had such an enjoyable time. It's such a fun way to bond together. If you don't know what to watch or start a new show I recommend Cobra Kai.