Jinya ramen bar all-around awesome
During spring break, I decided that I wanted something that wasn't along the lines of plain pizza or leftover mac and cheese for dinner. While looking at reviews on Google I stumbled across the Jinya Ramen Bar. It was located in Spring, TX, and didn't require any reservations. I gathered my family at 4:30 on a Sunday afternoon and went there.
When we arrived we spent a few minutes looking for parking. It was a big lot but very full. Once inside the restaurant, I immediately felt the warm ambiance as the staff greeted us. The restaurant was full of lively chatter and many smiling faces of happy customers. We asked for a table for 5 and were told that there would be a 20-minute wait. This surprised us since it was 5pm on a Sunday. We happily waited on the bench right outside the door for around 15 minutes until we were alerted a table was open.
We were seated in the back corner where we could see the whole restaurant and the chefs cooking in the kitchen. The walls were decorated with ramen bowls and vines. Hanging from the ceiling were lightbulbs and upside-down planters. Almost as soon as we sat down we were greeted by a server asking for our drink orders. We all ordered, myself getting a green tea for $2.50, and looked over the menus. The most expensive things on the menu were the three specialty ramen bowls all priced at $14. Our drinks came fast and with them the server asking for our order. We had barely had any chance to look and she didn't seem to be leaving without our orders. We hastily ordered the Edamame for $4.80, Brussel Sprouts Tempura for $7.10, and the Jinya Bun for $4.80. She left and as fast as our drinks came so did our appetizers.
We ordered our main dishes. I got the Sprouting Up Bowl which cost $14. It contained pork, spicy bean sprouts, green onion, a seasoned egg, Brussel sprouts, ginger, and thick noodles. I soon started eating the Jinya Bun which was a very soft sweet bun with pork, cucumbers, and leafy greens. I looked like a small taco but it packed an explosion of flavor from the pork followed by a refreshing crunch from the cucumbers. After that, I tried the Brussel Sprouts Tempura. They were a rather small portion but they came with a sweet and spicy dipping sauce. The sprouts were salty and crispy on their own but the added sauce increased the flavor and deliciousness.
The Ramen Bowls soon came out and they were very large portions. They contained a lot of new but enjoyable flavors. I tried the bowls my family ordered as well. They were all very good but tasted more plain because they were based on the chicken broth. With bellies full, our server brought us the check and asked if we needed any to-go bowls or dessert. We couldn't leave without dessert! I ordered the Combo Mochi. Our server came with the to-go bowls and check. Once we paid and packed up what our full bellies couldn't hold she gave us the mochi. It came with green tea and chocolate. I personally loved the green tea, but no one else in my family seemed to share my enjoyment. They all agreed that the chocolate was better. Since we had already paid, we collected our things and headed towards the doors.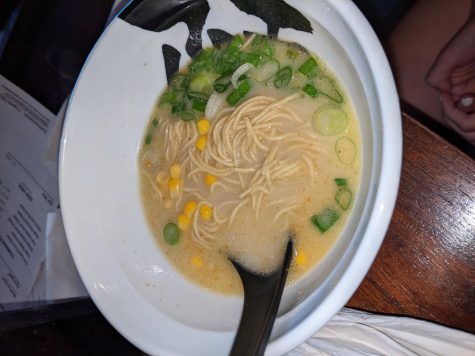 We stopped to get some hand sanitizer and let me tell you, it was the best smelling hand sanitizer I have ever used. I'm sure if they sold it they would put Bath & Body Works out of business. Overall I would give Jinya Ramen Bar a 5 out of 5 stars because of the ambiance, delicious foods, and great service. I hope I have the time to go again soon.