El nacimiento de un libro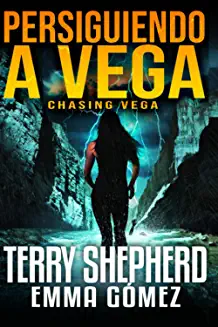 Después de nueve meses de pesquisa, traducción, y otros desafíos lingüísticos, Emma Mauri — profesora de Español y directora de la Sociedad Honoraria Hispánica en The Woodlands High School (TWHS) — dio vida a un nuevo proyecto: la traducción y la coautoría de "Persiguiendo Vega," un libro de suspenso basado en las historias de vida de su amiga, Traci.
Usando el seudónimo de Emma Gómez, la Sra. Mauri empieza una nueva aventura en el mundo de los libros con este cuento lleno de acción que muestra la verdadera fuerza y determinación de una detective latina en la búsqueda de justicia.

Antes de su carrera como profesora en The Woodlands, la Sra. Mauri vivió en el estado norteño de Michigan, donde hacía traducción de cuentos y documentos legales. Ahora, con años de experiencia como profesora de literatura, ella conoció al autor de la versión original en inglés, Terry Shepherd, por una amiga en común de Michigan. El Sr. Shepherd reconoció su talento para escribir, y entonces le dio libertad creativa para crear la versión en español con su propia visión artística.
"No solo lo traduje sino que cambié y añadí partes en el libro que no estaban en el original," dijo la Sra. Mauri. "Esto me hizo coautora del libro y no solo traductora."
Las historias de su amiga Traci, que fue por mucho tiempo una detective y ahora es una de las jefas de policías en la Universidad de Michigan, sirven de base para esta novela de suspenso. En el libro, una detective llamada Jessica y su compañera Allie persiguen a una asesina en serie que despacha una versión distorsionada de la justicia callejera. Jessica, la detective valiente y personaje principal del cuento, es una mujer latina de carácter fuerte y ascendencia mexicana.
"Me encanta que se escriba de mujeres valientes que tratan de hacer justicia para mejorar nuestro mundo," dijo la Sra. Mauri.
Y en este caso, la mujer valiente realmente es Traci, y la Sra. Mauri dijo que porque "conocía muy bien a la protagonista," fue un honor hacer esta historia accesible al mundo hispánico.
En este proceso, la Sra. Mauri tuvo que traducir "Chasing Vega," la versión original del libro en inglés que tiene trescientas sesenta y ocho páginas. Como todos los políglotas saben, no podemos traducir todo al pie de la letra, porque hay dichos, términos, y frases que no tienen equivalentes en todas las lenguas. Y además, algunos trabajos tienen un lenguaje específico que es increíblemente difícil de traducir.
"Si no sabes los nombres de armas de fuego son muy difíciles de traducir," dijo la Sra. Mauri. "Las expresiones idiomáticas no se pueden traducir directamente del inglés al español."
Con su experiencia como traductora de documentos legales y algunos cuentos, ella consiguió superar los desafíos para dar luz a este libro, que ya recibió 5 estrellas en Amazon.
"Fue casi como tener un bebé," la Sra. Mauri dijo.
A pesar que puede haber sido un proceso difícil — como llevar a un bebé que crece poco a poco, día por día — el resultado valió la pena, tanto que la Sra. Mauri ya sabe que este no fue su último "bebé," y que ella tiene planes de continuar esta aventura en el mundo de los libros.
"Estoy escribiendo otra novela basada en la vida de mi madre," dijo la Sra. Mauri. "[Mi madre] también era una mujer interesante y fuerte. Su vida nos da mucho que aprender. Espero terminarla el próximo verano."
A la espera de este próximo proyecto, lean "Persiguiendo a Vega," que está disponible para comprar en línea en Amazon y Walmart.
View Comments (1)
Your donation will support the student journalists of The Woodlands High School. Your contribution will allow us to purchase equipment and cover our annual website hosting costs.