The cookie "Crumbl-ed"
Crumbl Cookies is a new Magnolia cookie shop that has six options available. Two are standard cookies that are available year-round and four are traded out every week. I tried all six that were available on Sept. 18. From the first look, I was impressed with the size and smell of the cookies. Each cookie was $4 or a six-pack for $20. After many ups and downs, my final review was that they were okay. I wouldn't purchase them again because four days later I still woke up with nightmares about what they call a cookie.
Chocolate Chip– This was by far the best thing I ate there. It was soft, warm, and gooey. If I had to have a complaint it would be that it was slightly doughy, but it didn't bother me too much. The Chocolate chip is the only thing I would go back for. 9/10
Pumpkin Chocolate chip– I'm not a huge pumpkin fan but this was surprisingly good. It tastes less like a cookie and more like pumpkin bread, but I think that is in its favor. It was soft and moist and the addition of chocolate chips tied it all together. 7/10
Sugar Cookie– This was a pretty decent cookie. While it wasn't much better than the kind you can get at the grocery store, it was better than most things I tried. The base was sweet and soft on the inside while the icing had a slight fruity taste to it. Overall it was a solid cookie, but not mind-blowing. 6/10
Blueberry Cheesecake– I didn't go back for a second bite. This tasted like oats with cream cheese icing on top. The cookie was topped with a blueberry jam that didn't go well with the icing. The cookie itself was bland; less of a cookie and more of a muffin top. It wasn't repulsive, and I could see someone who hates fun liking this. 3/10
Sherbert– How does a 7 Up that has been left in your car for three days sound? If you said delicious, then this cookie is for you. It was lemony, chewy, and was dyed a greenish-pink that was as confusing as the flavor. It was not great, and I didn't eat more than two bites. 2/10
Chocolate Peanut Butter- My opinion on this is as bitter as the cookie. Have you ever swallowed straight, unsweetened cocoa powder and then immediately ate three peanut butter chocolate chips? I imagine this would be a similar experience. The cookie was dry and had only a few peanut butter chips in it. I wouldn't recommend eating it with the mindset that it will taste like a Reese's cup and more of Reese's third cousin that no one likes. 1/10
Leave a Comment
Your donation will support the student journalists of The Woodlands High School. Your contribution will allow us to purchase equipment and cover our annual website hosting costs.
About the Contributors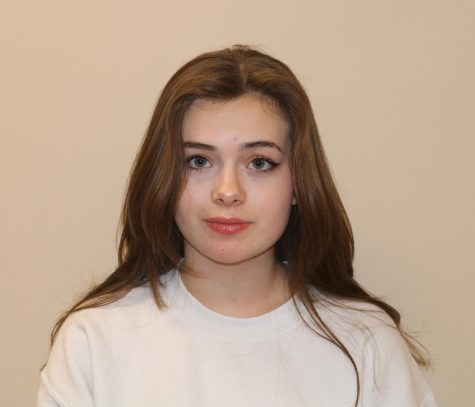 Duvillee Logan, Editor
Duvillee is a senior at TWHS, and an editor for The Caledonian. When not writing she works at a local daycare.