SNHS hosts day of experiments
Science National Honors Society (SNHS) held a science day for children from all elementary schools in our district on Saturday/ Children had the opportunity to experience different experiments, some for the primary purpose of demonstrating how fun science could be; others focused on teaching kids different lessons.
"My Science NHS officers put it all together… they worked hard," SNHS sponsor Jenette Champagne said. The event took place in the central courtyard of the Woodlands High School from 10 am through 12 pm. People were able to show up at any point and participate in the experiments they wanted to. "There will be about roughly 24 experiments," according to Champagne. A member of SNHS operated each station.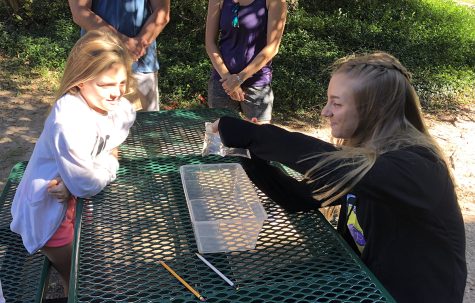 There was a wide variety as far as the branches of science that the experiments came were trying to teach. Some experiments taught kids physics principles; some were a gravity lab and a lab demonstrating the principles of inertia. In the gravity lab, kids were asked to guess which of two balls would fall faster, one being dropped straight down or one launched horizontally. The correct answer is that they'd hit the ground simultaneously due to the force of gravity affecting them equally.
There were snacks for the kids that they could make through some of the Biology and chemistry experiments. Those being a DNA model that participants would make out of candy, they'd be able to take it with them and eat it. An investigation where kids would make trail mix and Kool-aid to learn between a solution and a mixture. After completing the trail mix and Kool-aid, participants would take both of them as a snack.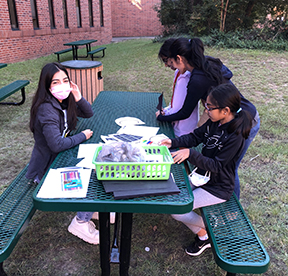 While most of the experiments were meant to teach the children a lesson through a lab directly, others had the primary purpose of demonstrating how certain fun aspects of science could be. One of the most noteworthy is the dry ice bubble experiment where children would watch the lesson kids learn related to the water cycle. The main focus was just showing them an incredible chemical reaction.
View Comments (4)
Your donation will support the student journalists of The Woodlands High School. Your contribution will allow us to purchase equipment and cover our annual website hosting costs.