Classic Halloween film must-watches
With the start of Fall on Sept. 22, I can only remember of one thing: nights of full moon in the spooky season, the season where werewolves, zombies, mummies and many other monsters get out of their habitat to be with us, and to get into Halloween climate I am sharing some of the best choices for you to be scared.
Halloween
IMDb: 7.7/10 Rotten Tomatoes: 96%/100%
On a cold Halloween night in 1963, six year old Michael Myers brutally murdered his 17-year-old sister, Judith. He was sentenced and locked away for 15 years. But on October 30, 1978, while being transferred for a court date, a 21-year-old Michael Myers steals a car and escapes Smith's Grove. He returns to his quiet hometown of Haddonfield, Illinois, where he looks for his next victims.
I would say there's not a better way to start a Halloween movie list without Halloween it even has the name of the holiday, Halloween is the movie series that made Michael Myers brutally famous, it is a fun horror movie to watch, and of course it will scare you.
The Shining
IMDb: 8.4/10 Rotten Tomatoes: 84%/100%
Jack Torrance (Jack Nicholson) becomes winter caretaker at the isolated Overlook Hotel in Colorado, hoping to cure his writer's block. He settles in along with his wife, Wendy (Shelley Duvall), and his son, Danny (Danny Lloyd), who is plagued by psychic premonitions. As Jack's writing goes nowhere and Danny's visions become more disturbing, Jack discovers the hotel's dark secrets and begins to unravel into a homicidal maniac hell-bent on terrorizing his family.
The Shining is a classical case of a book from Stephen King that makes into the big screen, the biggest problem with this movie is that Stephen King doesn't approve it but the audience do and the critics do as well so you may give it a shot for The Shining a really special horror movie with iconic moments that will be forever references into the cinema world.
Hocus Pocus
IMDb: 6.9/10 Rotten Tomatoes: 38%/100%
After moving to Salem, Mass., teenager Max Dennison (Omri Katz) explores an abandoned house with his sister Dani (Thora Birch) and their new friend, Allison (Vinessa Shaw). After dismissing a story Allison tells as superstitious, Max accidentally frees a coven of evil witches (Bette Midler, Sarah Jessica Parker, Kathy Najimy) who used to live in the house. Now, with the help of a magical cat, the kids must steal the witches' book of spells to stop them from becoming immortal.
This is a Disney movie that any 90's and 2000's kids know and likes it, we have a nostalgic memory about this movie it's really fun and even the movie knows they are there doing comedy and they don't need to be 100% serious about it so there is many jokes, many horror stereotypes that convey with the movie history.
The Nightmare Before Christmas
IMDb: 8/10 Rotten Tomatoes: 95%/100%
The film follows the misadventures of Jack Skellington, Halloweentown's beloved pumpkin king, who has become bored with the same annual routine of frightening people in the "real world." When Jack accidentally stumbles on Christmastown, all bright colors and warm spirits, he gets a new lease on life — he plots to bring Christmas under his control by kidnapping Santa Claus and taking over the role. But Jack soon discovers even the best-laid plans of mice and skeleton men can go seriously awry.
Here we are talking about my favorite one on this list, this movie is a stop motion that has all the best quality, from script, to music, to quality of animation, this movie is fun, the musics are really good, the main character have good motivations and are really a fun movie to watch it makes you feel like halloween season is here.
Monster House
IMDb: 6.6/10 Rotten Tomatoes: 75%/100%
No adults believe three youths' (Mitchel Musso, Spencer Locke, Sam Lerner) assertion that a neighboring residence is a living creature that means them harm. With Halloween approaching, the trio must find a way to destroy the structure before innocent trick-or-treaters meet ghastly ends.
Monster House is one movie that I think it's complicated but had to be on this list the animation is nothing close to a Pixar movie but because it is a horror movie it kind of gives you the vibe of a horror movie, with some simple characters and simple story you will have fun with this.
Coraline
IMDb: 7.7/10 Rotten Tomatoes: 90%/100%
While exploring her new home, a girl named Coraline (Dakota Fanning) discovers a secret door, behind which lies an alternate world that closely mirrors her own but, in many ways, is better. She rejoices in her discovery, until Other Mother (Teri Hatcher) and the rest of her parallel family try to keep her there forever. Coraline must use all her resources and bravery to make it back to her own family and life.
Coraline is the type of movie that I guess they lost the hand, they really went deep into the creepiness of the characters and it holds until today how scary they are, I really liked how they depict the character before and after the alternate world really a go to for creepiness.

Lonesome Ghosts
IMDb: 3.3/10 Rotten Tomatoes: 7%/100%
Four bored ghosts in a haunted house play a series of mischievous pranks on Mickey Mouse, Donald Duck and Goofy.
One of Disney's short movies that not that many people know about but one that for sure makes respects to halloween horror.
Ghostbusters
IMDb: 7.7/10 Rotten Tomatoes: 65%/100%
After the members of a team of scientists (Harold Ramis, Dan Aykroyd, Bill Murray) lose their cushy positions at a university in New York City, they decide to become "ghostbusters" to wage a high-tech battle with the supernatural for money. They stumble upon a gateway to another dimension, a doorway that will release evil upon the city. The Ghostbusters must now save New York from complete destruction.
Ghostbusters is the movie that caused many people to be very scared because they were going to the movies to watch a comedy and they ended up not expecting the jump scares on this movie.
Trick 'r Treat
IMDb: 6.8/10 Rotten Tomatoes: 83%/100%
Interwoven stories demonstrate that some traditions are best not forgotten as the residents (Anna Paquin, Brian Cox, Dylan Baker) of a small town face real ghosts and goblins on Halloween. Tales of terror reveal the consequences of extinguishing a Jack-o-Lantern before midnight and a grumpy hermit's encounter with a sinister trick-or-treater.
Trick 'r Treat is a horror movie with a very good type of monsters, the ones we see in the yards of every house on halloween, with many scenes being extremely scary and with a build up to the Jump scare.
The Exorcist
IMDb: 8/10 Rotten Tomatoes: 83%/100%
One of the most profitable horror movies ever made, this tale of an exorcism is based loosely on actual events. When young Regan (Linda Blair) starts acting odd — levitating, speaking in tongues — her worried mother (Ellen Burstyn) seeks medical help, only to hit a dead end. A local priest (Jason Miller), however, thinks the girl may be seized by the devil. The priest makes a request to perform an exorcism, and the church sends in an expert (Max von Sydow) to help with the difficult job.
This movie is probably one of the biggest classics of the horror industry, a movie that is clearly scary, this movie was a really controversy movie at that time, where many people thought they weren't doing a good job with the rating of the movie, but for most people looking for a movie to watch on this list you can't forget that this was the first movie of the genre Horror that made to the Oscars.
It
IMDb: 7.3/10 Rotten Tomatoes: 86%/100%
Seven young outcasts in Derry, Maine, are about to face their worst nightmare — an ancient, shape-shifting evil that emerges from the sewer every 27 years to prey on the town's children. Banding together over the course of one horrifying summer, the friends must overcome their own personal fears to battle the murderous, bloodthirsty clown known as Pennywise.
Stephen King is the father of the horror on books and many of his books have been transformed into movies, It, is one of the newest adaptations from his books and in general they made a good job the movie had a box office of $701,796,444 which makes this movie really a incredible movie on the success that it made.
Get out
IMDb: 7.7/10 Rotten Tomatoes: 98%/100%
Now that Chris and his girlfriend, Rose, have reached the meet-the-parents milestone of dating, she invites him for a weekend getaway upstate with her parents, Missy and Dean. At first, Chris reads the family's overly accommodating behaviour as nervous attempts to deal with their daughter's interracial relationship, but as the weekend progresses, a series of increasingly disturbing discoveries leads him to a truth that he never could have imagined.
A horror movie that clearly has many topics that get out of the jump scare and go far to racial problems, relations and a kind of psychological horror makes you really scared but not for some loud noises but by creating an atmosphere of horror.
The Conjuring
IMDb: 6.3/10 Rotten Tomatoes: 56%/100%
In 1970, paranormal investigators and demonologists Lorraine (Vera Farmiga) and Ed (Patrick Wilson) Warren are summoned to the home of Carolyn (Lili Taylor) and Roger (Ron Livingston) Perron. The Perrons and their five daughters have recently moved into a secluded farmhouse, where a supernatural presence has made itself known. Though the manifestations are relatively benign at first, events soon escalate in horrifying fashion, especially after the Warrens discover the house's macabre history.
The Conjuring is a movie that I would say that it was really well used and it still being used it went from one movie to a universe of eight movie that is out of the usual on the horror industry, the movie made a huge success and a box office of $320,290,989 and I would also say it's a great movie for people that don't watch horror movies because you will start with a very good movie with a very good story and some good effects.
Paranormal Activity
IMDb: 6.3/10 Rotten Tomatoes: 83%/100%
Soon after moving into a suburban tract home, Katie (Katie Featherston) and Micah (Micah Sloat) become increasingly disturbed by what appears to be a supernatural presence. Hoping to capture evidence of it on film, they set up video cameras in the house but are not prepared for the terrifying events that follow.
The paranormal activity is an example of a great movie made with a small budget that the marketing worked on the movie was really well known, and in any circle of people talking about horror this move will come up so you better be ready for it.
Friday the 13th
IMDb: 6.4/10 Rotten Tomatoes: 63%/100%
Against the advice of locals and police, Clay (Jared Padalecki) scours the eerie woods surrounding Crystal Lake for his missing sister. But the rotting cabins of an abandoned summer camp are not the only things he finds. Hockey-masked killer Jason Voorhees lies in wait for a chance to use his razor-sharp machete on Clay and the group of college students who have come to the forest to party.
One of my favorites on this list is this movie that created one of the most classic serial killers of pop culture, Jason with a good script and a series of many and many movies of teens going to camps to drink and then Jason who had a hard past goes to have his revenge. This is a must watch if you like or don't like horror.
Nightmare on Elm Street
IMDb: 7.5/10 Rotten Tomatoes: 94%/100%
The monstrous spirit of a slain child murderer seeks revenge by invading the dreams of teenagers whose parents were responsible for his untimely death.
This movie was so funny that I watched it and couldn't sleep because I was scared of Freddy Krueger giving me a visit in my dreams. This movie is a good example of creativity in the creation of a monster, and its functions.

Simpsons and the Treehouse of Horror
Also known as The Simpsons Halloween Specials, is a series of Halloween-themed episodes of the animated sitcomThe Simpsons, each consisting of three separate, self-contained segments, except five segments in "Treehouse of Horror XXXII". These segments usually involve the Simpson family in some horror, science fiction, or supernatural setting.
The Treehouse of Horror is the biggest joke with the horror genre where the creators of The Siimpsons make jokes about how the genre works and how some of the cliches of horror shouldn't be that believable and that is what makes treehouse of horror one of my favorite episodes on the simpsons.
View Comments (1)
Your donation will support the student journalists of The Woodlands High School. Your contribution will allow us to purchase equipment and cover our annual website hosting costs.
About the Writer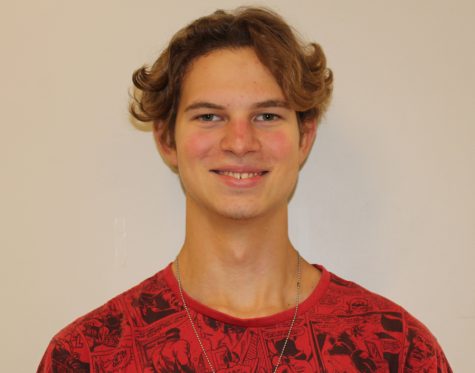 Bruno Waishaupt, Writer
Bruno grew up in Brazil and lived there 12 years, moved to Mexico where he lived for three years, and moved to the US. Bruno wants to study engineering...