Im'pressed' with Press Waffle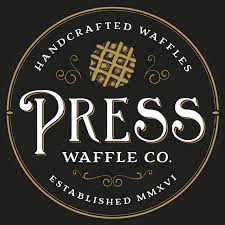 It was nearly 10 years ago when epiphany knocked on the door of Bryan Lewis, founder of Press Waffle Co., and set him off to bring the business of Belgian waffle-making to the US. After an eye-opening bite of the Liége waffle on a trip to Europe, Lewis became fascinated with this dough-based, sugar-coated waffle. Though he searched from sea to shining sea when he returned home to Dallas, this tasteful treat was nowhere to be found on this side of the Atlantic. So, along with his brother Caleb, he opened a food truck, eventually reaching the famous TV programme Shark Tank. His greatest achievement, though, came when he opened a location in The Woodlands, TX and The Caledonian's best restaurant critic had an opportunity to visit this famed establishment to grasp America's obsession with the waffle eatery.
After placing a carefully-selected take-out order on Press Waffle Co's website, I raced down (within the speed limit, of course) the newly-finished two-lane Kuykendahl Road to the restaurant's Creekside location. Upon my arrival, I took immediate notice of the convenient location: right by the Cinépolis, Creekside HEB, and several other businesses in the newly-developed side of this unincorporated township of ours. Its prime location comes with the great benefit of ample parking.
Walking into the establishment, I first took note of the interior design, which was in extremely good taste — one may even call it "modern chic," unlike those gentrified-looking McDonald's with the hundreds of revolting shades of space gray. The inside looked spotless, full of couch-like seating with a few tables outside as well. Though they are open from 7am all the way to 9pm (who is eating waffles at 9pm?), I placed my order for 11:35am and being the punctual person I am, I arrived at 11:34 for good measure. Though my order was not ready yet, when the clock reached 11:35, my order was called out by the food service worker, whose service was entirely satisfactory.
When the worker handed me my plastic bag of waffles, the sweet and savory smells danced in my nostrils in a sweet melody. Partners in a heavenly waltz, the two waffles provoked my hunger with every step: first, the classic matchup strawberry/Nutella waffle; second, another classic, this time savory, of ham and Swiss cheese. While my nose enjoyed its reverie, I am glad to say my pockets were quite happy as well. A base waffle at Press Waffle Co will only set you back $5.00, and add-ons like the ones I picked cost anywhere from $0.75 to $1.25. So for two fragrant Belgian waffles, I spent less than $15.00.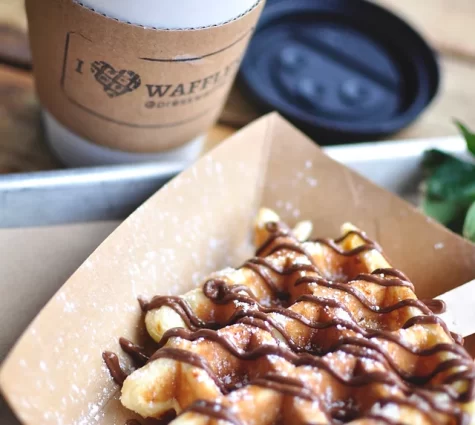 All of the aforementioned pleasures became insignificant when I began to devour these. Though I am a lover of the classic American waffle, I cannot express enough how beautiful this Belgian waffle tastes. It is as eye-opening as Bryan Lewis thought it to be all those years ago. It is dough-based, making it fluffy like a French Brioche and straying far from the batter-based sogginess of its American cousin. And like the French crème brûlée, it is coated by a molten layer of sugar, adding a subtle crunch with every bite and a slight sweetness along with it. This sweetness matched perfectly with the ham and cheese, almost resembling a honey-roasted ham taste that set off fireworks in my head, much like Remy the rat's experience in the film Ratatouille. There is no way to go wrong with a strawberry/Nutella mix, and this was only further proven true with the sweet Press Waffle Co treat I ordered. The strawberries were entirely fresh and the Nutella… Well, it was Nutella: as undeniably delicious as ever. Somehow, the sweet crunch of the Liége waffle had matched perfectly with both the sweet and savory options, while quite affordable.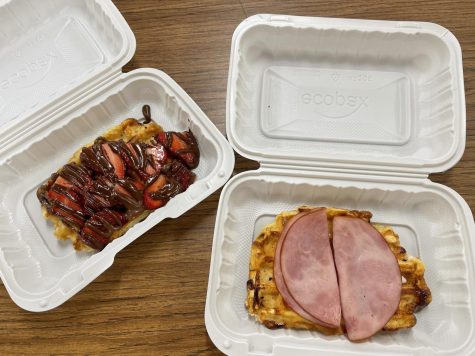 To conclude, there is nothing else to say than that I sincerely urge you to do yourself a favor and never, ever pay a visit to this restaurant. Now, accustomed to its exquisite taste, I have found myself unable to be satisfied by any regular waffle. And don't even get me started on Eggos, no more than a filthy excuse for a waffle. If you wish to drive yourself into the same madness I have, then head on down to Press Waffle Co's Creekside location right here in The Woodlands any day of the week between 7am-9pm. Be advised: they are also greatly affordable, so you will likely be back for more, and more, and more, and more…
Leave a Comment
Your donation will support the student journalists of The Woodlands High School. Your contribution will allow us to purchase equipment and cover our annual website hosting costs.