TWHS welcomes new head soccer coach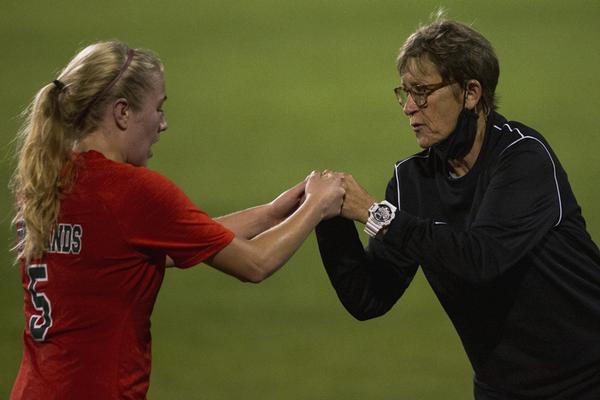 Thirty-eight years in any job is unusual, but 38 years in teaching and coaching soccer is exceptionally rare.
First year TWHS Varsity Head Coach Frankie Whitlock has that under belt, after stints at Reagan High School and Churchill High School in central and northeast Texas.
"I was an athlete in high school and I loved school and I loved all my classes and I loved learning and I was touched by so many great coaches in high school and I would say a lot of those mentors are the reasons that I turned to coaching myself," Whitlock said. "I played club soccer in high school because they didn't have UIL and I fell in love with it as well. I think it's the mentors I had that guided me though that left a mark on me and that's what I wanted to do.
Three years ago, Whitlock's family relocated to Houston. It wasn't too long before she missed the family connection.
"We are very close and they had done that [moved] three years before and I realized how much support I get from them," Whitlock said. Whitlock has a niece and great nieces who she missed seeing grow up.
"Being 3 /12 hours away I didn't get to see them that much," Whitlock said.
The move to The Woodlands came after a contact by then-head coach Dina Graves.
"Coach Graves reached out to me when she heard I was interested in coming to the Houston area and we had known each other for about 25 years." Whitlock said.
Graves and Whitlock had a history together as rival coaches.
"She knew me and the record I had and the exposure I had in getting teams deep in the playoffs and the respect of the players and coaches she just thought I would be a good fit to come work here at the Woodlands and I jumped on it," Whitlock said. "I was honored that she reached out to me and gave me this opportunity."
The reputation Whitlock gained had gone a long way when being hired by TWHS. "I'm in the Hall of Honor, the Tasco Hall of Honor, and so is Coach Graves." Whitlock said. "We had more wins than most programs ever, and we just kind of brought our experience to the field and it's a great experience to share the years of my experience with this program and get to teach them some new things."
When talking about the differences between schools, Whitlock was quite positive "The kids are the same – they are great kids and the community is very supportive as well." Whitlock then said "Soccer is huge on those campuses as well so my transition here was pretty easy because the kids and the climate are pretty parallel, but here it just seems a little more special. They are even a little tighter group across the community in all athletics. In the English department and
the overall climate here is very welcoming and everyone wants to work to be the best they can be every day."
TWHS Lady's soccer team has been successful so far this year. "We are doing pretty good January we took a couple of bumps in the road, but then you're trying things out and that's the time to do it. See what success can come and what you can learn to make yourself more successful as a group, and it's coming together as we start the second round of district. It's coming together at the right time to try and get us a long playoff run."
Last year happened to be a great year for the team, which Whitlock hopes to make a repeat of it.
"We'd love to repeat last year and maybe get a little further if we're capable and all the stars are in alignment," said Whitlock.
"Last year was kind of hard to repeat and you try to when you get to the state tournament when you're one of the final four programs in the state of Texas you don't get that opportunity and for us and for the program to have won state in 2010 and then state semi finals last year says quite a lot about these kids and the tradition and the resilience that they have." said Whitlock.
Whitlock hopes to challenge the girls she coaches and teaches to excel and be the best that they can be. The same type of influence her own coaches had on her.
"If I don't challenge the girls every practice then I'm not testing them for them to grow in their sport." Whitlock said.
Whitlock is not all about the challenge though, and also encourages the girls. "Whatever path they choose I want them to be the best they can be, and find pleasure and enjoy every day. And that their job not just be a job, but their job be their passion." Whitlock said.
"Every day is a challenge and every day is new and you're here to help them in the classroom and grow as adults and every day is a challenge soccer wise." Whitlock said.