Bruno's list of must-see movies
After a whole year writing for The Caledonian, giving my opinions on movies and making thematic lists of movies people should watch, but now that time is running out and I am getting closer to the end of the year I want to share the movies I wish everyone should watch. Before I start I want to thank everyone that has been reading the things I wrote throughout this year: it's been an awesome experience to write about things I love for that many readers. Now I think we are ready to start the list.
Baby Driver
Baby, a music-loving orphan also happens to be the prodigiously talented go-to getaway driver for heist mastermind Doc. With the perfect soundtrack picked out for each and every job, Baby ensures Doc's violent, bank-robbing cronies – including Buddy, Bats and Darling – get in and out of Dodge before it's too late. He's not in it for the long haul though, hoping to nail one last job before riding off into the sunset with beautiful diner waitress Debora. Easier said than done.
I still remember the day that I went to the movies to watch Baby Driver, I ha no information about the movie, didn't watch a trailer or even knew anything about it then I decided to go to the movie I got there and ended up watching this movie that blew my mind, the songs were so good, the images are so beautiful and everything was such a blast of emotions, and it made to the top of my favorite movie until the moment.
Jurassic Park I
In Steven Spielberg's massive blockbuster, paleontologists Alan Grant (Sam Neill) and Ellie Sattler (Laura Dern) and mathematician Ian Malcolm (Jeff Goldblum) are among a select group chosen to tour an island theme park populated by dinosaurs created from prehistoric DNA. While the park's mastermind, billionaire John Hammond (Richard Attenborough), assures everyone that the facility is safe, they find out otherwise when various ferocious predators break free and go on the hunt.
Oh this movie has it own magic, Spielberg plays with many of our emotions in this movie and it's incredible to see dinosaurs for the first time in front of our own eyes, such an iconic movie that shows how much dedication was put into it and how much of the direction of spielberg give the movie such an different kind of emotion to it, only thinking about it makes me want to watch it again.
Star Wars
They primarily focus on the Rebel Alliance trying to free the galaxy from the clutches of the Galactic Empire, as well as Luke Skywalker's quest to become a Jedi and face Sith Lord Darth Vader and his master Darth Sidious. The original trilogy is sometimes called the classic trilogy in contrast to the prequel trilogy.
Star Wars is the most famous pop culture trilogy for a reason, it is so nice to see all the history there is in this vast galaxy and how much we end up caring about all the characters and how George Lucas wanted to start the story from episode 4 and not from episode 1 it shows how the creativity and good story is on it that even years later when episode 1 was released people still wanted to watch it.
The Batman
Batman ventures into Gotham City's underworld when a sadistic killer leaves behind a trail of cryptic clues. As the evidence begins to lead closer to home and the scale of the perpetrator's plans become clear, he must forge new relationships, unmask the culprit and bring justice to the abuse of power and corruption that has long plagued the metropolis.
The newest Batman is one of my favorite super hero movies, such a nice way to show all the characters and in a such realistic but comic way, I love everything about this movie from the music, characters, photography, and I really recommend everyone to watch it.
Captain America: The First Avenger
It is 1941 and the world is in the throes of war. Steve Rogers (Chris Evans) wants to do his part and join America's armed forces, but the military rejects him because of his small stature. Finally, Steve gets his chance when he is accepted into an experimental program that turns him into a supersoldier called Captain America. Joining forces with Bucky Barnes (Sebastian Stan) and Peggy Carter (Hayley Atwell), Captain America leads the fight against the Nazi-backed HYDRA organization.
This is the first superhero movie that I remember watching on theaters, on the big screen and it was awesome, I had so much fun, and in the end of the movie I couldn't understand well what was happening and then my father explaining it to me was so cool, now years later I watched again and the movie still holds up, was pretty cool to see all of that again knowing history and knowing where would that movie take me on the marvel universe.
The Avengers
When Thor's evil brother, Loki (Tom Hiddleston), gains access to the unlimited power of the energy cube called the Tesseract, Nick Fury (Samuel L. Jackson), director of S.H.I.E.L.D., initiates a superhero recruitment effort to defeat the unprecedented threat to Earth. Joining Fury's "dream team" are Iron Man (Robert Downey Jr.), Captain America (Chris Evans), the Hulk (Mark Ruffalo), Thor (Chris Hemsworth), the Black Widow (Scarlett Johansson) and Hawkeye (Jeremy Renner).
Wow we got there, for the first time we have a team up on the big screen, all the big characters that the marvel universe has been bringing to us all at once in the big screen creating an enormous hype that would bring, with aliens and many nice fights this movie is a must if you like the marvel universe.

Guardians of the Galaxy
Brash space adventurer Peter Quill (Chris Pratt) finds himself the quarry of relentless bounty hunters after he steals an orb coveted by Ronan, a powerful villain. To evade Ronan, Quill is forced into an uneasy truce with four disparate misfits: gun-toting Rocket Raccoon, treelike-humanoid Groot, enigmatic Gamora, and vengeance-driven Drax the Destroyer. But when he discovers the orb's true power and the cosmic threat it poses, Quill must rally his ragtag group to save the universe.
This movie has so much to it that I can't even explain, it is a movie about a group of aliens that none has something to do with the other and we still love to see the dynamics of then together, such a mice team, and the movie brings kind of a nostalgia to the main public with songs from the 80's and a style that we never saw before on the MCU really giving the fans a new group that by the end of the movie you want to see more and more.
Doctor Strange
Dr. Stephen Strange's (Benedict Cumberbatch) life changes after a car accident robs him of the use of his hands. When traditional medicine fails him, he looks for healing, and hope, in a mysterious enclave. He quickly learns that the enclave is at the front line of a battle against unseen dark forces bent on destroying reality. Before long, Strange is forced to choose between his life of fortune and status or leave it all behind to defend the world as the most powerful sorcerer in existence.
When I first saw this movie I didn't understand a thing from it but on the second time things were clearing it up for me, Doctor Strange was becoming cooler and cooler for me because he can deal with magic and the way the VFX works on this movie it truly gives you a feeling of reality in your face so much fun.
Avengers: Infinity War
Iron Man, Thor, the Hulk and the rest of the Avengers unite to battle their most powerful enemy yet — the evil Thanos. On a mission to collect all six Infinity Stones, Thanos plans to use the artifacts to inflict his twisted will on reality. The fate of the planet and existence itself has never been more uncertain as everything the Avengers have fought for has led up to this moment.
Infinity War was the pinnacle of all we've been watching on Marvel for the last years and then this movie was released giving a part one to everything we saw on the past, and leaving all the fans really scared because heroes can lose as well, not always will the heroes win and be heroic sometimes they will lose.
Avengers: Endgame
Adrift in space with no food or water, Tony Stark sends a message to Pepper Potts as his oxygen supply starts to dwindle. Meanwhile, the remaining Avengers — Thor, Black Widow, Captain America and Bruce Banner — must figure out a way to bring back their vanquished allies for an epic showdown with Thanos — the evil demigod who decimated the planet and the universe.
Endgame is a movie that literally gives to the public all they wanted, from the final battle to a three-hour movie that you want to engage and be really in attention to all the characters in the screen and it is so emotional to see that they really gave us all we want and gave an end to some timelines and some stories that we would never have the chance to see again.
Spider-Man: No Way Home
With Spider-Man's identity now revealed, our friendly neighborhood web-slinger is unmasked and no longer able to separate his normal life as Peter Parker from the high stakes of being a superhero. When Peter asks for help from Doctor Strange, the stakes become even more dangerous, forcing him to discover what it truly means to be Spider-Man.
This movie is a nerd event, I still remember everyone clapping and screaming in the theater, how everyone had their high hopes and expectations and they did all that was promised, this movie was so incredible and so nice that I really have no words to describe, and it was released in such a good moment, I still watch this movie and it gives me chills to see all of that happening in front of me.
Toy Story 1 2 3
Woody (Tom Hanks), a good-hearted cowboy doll who belongs to a young boy named Andy (John Morris), sees his position as Andy's favorite toy jeopardized when his parents buy him a Buzz Lightyear (Tim Allen) action figure. Even worse, the arrogant Buzz thinks he's a real spaceman on a mission to return to his home planet. When Andy's family moves to a new house, Woody and Buzz must escape the clutches of maladjusted neighbor Sid Phillips (Erik von Detten) and reunite with their boy.
I never thought that toys would make me cry and get nervous but Toy Story did it following the story of woody and buzz really was important for me following the story from the beginning where we can see many important topics being taught to children and it is really about who they are and how they will become something more in the next movies, many people grew up with toy story and by the third movie they were old enough and moving so they were living what the main character was living too.
The Incredibles 1 2
In this lauded Pixar animated film, married superheroes Mr. Incredible (Craig T. Nelson) and Elastigirl (Holly Hunter) are forced to assume mundane lives as Bob and Helen Parr after all super-powered activities have been banned by the government. While Mr. Incredible loves his wife and kids, he longs to return to a life of adventure, and he gets a chance when summoned to an island to battle an out-of-control robot. Soon, Mr. Incredible is in trouble, and it's up to his family to save him.
Incredibles is so nice because you're putting together some of the things I like the most, from a movie from pixar to superheroes and that is exactly this movie, a superhero movie from pixar and the story is so original, the characters are so relatable that it is so nice to watch again and again because you end up falling in love with the Incredible family.
Cars
While traveling to California to race against The King (Richard Petty) and Chick Hicks (Michael Keaton) for the Piston Cup Championship, Lightning McQueen (Owen Wilson) becomes lost after falling out of his trailer in a run down town called Radiator Springs. While there he slowly befriends the town's odd residents, including Sally (Bonnie Hunt), Doc Hudson (Paul Newman) and Mater (Larry the Cable Guy). When it comes time for him to leave, the championship is no longer his top priority.
I guess no one would believe if we once said there is a movie about cars that would make us so emotional, but this one has a special place in my heart the way all the cars are so nice and have many different personalities and individualities it makes me think how would my car act if it was on the movie.
Ratatouille
Remy dreams of becoming a great chef, despite being a rat in a definitely rodent-phobic profession. He moves to Paris to follow his dream, and with the help of hapless garbage boy Linguini he puts his culinary skills to the test in the kitchen but he has to stay in hiding at the same time, with hilarious consequences. Remy eventually gets the chance to prove his culinary abilities to a great food critic but is the food good? A Pixar animation.
This is the funniest and strangest idea there could ever exist if you think about it, a rat – one of the most disgusting animals there is on earth – in a kitchen cooking, it is a very strange concept that works and that it makes so much fun story and a good plot that in the end you care about all the characters even the ones you don't expect to like.
Fantasia
Released in 1940, this movie represented Disney's boldest experiment to date. Bringing to life his vision of blending animated imagery with classical music. What had begun as a vehicle to enhance Mickey Mouse's career blossomed into a full-blown feature that remains unique in the history of animation.
Fantasia is a musical, and the best representation of Disney magic on a screen, the way they represent classic music and classic styles of music is so incredible they use some dazzling images to match with the rhythm of the song and it is awesome to watch all of that.
Aladdin
Aladdin is a lovable street urchin who meets Princess Jasmine, the beautiful daughter of the sultan of Agrabah. While visiting her exotic palace, Aladdin stumbles upon a magic oil lamp that unleashes a powerful, wisecracking, larger-than-life genie. As Aladdin and the genie start to become friends, they must soon embark on a dangerous mission to stop the evil sorcerer Jafar from overthrowing young Jasmine's kingdom.
Aladdin is just nice to see a great princess story that the princess is not the main character, so you follow the story of the genie and Aladdin which is a person that knows how to trick people but he still has a good heart, the way the song so good to tell the story and in the end you will want to watch it all over again just for the songs.
Hercules
Disney tackles Greek mythology in this animated feature. Hercules (Tate Donovan), a son of gods, was snatched as a baby by Hades (James Woods) and forced to live among mortals as a half-man, half-god. Now a teenager, Hercules needs to perform a rite of passage on Earth to prove himself worthy of living with the gods on Mount Olympus. With his plucky satyr sidekick, Philoctetes (Danny DeVito), along for the ride, Hercules must learn how to use his strength to defeat a series of evil creatures.
Hercules I can talk for as much as you want; it is my favorite movie from Disney, I love Greek mythology ever since this movie, it showed me such a good story that is vicious and violent in a very gentle and beautiful way, the way they show love and what being a good person means is so powerful and it is so nice to see how all the characters are funny and all of them have a reason to act the way they do, the evil character still in some way entertaining and lovable as villains, the gods are so nice to see how they are so unique and so creative, the songs take you from one point to another in the story developing the characters from what they want to what they will become, anyways watch it and enjoy it.
Lion King
This Disney animated feature follows the adventures of the young lion Simba (Jonathan Taylor Thomas), the heir of his father, Mufasa (James Earl Jones). Simba's wicked uncle, Scar (Jeremy Irons), plots to usurp Mufasa's throne by luring father and son into a stampede of wildebeests. But Simba escapes, and only Mufasa is killed. Simba returns as an adult (Matthew Broderick) to take back his homeland from Scar with the help of his friends Timon (Nathan Lane) and Pumbaa (Ernie Sabella).
I think such a classic should be in my list, this movie has one of the best songs of disney and also a great story that makes you hate the villain and love the main characters going from the death of a great character to the development of many others making you cry, laugh and be happy in the end because the story ended in a happy ending.
Chicken Little
Young Chicken Little (Zach Braff) throws his small town into panic by claiming the sky is falling. Unable to find the piece of "sky" that hit him, he earns the town's scorn. A year later, outcast Little tries to redeem himself by joining the baseball team, helping to win a crucial game. Later that night he is hit on the head again and discovers that the "falling sky" is actually from a UFO. Now, Little must convince the skeptical town that an alien invasion is about to happen.
Chicken Little I was so obsessed with this movie when I was still a kid, and now a days I still love the fact that it is so comical and it is a movie that makes jokes with all the kinds of stories that Disney made until that movie was released, from funny characters to a funny and silly plot this is a very comfy movie to watch in a bad day.

Pirates of the Caribbean
Capt. Jack Sparrow (Johnny Depp) arrives at Port Royal in the Caribbean without a ship or crew. His timing is inopportune, however, because later that evening the town is besieged by a pirate ship. The pirates kidnap the governor's daughter, Elizabeth (Keira Knightley), who's in possession of a valuable coin that is linked to a curse that has transformed the pirates into the undead. A gallant blacksmith (Orlando Bloom) in love with Elizabeth allies with Sparrow in pursuit of the pirates.
Pirates of the Caribbean is a good way to end this list a series of movies inspired by a Disney attraction, the movie is so fun and funny, the actors do a great job to portray pirates and it is a great series of movies with characters that are great.
Well for one last time I am writing for The Caledonian, it is more emotional than I thought it would be, to all the reader I am really glad that y'all read my opinions and also watched the movies I recommend, I hope everyone have fun with these movies and this is me signing off.
View Comments (1)
Your donation will support the student journalists of The Woodlands High School. Your contribution will allow us to purchase equipment and cover our annual website hosting costs.
About the Writer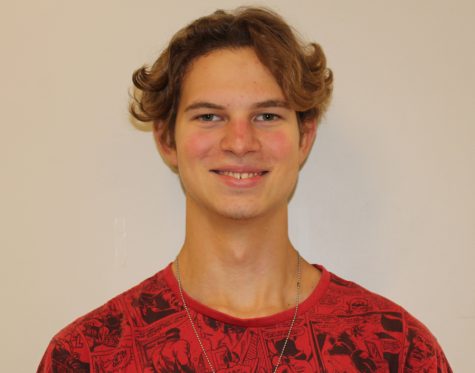 Bruno Waishaupt, Writer
Bruno grew up in Brazil and lived there 12 years, moved to Mexico where he lived for three years, and moved to the US. Bruno wants to study engineering...