A breath of fresh fare at State Fare
Atmosphere: The first thing I noticed when I arrived at State Fare was how the exterior of the restaurant popped out among the many other restaurants in Hughes Landing. The building appears to have been remodeled with a more modern design in mind. Covered in a deep navy blue and neatly accented with orange flower beds, it's easy for your eyes to be drawn towards it.
Upon entering, I was greeted by two smiling hostesses ready to seat me and my family. We got a nice spot at the front of the restaurant with comfy couch-like chairs. Overlooking us was a large neon sign which read "Good Vibes Only Please", which I thought was a nice addition to the decor. Whether you're a younger or older person, everyone seems to fit in at State Fare.
Okay, now the most important part; the food! We first ordered three appetizers:
-Fried Green Tomatoes $16
This was my favorite appetizer by far. They came with lump crab meat and red jalapeño slices on top. I'm not usually a seafood fan, but I found this to be absolutely delicious. They were firm enough to be picked up without limping, but soft enough to eat easily. I don't usually eat crab, but I would definitely order these again. Double points for neat presentation!
-Queso Blanco $11 (with braised Birria beef, consommé and salsa added +$7)
We ordered two quesos, one with added ingredients and one without. I'm relieved to tell you that this queso is not of velveeta quality. It was served warm and thoroughly melted with a side of salted tortilla chips, and the added ingredients on the side. The queso on its own was pretty average but of good flavor. However, when we added consomme sauce and salsa it instantly doubled in flavor. If you like Mexican cuisine, (and have some extra money to spend) I'd recommend adding the extra ingredients.
-Chunky Guacamole 'Norteño' style $12
I didn't eat the guacamole but my family did. It was served "northern style" with onions, tomatoes, cilantro, with dashes of lime juice and pepper. In other words, it was quite chunky. It also came with a side of salsa. I'm told it was like regular guacamole and nothing too notable.

-The "Birria" Grilled Cheese $18
[Tillamook cheddar, braised short rib, provolone, diced onion, cilantro, consommé]
As far as grilled cheeses go, this one was pretty darn good. Braised Birria meat was stuffed between the three layers of bread, Tillamook cheddar cheese, and provolone. It came with french fries, and a cup of consomme soup to dip the sandwich into. Overall it was pretty good, and the soup made it a lot better. The portion size was so large, I ended up taking home half of the sandwich and a bunch of fries. Although I enjoyed it, I don't think it was worth a whopping $18.
-"Be Someone" Breakfast Burrito $18
My step dad tried this one. It was a pretty large burrito filled with sausage, bacon, hash browns, scrambled eggs, all wrapped in a flour tortilla then smothered in queso. "It had good portions, but based off of presentation you would have expected more flavor" he commented. To him, there was nothing about it that really set itself apart from other burritos.
I wish I was able to try more of State Fare's food, but based on what I had it was pretty high in quality. I didn't dislike anything I tried, which is unusual for me because I can be pretty picky. Everyone left the restaurant satisfied while having leftovers to spare, as all of the portions are quite large. Just be prepared to spend a little extra, the prices average out at $17 per dish. Overall, State Fare had a nice and comfortable atmosphere, friendly staff, and good food.
State Fare is located at 1900 Hughes Landing. They are open Monday through Thursday, 11 a.m. – 9:30 p.m, Friday 11 a.m. – 11 p.m., Saturday, 10 a.m. – 11p.m. and Sunday 10 a.m. – 9 p.m.
Leave a Comment
Your donation will support the student journalists of The Woodlands High School. Your contribution will allow us to purchase equipment and cover our annual website hosting costs.
About the Writer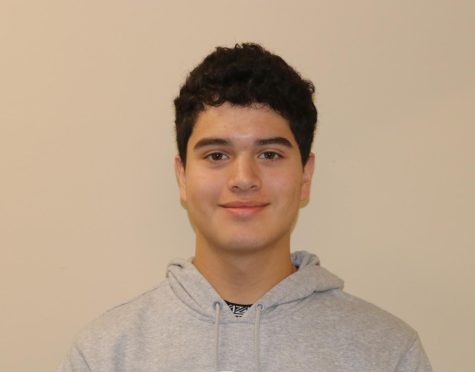 Adrian Holguin, Staff
Adrian is a senior. In his free time, Adrian makes music with his best friends, participates in TWHS Theater Dept., and sleeps a lot. He has three dogs,...