Goode Co. Fish Camp a mixed catch
Earlier this year, Goode Company brought their newest concept, Fish Camp, to The Woodlands. It is at the same location as the Goode Company Cantina, and has replaced the smokehouse that Goode Co. first opened at this location. There were many fans of the authentic Texan BBQ that they served so I'm sure I was one of many that were sad to see it go. Despite this, and not being exactly a seafood enthusiast, I was eager to experience what this new location had to offer.
The first few steps into Fish Camp shattered my expectations for the location. In my mind the decor had fit the 'camp' in Fish Camp. A homey rustic-chic with maybe some exposed wood detailing and walls decorated with black and white family pictures. I had not expected turquoise diner booths mixed with chrome and bright whites in the slightest. It was a pleasant surprise, but my party decided to be seated on the patio which was outfitted with misters, fans, and umbrellas to help beat the heat.
Our server was attentive and always coming to check on us, but not once did it feel like we were rushed to order which is something I very much appreciate. When we finally got around to ordering an appetizer the finalists were the Catfish Beignets and the Payday Garlic Bread, priced at $11 and $6 respectively.
The Catfish Beignets were described on the menu to be "Marinated in beer, mustard, and hot sauce, then cornmeal breaded, served with Comeback Sauce", they did not, however, advertise the single hush puppy that was served alongside them. I'm thinking it may have been a mistake, but not one that bothered me too much since it was pretty funny. Unexpected Hush Puppy aside, these were definitely a hit. The breading was light, and had the slightest bit of spice while the catfish underneath was moist and had an almost melt in your mouth texture. The Comeback Sauce was really the cherry on top.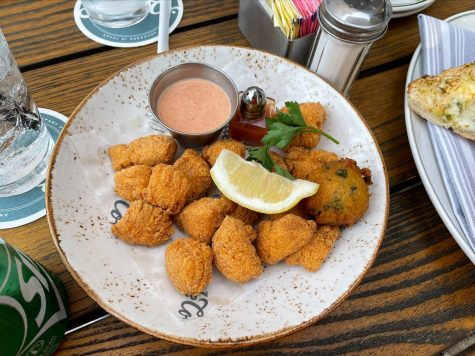 The Payday Garlic Bread was unfortunately not as much of a win. It had more cheese than anything else, and the only garlic to be found was in the pesto and even that was such a small amount that I could barely taste it. This isn't to say that it was overall a bad appetizer, just that I was expecting garlic bread, not cheesy pesto bread. This definitely dragged down the overall experience quite a bit.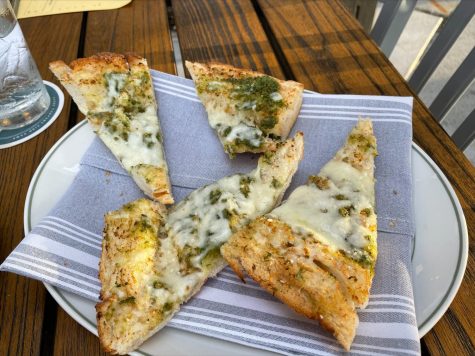 Since I have no real preferences when it comes to seafood, I decided to go with a recommendation from our server for my main course, the Texas Striped Bass. Oven-roasted with salsa verde, herbed Parmesan breadcrumbs, and lemon butter,and priced at $29. The bass was topped with quite a bit of cilantro, and although the breading was a little black around the edges the fish itself wasn't dry in the slightest.
The whole dish was unfortunately slightly bland, with the only excitement for me being the lemon butter, which there was a painfully small amount of. This combined with the heaping garnish of cilantro that wasn't in the description of the dish, also brings down my overall experience.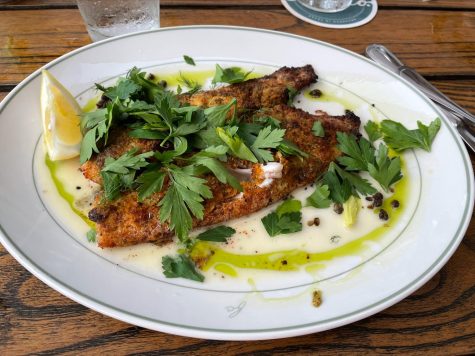 Fish Camp was by no means a bad dining experience. The menu was diverse, with a separate selection of seasonal items. The dining areas were beautifully decorated and the staff was attentive and knowledgeable of the menu items. I may have just been unlucky and chosen the only two menu items that have what I would call inaccurate descriptions, but regardless they threw off my expectations and did leave me mildly disappointed. If you can appreciate some small surprises I would definitely recommend giving Fish Camp a visit.
Leave a Comment
Your donation will support the student journalists of The Woodlands High School. Your contribution will allow us to purchase equipment and cover our annual website hosting costs.
About the Contributor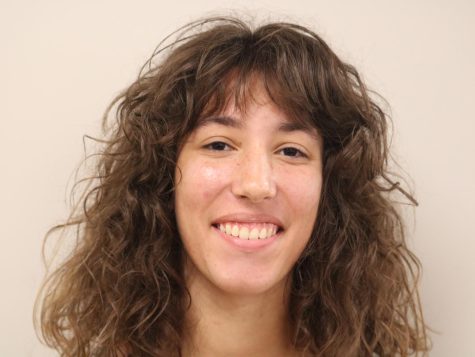 Madeleine Keene, Staff
Madeleine is a senior at TWHS. This is her first year contributing to The Caledonian. Outside of school she enjoys watching old rallycross clips and...