Marvel's "Werewolf By Night" a real howl
SOME SPOILERS AHEAD FOR THE SPECIAL
READ AT YOUR OWN RISK
Marvel's new Halloween spooktacular is a surprise thrill for the Marvel Cinematic Universe, but provides a more mature tone meant for different audiences than before.
Werewolf by Night was released on Oct. 7 as the first of Marvel's Special Presentations for Disney+. The Halloween-themed special stars Gael Garcia Bernal as Jack Russell/Werewolf by Night and Laura Donnelly as Elsa Bloodstone. This special also happens to be the directorial debut of composer Michael Giachinno.
The special introduces us to the monster hunting side of the MCU with the characters of Jack Russell and Elsa Bloodstone, and both are called upon to a ceremonial trial to obtain Ulysses Bloodstone's bloodstone, a very powerful item among the hunting world of the MCU. Along with them are fellow hunters from all around the world ready to take on the challenge of fighting through a maze to obtain the right of the bloodstone from a dangerous monster.
Right off the bat, the special does a great job at introducing this brand new side to the MCU, much like Doctor Strange did with sorcerers. We're even given a quick history lesson of their unknown presence within the universe.
This special had a very tough job to pull off for a phase 4 MCU project: to make a compelling and interesting story without any preexisting characters. Moon Knight and Ms. Marvel had to do the same and both were met with some seemingly mixed reactions. However, even with a challenge such as this, the show was able to tell a compelling and complete story within the span of just 53 minutes.
There were a lot of new and exciting prospects to offer from the special, such as the fact that this is the MCU's first horror project. Up to this point the horror genre hasn't been thoroughly explored like Werewolf by Night has. We've only been given a glimpse of it with this year's Doctor Strange in the Multiverse of Madness.
There was certainly an old school horror aspect to the special. The normal Marvel Studios intro was cut, literally, into a horror homage. It turned to black and white with scratches and gashes being put through the screen. The black and white even stayed all throughout this special to the very end. This special is very much an old school horror throwback as much as it is a modern thriller. We are shown the entire special in black and white, up until the very last few minutes where we see color finally return to the world.
Another shocking change with this special was the absolute lack of CGI. So far almost every MCU project has had a strong presence of CGI looming over it. Almost every shot is practical and real. The only CGI used is for the character of Man Thing, who I'll get to later. Even with him there was still a practical version of the character made. The most practical part of the special for the character of Jack Russell as the werewolf of Werewolf by Night. He has a very gnarly transformation that results in a very practical look for the character. He looks like he's ripped straight out of a classic monster horror film. It's extremely refreshing to see after so much CGI in everything. It really shows how much effort was put behind this special, rather than it just being a throwaway Halloween TV movie.
The care and effort put in this special is apparent throughout its whole run time. It never seemed to aspire to be like some other recent Marvel projects that have been underwhelming to say the least. When we see Jack transform into his werewolf form, it doesn't look like a crappy CGI wolf or just another human but with prosthetics. This time we actually see someone who looks like a man and a wolf design put together.
Everything I saw was great, but it's what I didn't feel that almost steered me towards underwhelming rather than fantastic.
For a horror themed special, I never felt any fear or was scared about it at any time. That may be different for some people, but I just didn't find much to be scared about with the special. At least they didn't aspire to tell a crappy joke every five minutes. In many scenes it definitely felt intense, just not very scary. Something that I think drags the horror down is the fact that most of these characters are skilled fighters, they don't need to be scared themselves. It's the fact that I know they can handle the situation which calms it down. Another thing is the fact that all of the monsters seen in the special are good guys, so we know they're on our side, the viewers' side. The most horrifying scene probably goes to the transformation of Jack into his werewolf form. We don't see much of the actual transformation, but we witness Elsa's complete and utter shock and horror of seeing the transformation before her eyes. The music does add a sense of mystery and classic horror to the mix, which makes up for the lack of visual violence until the very end of the special.
No, this special does not have any problems with holding back on the violence. For a special on Disney+, I did not expect to see many gruesome deaths. I sure was wrong though. Even before we see Jack transform we see quite a bit of heavy violence carried out by Elsa Bloodstone and Man-Thing. So to say, that aspect definitely made it more enjoyable without having been scared. The special did not care if it showed blood or not, as we see in the end our hero slashing blood onto our literal screens as we watched him rampage against numerous enemies. However, part of me doubts we would've seen this level or violence and realism if we didn't have the black and white screen aesthetic.
Now this show, as mentioned before, has no pre-existing characters from the MCU. That may seem like a turn-off for the average MCU viewer, because many of the reasons people watch the MCU is for the interconnectivity. While this special may not look very connected, it very much is. The MCU is expanding and along with that are many horror and supernatural elements now. We got a glimpse of it in the recent Doctor Strange film, a deep dive into it with Moon Knight, and soon a feature film with Mahershala Ali's Blade. This special is just the first of many in the horror segment of the MCU. With that we do get introduced to very lively and new characters.
Jack Russell, played by Gael Garcia Bernal, is the new and very much practical werewolf of Werewolf by Night. Jack is presented as a much kinder man than what the other hunters are. He is said to have over 100 confirmed kills, but his attitude and heart does not show that. He is very much the victim of the same tragedy Frankenstein's monster saw. While he wants to appear as a normal and loving person, the society he's in tries to vilify him and make him perceived as a true monster. We see in the end his wrath and animalistic actions upon the hunters. It was quite shocking and made for a very well crafted finale. Overall I really enjoyed the character, and I hope to see him appear in more mainstream films and specials. Without our classic raging Hulk, it's about time we got a new monster for Marvel.
Elsa Bloodstone is played by Laura Donnelly who is the daughter of the famed monster hunter, Ulysses Bloodstone. Her character is portrayed as a maverick and someone who goes outside the established order. Not only that, but she is a skilled fighter, hunter, and isn't afraid to kill. Unlike the other hunters, who are cruel and always out for blood, she is more understanding of people like Jack. She was a good addition to the entirely new cast, but I feel that we are in need for more so we can go deeper into her life and backstory. It was mostly untouched aside from the necessary details, and it's something I think can act as a really good spin-off story.
The last character I wanted to talk about is Man-Thing, or as he likes to go by Ted. Ted is played by Carey Jones and is shown to be a powerful force to be reckoned with. Unfortunately for him, he is plagued with a more permanent form of the same tragedy of Frankenstein's monster. Jack Russell can transform into human form from his werewolf form, but for Ted it seems that he's stuck as the Man-Thing. We don't get much characterization for Ted, which is unfortunate, but he is too powerful and notable of a character to not appear in more projects. Speaking of power, we don't get a good look into what he can offer aside from him delivering two of the most horrifying deaths in the special. It's a very disturbing brutality from someone who is characterized as a friendly monster.
A really big significance for this special is not only that it's the first horror installment in the MCU, but it is also the directorial debut of acclaimed composer Michael Giachinno. After a very long and successful career as a well established composer, Giachinno picked up the directing gig for Werewolf by Night. Not only that but he still composed for this special. I actually found this special to have some pretty interesting shots, the most interesting being the final fight scene. In it we see this long one shot, akin to the Marvel Netflix series that did the same type of camera work. Through the shot we see this unbridled rage from Jack who has completely unleashed as the werewolf. Through it all we get a legitimate sense of horror and brutality, something that Giachinno's style really helped with in that scene. Not only did he direct, but Giachinno still composed. May I remind you that this is the same guy who did this year's The Batman along with movies like Up and The Incredibles. While doubling as director, Giachinno still gives it his all composing the special. He revamps the main Marvel title theme and dubs it "Mane Title", which gives it an eerie and unsettling feeling off the bat. As for the rest of the theme we get many that convey somber emotions along with the intensity of a fight. Personally I found "Mane on Ends" and "Where's Wolf" to be the most thrilling and enjoyable new themes. Giachinno did a wonderful job for his first time directing and just as good a job with composing.
This Special Presentation by Marvel is really a terrific idea that I'm sure will pay off for future specials such as the new Guardians of the Galaxy Holiday Special which will be released later this year. Unlike most other Disney+ releases, this knew exactly what it wanted to be right off the bat. Never did it shy away from being more mature, but it did lack in the fear factor.
Werewolf by Night expresses an entirely new and thrilling side to the MCU that offers more than just an attempt at horror. It is Marvel's first real attempt at trying to make something different from the status quo. I cannot wait to see where all of these characters go next, as their journeys are only just beginning. The same goes to Michael Giachinno who from the looks of this special is surely headed to some great places. Not only that but I'd love to keep seeing this more practical and creative side to the MCU in many of their future projects. This special truly does stand out from the rest of the recent Marvel projects.
Werewolf by Night stars Gael Garcia Bernal, Laura Donnelly, Eugene Bondurant, Harriet Sansome Harris, Jaycob Maya, Kirk Thatcher, Leonardo Nam, Daniel J. Watts, and Al Hamacher and is now available to stream on Disney+.
View Comments (1)
Your donation will support the student journalists of The Woodlands High School. Your contribution will allow us to purchase equipment and cover our annual website hosting costs.
About the Writer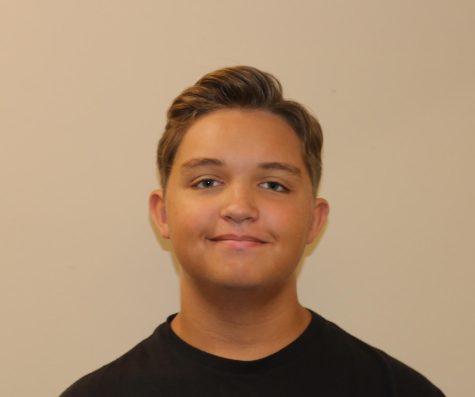 Patrick Sammon, Writer
After a year in journalism, junior, Patrick Sammon is onto his first year of newspaper. He has a dog and 3 older siblings, all former students of Mrs....