TWHS alum sings with The Taberacle Choir at Temple Square
In a performance group of over 500 singers and orchestra and band members, 2009 TWHS graduate, Kendra (Sherman) Hicken  sings uplifting and encouraging songs as Soprano II in The Tabernacle Choir at Temple Square, which was previously known as The Mormon Tabernacle Choir. Throughout her life, Hicken, who also plays the piano and violin, has had to choose between the three. In the past five years, Hicken has been one of the 320 total choir members who have been able to sing in the Salt Lake City Conference Center which seats over 21,000 audience members.
"Being in the Tabernacle Choir was my dream, but I never thought I would be able to do it," Hicken said.
At a young age, Hicken began her musical journey. Loving to sing, Hicken started in the fifth grade at Mitchell Intermediate joining the Choir elective because it "was available to me". During the following years, Hicken picked up orchestra playing the violin until the 10th grade when she had to choose between the two.
"I was a better singer than a violinist, and I had more desire to sing than practice violin," Hicken said.
In her TWHS senior year, Hicken became Choir President performing in TWHS' Chamber Choir until graduation and began attending Brigham Young University. Majoring in Piano Performance, Hicken was a part of a women's choir her freshman year to help complete her degree. During that year, Hicken learned that she was a natural Soprano, not Alto which she had grown up singing in school. For Hicken, it was a "huge shock" because for all of her life she had sung Alto. After her college freshman year, she then spent over six years not in a choir. It was difficult for Hicken during those years missing "the unity" and magic of "making music together."
"That's just how my life has been-oscillating between piano and singing," Hicken said. "At the time, piano was taking prevalence."
Hicken had always wanted to be in the Tabernacle Choir. She remembers having a discussion with her former choir teacher Dr. Bob Horton about the choir when a new recording of a song came out. The uplifting music Hicken grew up listening was performed by individuals "on a different level of musicianship".
"I auditioned on a whim," Hicken said.
Horton remembers Hicken with high praise.
"Kendra was an awesome servant leader,"  Horton said.  "In addition to enormous talent, her work ethic was amazing. She was beloved by her peers and her teachers alike. She managed to successfully balance her rigorous academic schedule and be in two choirs her junior and senior year, while serving as President of the TWHS Choir."
Auditioning at the youngest age you can (25), Hicken spent close to nine months in an "intense" audition process. In 2016, Hicken, along with 200 other participants, sent in a CD recording. Then two weeks later, a music skill and knowledge test, and then finally one month later, a live audition with Director Mark Wilberg and Assistant Director Ryan Murphy. After learning she was admitted into the choir, Hicken went through a four-month training period.
"Ryan Murphy got us prepped and ready to entire the big choir," Hicken said.
Hicken, along with the group of 30, practiced new skills and learned singing pieces that were performed at a concert. At the end of the four months, the group was tested on the new skills acquired then they were officially a part of the Tabernacle Choir. All choir singers and orchestra members are volunteers and unpaid.
"We just all love to sing and we want to share it with people," Hicken said.
The choir practices only on Thursday from 7:30-9:30 either in the Salt Lake Tabernacle or the Conference Center to accommodate the bigger crowds in the summer and December. Concerts are usually held in the Conference Center and are only held three to four times a year. The Choir also broadcasts weekly for half an hour on Sundays. Much of the preparation for Concerts and Broadcasts is done at home. The Directors give the musicians recordings of the songs to prepare, and at Thursday practice, they are expected to know it.
"It's a very fast-moving organization," Hicken said. "We don't take a lot of time to go over notes. They just expect us to do that on our own before we get there."
While the songs can be difficult and the singers and orchestra members have to be fully prepared walking into practice, it keeps Hicken on her toes and is a reason why Hicken enjoys being a part of the big choir so much.
"Singing with such a big group is so powerful and uplifting," Hicken said. "The other choir members are so well musically trained- have been involved with music their whole life- it just makes it so much better than being bogged down with learning notes."
To listen, visit the link to the choir here.
Leave a Comment
Your donation will support the student journalists of The Woodlands High School. Your contribution will allow us to purchase equipment and cover our annual website hosting costs.
About the Writer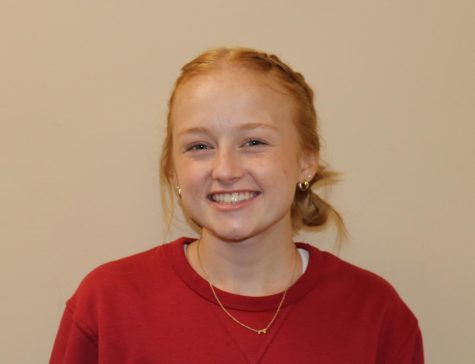 Jae Green, Editor
Jae is a senior. This is her second year on The Caledonian and her first year being an editor. She is also on the Varsity Cross County and Track teams...