"Glass Onion": A "Knives Out" mystery spoiler-free review
The colorful sequel to 2019's mystery success proves that Detective Benoit Blanc still has many more cases to solve.
"Glass Onion: A Knives Out Mystery" presents itself as the flashier and much anticipated sequel to 2019's "Knives Out". We are introduced to a more complex mystery that manages to captivate the audience with the same level of charisma, shocks, twists, humor, and brilliance in storytelling.
This film follows Detective Benoit Blanc once again as he is invited to tech billionaire Miles Bron's private island to solve a fun murder mystery game he has set up for his guests. However, the events of the private island getaway go awry when there is a sudden murder. As many of the socialite and nervous guests begin to panic, Benoit hops on the case to find the killer and bring the killer to justice.
Much like the previous film, "Glass Onion" incriminates all of the guests by giving them all a reason to want to kill the victim. It smartly divides the audience once again into believing that anybody can be the killer, even the most spineless or harmless of them are potential killers. This is something I believe this film does much better, as the mystery is not only surrounded by the victim or killer, rather it's surrounded by everyone. Even the ones who aren't involved with the murder can still be involved to a degree. The suspense is present the whole way through.
All of these guests, along with Miles Bron himself, are a close knit group of rich and famous friends. Their level within society keeps the same type of feeling from "Knives Out". However, they don't have the same type of chemistry as the Thrombey family from the first. Still, the tension between every one of them is still high. Every guest has secrets and dirty laundry that they are so paranoid about being let out into the public eye.
Something unique to this film that not many other films have done is setting it during 2020 and even having COVID-19 play a role.
Many films and TV shows that take place in present day glossed right over 2020, they basically pretend it never happened, nor did COVID-19 in the eyes of many films. Not this film. "Glass Onion" decided to use 2020 to bring its characters together for their private island mystery getaway.
COVID-19 was not only for shock value, rather it gives "Glass Onion" a really unique setting compared to "Knives Out". The setting of this film as mentioned before is on Miles Bron's private island where we see all sorts of fun scenery. A garden that annoyingly alarms when Benoit lights a cigar, a random car displayed on a roof, and a giant glass onion as per the title.
What this film does better than its predecessor is to characterize Daniel Craig's Detective Benoit Blanc more.
One of the few problems I had with "Knives Out" was making Ana De Armas' characterization more prevalent than Benoit's. Not that I had any problems with her character, just that Craig needed more time to be characterized. In "Knives Out" we didn't really get to know who Benoit was aside from being a so-called famous detective, but "Glass Onion" made right by it and showed the audience more of who he is.
"Glass Onion" presents Benoit as a man who loves a challenge, who loves mysteries and puzzles, and who loves having to outsmart the opposition. Him being locked inside during the pandemic clearly made him anxious for any opportunity to solve a mystery. We even see him playing the game "Among Us" while on a Zoom call with some of his friends. He is so downtrodden that he stays in his bathtub throughout most of the pandemic. That is until he receives his invitation to Miles Bron's mystery getaway, where he jumps at the opportunity to get out of his house and be the detective he knows he is. Unfortunately for him, this puts him right in the middle of a dire plot to murder one of the people at the island. Him being seemingly thrown into an unknown environment with little to know about these characters is what makes Benoit so much better in this film.
Another thing is due to how rich and prominent many of the characters in this film are compared to just being the family of a famous author, the famous people of "Glass Onion" actually recognize him for being this world famous detective. One the characters actually googles world's best detective and his name popped up. So to know the scope of Benoit's capabilities is such an intriguing thing to learn.
Now we still don't know much about how he came to be, or what made him such a great detective, However, I'm sure there is still time to learn that considering a third film is bound to be announced, so maybe we can get some insight into what made him so great in the first place. Though, that's all just wishful thinking, and even without this insight I am very satisfied with his portrayal in "Glass Onion". Daniel Craig once again does a very charismatic and lively performance as the famous southern detective, who takes more of the wheel as the main character in this film compared to the previous one.
Personally, I am a very big Edward Norton fan, mostly due to his performance as The Narrator in Fight Club. So to hear that he would be in this film was great, and it made me even more excited than I already was. In it he portrays world famous tech-billionaire Miles Bron, the man who invites everyone to the island for an exciting murder mystery. Though Miles Bron wasn't nearly as developed and deep as his previous Fight Club role, he still played a very eccentric, yet shady role in the film.
Due to the nature of Miles Bron's company, we get these big technological upgrades in the film which help further the plot through various ways. It makes the setting known off the bat, and it makes his character's scale of influence and power more vital in the plot. While it adds all of that into the film, I really didn't like how some of it was portrayed in the beginning. It seemed almost too out of the ordinary coming off a film like "Knives Out".
The mystery itself takes its time to get going, that goes for most of the main action as well. This film uses a much more non-linear approach to the plot, that levels the how it was used in "Knives Out". To not spoil the plot, all I can say is the way we see the plot play out makes for just as good of a revelation as the actual revelation of who the suspect is.
The reveal of the suspect is just as eye-opening as the reveal in "Knives Out". However, what happens afterwards may seem either hit or miss with audiences. Some may not like the conclusion this film comes to, and some may think it is even genius with how it ends. The one constant is how different it is compared to the first film.
"Glass Onion: A Knives Out Mystery" does just as good of a job at portraying a modern day mystery as "Knives Out" once did. In all honesty, I'd say this film is just as fantastic as its predecessor. It makes you really question yourself throughout the film who the suspect is, what the motive behind the crimes are, and how everything ties together at the end.
Unlike most films nowadays that try to either be way too serious with itself or way too over the top, the "Glass Onion" found its balance just like "Knives Out" did in 2019. The film was still very comedic however, which I actually loved the comedy aspect almost as much as the mystery aspect.
This was a great film that I really do encourage many to see. Unfortunately it has a very limited release schedule from Nov. 23 to Nov. 30, and it is only playing at Cinemark, AMC, and Regal theaters. Personally, I think this is a huge mistake considering how great of a movie it is and how much of a hit the first one was in theaters. Don't be too let down though, as the film is scheduled for a second release on Dec. 23 on Netflix.
With those release dates in mind, I encourage audiences to not waste time to see "Glass Onion" if they can this week or when it hits Netflix.
"Glass Onion: A Knives Out Mystery" is written and directed by Rian Johnson and stars Daniel Craig, Edward Norton, Janelle Monáe, Kathryn Hahn, Leslie Odom Jr., Jessica Henwick, Madelyn Cline, Kate Hudson, and Dave Bautista.
View Comments (1)
Your donation will support the student journalists of The Woodlands High School. Your contribution will allow us to purchase equipment and cover our annual website hosting costs.
About the Contributor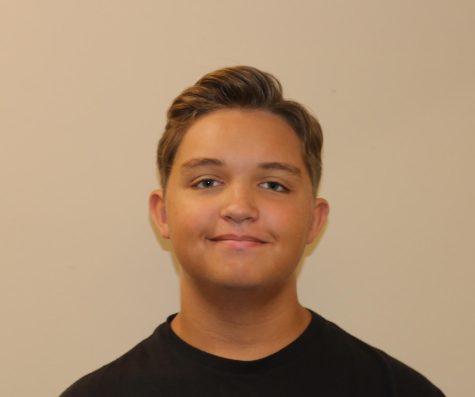 Patrick Sammon, Writer
After a year in journalism, junior, Patrick Sammon is onto his first year of newspaper. He has a dog and 3 older siblings, all former students of Mrs....