TWHS alum McPoland opens for "21 Pilots" tour
Everyone starts somewhere;  for Peter McPoland it was Astronomy class senior year at TWHS. "My friend, Gigi, started making [TikToks] in class. She would post me. I had a following through her for a while."
Gigi Paduano, a classmate, filmed a video of him in class.
"Peter was sitting next to me in some torn shoes and I knew TikTok girls loved quirky boys so I pulled out my phone and filmed Peter," Paduano said. "I was just trying to be like 'here's my cool friend."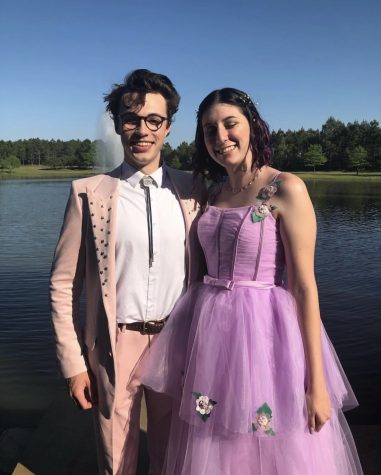 Music was always a part of Peter's life – as a high school senior, he was the Prince Eric in "The Little Mermaid," and with his band at the time won a spot on the Vans Warped Tour playing covers and original songs.
After graduating high school, McPoland eventually made his own account where he posted more of his songs. "It [TikTok]was picking up speed really quickly, everyone was getting into it. It was very opportunity driven," McPoland said.
Cut to several years later, and McPoland just finished up touring with 21 Pilots.  
After he graduated from high school, he decided to move out to New York for better opportunities.   Before getting signed with Columbia Records in 2021 he was working at Domino's for four months, after a pre-COVID stop in Washington, DC in a production of "Footloose."
McPoland actually had a backyard audition for a Columbia music producer and was signed after that.   Once he got signed with Columbia, the priority was to get his music out to as many people as possible.  Paduano was excited when McPoland was signed.
"I couldn't believe it," Paduano said.  "I was at work when he told me and I started sobbing.  I was just so proud that a big company recognized his efforts.  Anyone who knows Peter knows that this is what he lives and breathes, like he worked so hard for it."
However, that also meant there was less time for him to write. 
"So we did three tours in the last year, which feels like a lot. He said, "I don't know what the standard is, but for the last year I wrote everyday, that was my thing. I love writing, but for the last year I've been touring so much and just so focused on getting in front of as many people as possible."
Down time is everything for a singer/songwriter, for Peter this rings true. He needs time to himself to decompress and process the curveballs life throws his way especially his last three unforgettable months of the tour with 21 Pilots. 
"I hadn't written anything for like 10 months and now that I've been home, I've produced like four songs in the last four days, it's just been pouring out of me," said the busy bee.  "If I'm really busy and really stressed out and really focused on something, then I'm not writing, but when I can actually process my thoughts and have time to myself, then I do."
Peter says while he's on tour and busy, he spends less time thinking about what's going on with him.  "It feels like I don't process things. I don't know if this happens to everyone, but it feels like I don't process things for like six months after they happen. I'll let it sit, and then think about it six months down the road. It's just kind of fight or flight."
Before the tour, the biggest crowd McPoland had ever performed in front of was 1000 people so when he was in front of tens of thousands in the middle of a stage by himself, it's safe to say that he was a little awed.
"The first show was the most paralyzing fear. I don't get stage fright as much as other people but it was horrific," admitted Peter. "It consumed me for so long, so on the first show there was nothing good about being on stage. It was just terrifying for 30 minutes" McPoland said.
As time went on and he got more comfortable, he began trying new ways to get the crowd into the show.  
"It's interesting because you start realizing new ways to work a crowd and it's like this subconscious kind of fun game that you play with yourself, where you figure out what works and what doesn't work."
One thing that got a crowd reaction was during every show to go up to his drummer and take one of the cymbals from the drum kit. He would repeatedly punch it, and the crowds went absolutely feral for it. "It's just like a social experiment at that point but it's cool because by the end of the tour I knew what to say in what places and the reaction I would get, it's just cool seeing the similarities."
Although trying to experiment and get good at crowd work was a little easier depending on where he was. 
"It's fun and you see how some cities are more open to an opener [act] than others, just gauging the audience was fun. Phoenix, Arizona and Salt Lake City –  they might be tied [for best audience]. Phoenix crowds for whatever reason are unreal, I don't know what else they do there but they go hard."
While being on the road was fun and an important experience for Peter, he wasn't expecting it to be so routine.
"My sleep schedule was like 4am. to 12pm, and I would wake up at noon and there was a three hour window before I had to be at the venue. It was a new city everyday, so me and my friend Ryan would go out and just look at every city and do everything there was to do in three hours." To Peter, it was a three hour vacation before he had to go and punch a cymbal. "It was such a treat, that was by far the highlight of a long time." 
While on tour, McPoland fell into a comfortable routine.
"It's almost unfair because of how easy it becomes", he said. "I didn't have to do anything because they had so many people working on this set.  It was so easy to just do nothing, that was kind of a bummer. I didn't play guitar on this tour and so I didn't have an instrument, I just go up and I sing my songs. Like I soundcheck, then I go back to catering and then I go sing my set and then I go back to the green room and eat M&M's like it's so handed to you which was kind of, it's a little…you know."
Being home will bring a new set of challenges.
"Next is produce," he said.  I've been singing the same songs for so long and they're so derived from Tik Tok and they're so derived from trying to get big fast because there was an opportunity for it."
While New York is more convenient for his job, Peter is ready to move on. "I like the idea of it [NY] a lot, I've been here for a long enough time that I'm ready for a change. I'm thinking about Austin, honestly," admitted McPoland.  "All my friends live in Austin and I haven't seen them in a while, my job is kind of a lonely job. I just really work with myself so I don't have a lot of social interaction outside of the internet."
View Comments(1)
Your donation will support the student journalists of The Woodlands High School. Your contribution will allow us to purchase equipment and cover our annual website hosting costs.
About the Contributor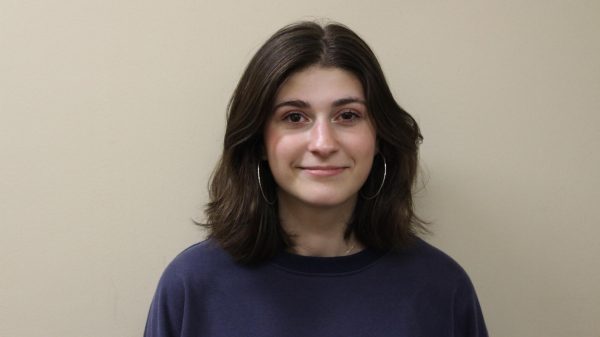 Emma Scruggins, Staff
Emma is a senior at TWHS. I absolutely love dogs! I enjoy painting in my down time and I want to be a Forensic Scientist when I am older.