TWHS grad teaches English to inmates
Lydia Cosculluela, a TWHS graduate, began teaching English at the Ramsey prison Unit, outside Rosharon, Texas in the fall of 2021, when she was just 24 years old. Before that she had been private tutoring and teaching for kids learning remotely during COVID-19. Cosculluela was happy that she got to teach in-person at the Ramsey Unit. "A student once told me that it's not about the material they learn, it's about learning how to have meaningful discussions with other people," Cosculluela said.
"I think teaching in a classroom setting really benefits the student," Cosculluela said. "As I'm sure a lot of TWHS students can relate. Learning by video is hard."
Ramsey is a men's unit that typically houses inmates who have few disciplinary issues, are older, or who have health problems.
The program has been going on since the mid 1970's and graduated around 600 men, and to her knowledge, only one graduate has ever re-offended and ended up back in prison, compared to the 30% recidivism rate for the whole state, according to statistics.
"I think the program shows them that there's something beyond crime out there for them," Cosculluela said.
Cosculluela got the job when she had applied for a part-time position teaching English at the University of Houston- Clear Lake. They didn't have space for her on campus, and instead handed her resume to the faculty running the prison program who eventually reached out to her.
"One of them emailed me out of the blue and asked 'Hey, would you be ok working in a prison?'". She said it was "a really funny email to receive when you aren't expecting it." She replied to the email in the affirmative.
To become certified to get in the prison, Cosculluela had to drive out the Plane Unit, which is a women's state jail just north of Dayton, Texas. After giving her finger prints and filling out official paperwork for the Department of Criminal Justice, she attended training sessions. These include normal things like how to act, the dress code, and what she's allowed to bring inside. "Spoiler, not a lot," Cosculluela said.
She also learned more intense things like what to do if a riot broke out or if she was taken hostage by an inmate in an escape attempt. After that, she then had to complete an exam proving she knew all this information. Once she completed the training course, she was then allowed into the Ramsey Unit.
Cosculluela currently teaches a 3 hour class once a week in the Education building, which houses both college classes (UHCL and Alvin Community College), as well as lower level courses through the Windham School District.
"They're pretty much regular classes," Cosculluela said. "We have those big wooden tables that are in the science classrooms. We've even got a bathroom pass."
On average, her classes have 15-20 students, and their sentence length is usually 10+ years, but several of her students have been incarcerated for 25+ years. The average education level of Cosculluela's students before being incarcerated is 8th grade.
"Imagine going from that into a college course," Cosculluela said.
"The hardest part about teaching in a prison is trying to bring everyone up to the same level along with being limited to technology", Said Cosculluela. Since her students don't have access to computers, she has to print out all of their course materials and she can bring in a slideshow on a flash drive.
"What motivates me to do it is the sense that I'm helping my students," Cosculluela said. A few of them even expressed to her that they never thought they would get a college degree."One gentleman told me last week that he thinks getting his degree is the most meaningful thing he's done in his life."
"My hope is that their degrees will help them get a job in the future. In addition, a good number of her students are up for parole in the next few years, which means that they'll be back in the free world if their hearings go well.
In April, there was a little graduation ceremony at the Ramsey Unit, in which she had a few students getting their degrees.
"
[I'd] like to see it expanded, or to see more universities start programs like this.
— Lydia Cosculluela
A lot of her students have aspirations for when they make parole; some want to become counselors and help troubled kids avoid ending up in prison, and others want to expand the education program to reach others in the same situation.
"I'm not ashamed to say I cried because I was so proud of them," Cosculluela said. "It's so inspiring to see people actually take steps to change their lives for the better."
Leave a Comment
Your donation will support the student journalists of The Woodlands High School. Your contribution will allow us to purchase equipment and cover our annual website hosting costs.
About the Writer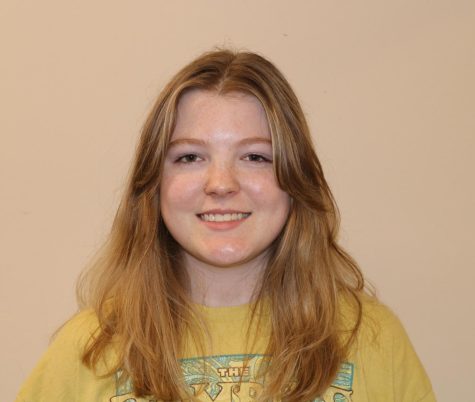 Kadence Muehe, Photo Editor
Kadence Muehe is a senior.  In her free time she enjoys watching tv, reading books, writing and hanging out with friends.