Midnights review

Taylor Swift released her tenth album, "Midnights", on October 21, 2022. It so far has been a beloved album, having received 184.6 million streams in one day, making her the number one artist on Spotify. It of course includes 13 tracks (13 being her lucky number), and has made her immensely successful. Inside of these 13 very different songs, Taylor describes the different emotions, thoughts, and feelings that we sit with at midnight. Swift even included an additional seven songs known as the "3am track". This album is definitely different from any of the other albums she's written. Many are obsessed, while some share differing opinions towards it. However, I do believe that it's a very great and special album. Since "Midnights" came out, I have taken a poll of which songs are the best on this album, and have analyzed them. These songs have turned out to be: "You're On Your Own, Kid", "Karma", "Anti-Hero", "Lavender Haze", and "Maroon".
"You're On Your Own, Kid" is definitely my favorite song out of the entire album to listen to. Swift tells the story of her struggles growing up, which are battles that many have faced, making the song very relatable. From heartbreak to perfectionism, Swift describes the turmoil that she faced when entering into the world of adulthood. "You're on Your Own, Kid" is catchy, and has a great build-up to the bridge of the song. The song comes to an end with Swift's message for us to enjoy life and that everything will work out for the best. The song is very peaceful, and overall I would rate this song at 8.8/10.
Another one of Swift's hit songs in her new album is "Karma". This song is a lot of fun. Taylor calls out toxic people and reminds them that karma is a real thing, and to not hurt other people. This pop song is light, playful, and happy. It helps people to feel more confident, and is such a fun thing to listen to in the car with friends. I would definitely rate this song 8.5/10.
The third track on this album is "Anti-Hero". It has a completely different vibe than her other songs, and is so very different. Swift dives into feelings of insecurity, self-loathing, and wanting to be good enough through a playful song with bits of dark humor. The song describes how it feels to carry a lot of blame. Swift refers to herself as an "anti-hero" which is a main character that lacks the personality traits of a true hero. "Anti-Hero" is one of those songs that is really upbeat, but if it was slower, it would definitely be very depressing. Even so, I do love this song, and would also rate it a 8.5/10.
On the other hand, the song "Lavender Haze" is a very light-hearted and fun song about a fun romance. Swift sings about dealing with people that criticize both her and her new relationship, and are able give their degrading opinions so freely. Despite this, her partner continues to love her, and ignores anyone who tries to bring her down. In this song, Swift feels a "Lavender Haze" of joy and excitement in this relationship. The song definitely gives off a purple vibe, and is a very happy and catchy pop song that many can confess is good. I would personally rate this song at a 7/10.
Our last song that we're going to discuss is Maroon. Maroon is winter in one song, and is about a love story in New York that didn't go right. Swift is reminiscing about her relationship, while at the same time realizing that it was toxic, inevitably causing it to come to an end. As a listener, you are able to feel the turmoil that Swift faces throughout the music. Maroon is calm and sad at the same time. It is very poetic, and has a good, consistent beat throughout the song. I would personally rate this song at 7.5/10.
All in all, I loved this album, and definitely recommend it to anyone who loves to dance to music in the car, pop song lovers, and of course every Taylor Swift fan. The songs listed above are truly great, but they are only just a list of the majority of people's favorites. There are still 15 other songs to listen to. So if you haven't listened to "Midnights" already, give it a try!
Leave a Comment
Your donation will support the student journalists of The Woodlands High School. Your contribution will allow us to purchase equipment and cover our annual website hosting costs.
About the Writer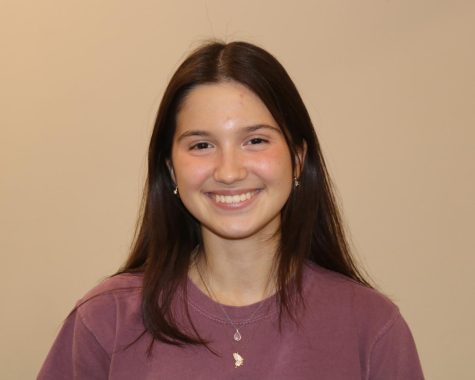 Caroline Salinas, Staff
This is Caroline's first year in newspaper at the Woodlands High School. When not at school, she enjoys writing and spending time with friends and family....