Student body chooses art for TWHS hallways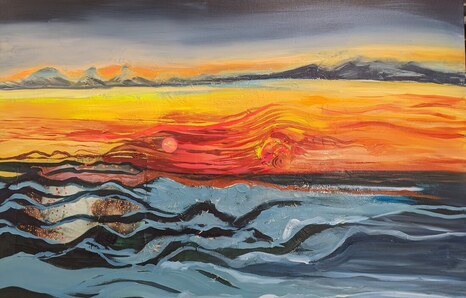 The Woodlands High School Art Trust program purchases art pieces of various mediums and designs from professional artists. Earlier this year, the student body voted on which art pieces should be displayed in our school's hallways. The five pieces chosen were Starry Day Ocean by Caroline Marcos, Touching Home Base by Carol Lyon, This Little Light of Mine by Debra Riley, and Xtreme Bull Riding by Muhammad Ali Bhatti, and Catsup by Elizabeth Clemson.
First, the mixed media piece by Caroline Marcos from Tomball, Starry Day Ocean, was selected by the student body. According to her website, Marcos is an art psychologist with a Master's of Arts in art therapy from the University of California at Santa Cruz. Marcos can be found through The Wildflower Studio, or teaching art therapy workshops at the Pearl Museum of Fine Arts, as well as the Jung Center. Marcos says that her artworks are "about the spiritual connection found in natural beauty and the temporal quality of our existence as part of nature."
Photographer Carol Lyon's artwork, Touching Home Base, shows two elephants on a black background. She began taking photos at the Capital of Texas Zoo in 2009. More of her photographs, primarily of animals, can be found on her website, carollyon.com. 
Another piece that was selected was the oil painting, This Little Light of Mine, by Debra Riley, who is a gallery manager of the Madeley Gallery. She states on her website that she wants to "discover beauty in everyday places and objects, to find a place of peace and tranquility." 
Xtreme Bull Riding is an oil painting by Professor Dr. Muhammed Ali Bhatti. He has a PhD of interdisciplinary arts from Ohio University. Bhatti states on his website that he "feel[s] driven to capture on canvas the beauty of life on a ranch, livestock, rodeo activities, rocky mountains, and wide open landscapes."
Finally, Catsup, which is a glisee by Woodlands artist Elizabeth Clemson is the fifth work purchased.
The collection has grown to include 61 pieces by 51 Texas artists.  The full collection can be seen here.  Tours are available of the collection – email [email protected].