HeBrews coffee is heavenly
Over the weekend, I had the pleasure to eat at HeBrews Coffee with my parents, and what an experience it was. At first glance, I could see that they had a pleasant outdoor seating area. It has a great seating arrangement and would be the perfect choice for a nice sunny day. As soon as I stepped foot in the coffeehouse, the extremely charismatic owner and workers welcomed me. The inside had a mixture of modern, homey/casual, and feel-good decorations. As you enter further, you'll see a wall with five picture frames telling their story. Definitely stop by and read it. You can choose to sit on a couch, bench, tall stools, cushioned seats, and even a piano! They present you with many diverse options.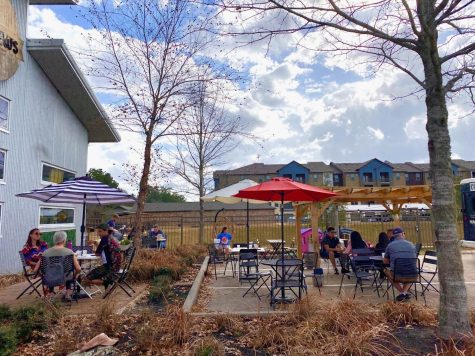 And speaking of options… their menu has an incredible variety of foods and drinks for you to choose from. Whether you want a hot coffee or a frozen one, HeBrews has it all. I ordered a Monte Christo Sandwich, for $8.75 (Swiss cheese, Ham, cream cheese in a Croissant with sprinkled powdered sugar and a side of Raspberry jam), and a Mini Chocolate Croissant, for $3.50. My mom ordered Avocado Toast, $7.95 (Avocado, bacon, feta, and sprinkle of everything bagel seasoning on a multigrain slice), and my dad ordered a Sausage, Egg, & Cheese Croissant, $8.95 (Sausage patty, over easy egg, avocado, cheddar cheese, arugula, and a Maple Dijon Mustard sauce in a warm Croissant). We also decided to share their signature Coffee Flight, $15.95. I tried a little bit of everything in order to give you my honest opinion.
I'm just going to say it, I LOVED the Monte Christo. The croissant was perfectly crispy and warm, and the melted cheese inside was extremely stretchy. The ham is thick, which adds a strong flavor to the sandwich. The powdered sugar, as well as the jam, makes a good balance between sweet and savory. I found it to be a perfect size. 10/10
The Mini Chocolate Croissant was interesting. I'd say it is a good dessert to end your meal with. The dough was softer than expected, and it had somewhat of a fruity flavor to it. However, the chocolate tasted great, and I appreciate the powdered sugar on top. I almost wish it had a little more chocolate. 8/10
The Avocado Toast was absolutely delicious. Mind-blowing even. It was creamy because of the avocado, yet crispy because of the bacon. It had the perfect combination of ingredients, and the feta cheese gives it some extra flavor. I appreciate the bacon being chopped since it makes it easier to bite into. Perfect size to satisfy you and your stomach. 10/10
The Sausage, Egg, & Cheese Croissant was marvelous. The croissant was crispy and warm, and the sausage patty was slightly spicy. The combination between melted cheese and avocado made it delicious. It tasted amazingly fresh, and it's a great size. 10/10
Lastly, their staple, is the Coffee Flight. The flavors change seasonally. This seasons are Midnight Chocolate Truffle, Salted Caramel Pretzel, Cinnamon Dolce, and White Chocolate Raspberry. If you're planning on ordering this, definitely share it with a friend because of its size. However, you can also simply order each flavor separately.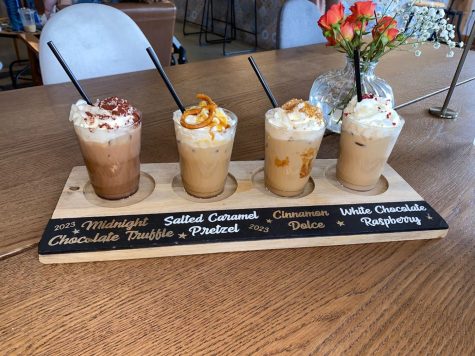 Starting off with Midnight Chocolate Truffle, if you are a coffee lover, this one's for you. It has a strong coffee flavor mixed with chocolate. The texture is creamy and thin. Because of the strong coffee flavor, it tastes slightly bitter, yet the chocolate brings back the sweetness. 10/10
Next is the Salted Caramel Pretzel, my personal favorite. It was all perfectly balanced. The caramel tasted delicious, and the coffee taste was strong, which I like in a drink. I found it just the right amount of salt to still keep the drink sweet. I'd definitely order a full size!10/10
Then we have Cinnamon Dolce. You can most definitely taste the cinnamon in it, which I love, but the coffee flavor was lost. I wish the coffee was more present. This drink also has some caramel in it, which is tasty, but made it a little too sweet for me. 8/10
Last but not least, White Chocolate Raspberry. I was surprised at how much you can actually taste the raspberry flavor, and it was yummy! Like before, the coffee itself got lost in the mix. It's a very sweet drink, but a good mix of flavors overall. However, the name mentions white chocolate, and I couldn't taste any. 8/10
Overall, I had an amazing time eating there. On a scale of one to 10, I'd rate it a nine. The environment is welcoming, as well as the workers, and it'd make a nice hangout spot for you and your friends to grab breakfast/brunch or just catch up!
"HeBrews Coffee" is located at 33130 Magnolia Cir Suite B Magnolia, TX 77354, and is open from 7:30 a.m. to 2 p.m. on weekdays and 8 a.m. to 1 p.m. on Saturdays.
Leave a Comment
Your donation will support the student journalists of The Woodlands High School. Your contribution will allow us to purchase equipment and cover our annual website hosting costs.
About the Contributor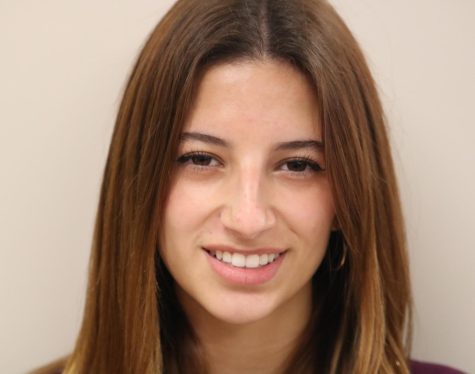 Lu Pangaio, Staff
This is Lu's first year with the TWHS Newspaper. She was born in Brazil. Lu is absolutely in love with all sorts of fashion and culture.