Kendra Scott opens new cafe
On Jan. 13, Kendra Scott opened up their new cafe "Sips & Sweets" in The Woodlands. Another location has been opened up in Austin, and this beautiful little addition to the shop has been added to our very own Kendra Scott in The Woodlands. In order for the shop to have enough room for a cafe, they moved their original location a few shops down, to give the cafe its own space in the store. This new opening has brought a fresh breath of air to Market Street in The Woodlands.
When asked about the inspiration of the store, manager of the Sips & Sweets cafe Alyssa Farney explains, "A homey-feel. Kendra Scott wanted to welcome people 'to her home' and give them sweets and drinks."
Kendra Scott created this beautiful new cafe for her store, to draw in more customers to her shop. She wanted them to be able to browse her lovely store and be able to stop, drink a coffee, and eat a pastry.
According to Farney, having a Woodlands location was, "A good opportunity to grow in the new market" and that Market Street was perfect for "this small store."
The Kendra Scott brand wanted to open another "Sips & Sweets" and chose the Woodlands as their next location. The Woodlands and especially Market Street, attracts many shoppers, so opening up a location here made perfect sense.
The new Kendra Scott location, along with the cafe, was stunning. Sun radiated in through the windows and reflected off the beautiful jewelry. The actual jewelry is shown in the store-portion of the business, while the cafe is solely for coffee and treats. The store had lots of white, pink, and golden colors, and also had beautiful tiles in the entrance of the store. The cafe's walls were decked in pink marble wallpaper, and the entire building had a light, airy feel, automatically drawing customers inside. Inside of the actual Sips & Sweets cafe is a lovely counter with different types of pastries to choose from, and two small tables for seating.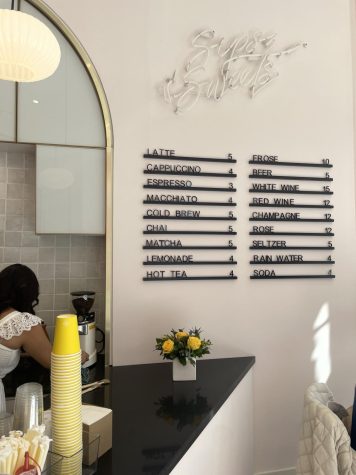 When it came time for me and my friends to order our food, the employees were extremely nice and helpful when choosing what to get.
I ordered the Iced Caramel Latte and had an orange chocolate bonbon, and my friends ordered the Cakesickle, a baby pink macaroon, a King's cake danish, and a sugar cookie. In less than five minutes all of our orders were ready.
My coffee was so amazing, and was just what I needed that day. I never order lattes, but this one was definitely a must-have. The bonbon was very light, and had a very sharp taste.
My friends tried the King's cake danish and thought it was great, and the Kendra Scott- designed sugar cookie was equally amazing. I also bought a moonpie for another friend, and she absolutely loved it. She said it tasted like "s'more".
Overall, Kendra Scott's Sips & Sweets is a location in The Woodlands that you must visit. This place is perfect for anyone who wants to go to a cafe and look for great jewelry while doing it.
Kendra Scott Sips & Sweets is located at 9595 Six Pines Dr, Suite 1010, and is open from 9 a.m. to 8 p.m. on every day of the week except Sundays- when it is open from 10 a.m to 6 p.m.