Assistant tennis coach wins award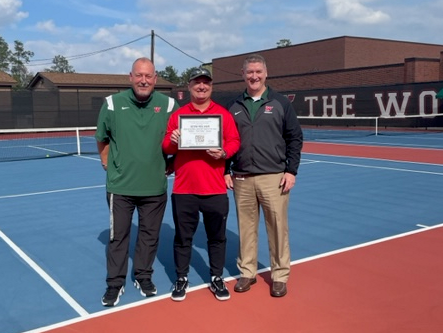 Assistant tennis coach Kevin McIlvain was awarded a prestigious award, the Region 6A assistant coach of the year. This has been McIlvain's second year coaching at TWHS. In 2016, he was awarded the 5A coach of the year  when he was at Seven Lakes High School in Katy.
"I was not expecting it," said McIlvain. "I didn't even know there was an award until they told me I won it."
The tennis team was very excited for their coach, and McIlvain could feel the pride their team has for him.
"The team is awesome. It was very nice to hear the applause and the support," McIlvain commented. "I was excited to win but it's an award for the team. A good team is the one that gets recognized so it's exciting to have a great team to be able to share this award with."
The tennis booster club hosted a small recognition to celebrate McIlvain's accomplishment.
"That was a nice little surprise as well," McIlvain said.