"Creed III" a ferocious return to ring
"Creed III" delivers a heavy punch of stylistic fight choreography and authentic plots and characters to leave all movie-goers satisfied.
"Creed III" is the return of our latest "Rocky" series protagonist Adonis "Donnie" Creed, reprised by Michael B. Jordan, who brings with this film his directorial debut. After retiring from the world of boxing, Adonis' childhood friend returns after serving 18 years in prison to get back into the world of boxing and become the title champion. Not long after reconnecting and being revitalized in boxing, the two become rivals and go head-to-head in the ring.
Considering the fact that Sylvester Stallone would not be reprising his role as Rocky in this movie, I started having worries about this film. I just thought that he would leave too much of an absence in the film, considering that he is the one constant. However, "Creed III" handles it well and feels full even without the iconic character, but that is not to say that he is not missed. I still would like to see his return in a future film, but for now, this is still Adonis Creed's story.
With that in mind, I've got to say that this film impressed me and brought fighting to a whole other level. Each time we saw characters enter the ring, it felt like a new boxing experience each time.
My last theater experience was "Ant-Man and the Wasp Quantumania", so to watch a movie as great as this was so relieving. Although, I was initially skeptical of the antagonist being a 'childhood friend' trope. Thankfully, it was fully subverted, and we were provided with a charismatic and all-around realistic antagonist.
As mentioned previously, Michael B. Jordan both stars and directs the newest "Creed" film, and after seeing it I can tell he has a bright future as a director. His stylistic choices, which are most prevalent during the fights, are just so incredible. I was in awe as I watched each fight, felt each blow, and was at the edge of my seat anxious about the outcome. All that being said, this film may just contain the best fight sequences in the entire franchise. That alone is worth the price of admission to this film.
As for his acting, Michael B. Jordan knocks it out of the park in this film. I've been watching his career evolve from roles in "Friday Night Lights" to being the sole focus of one of the most iconic franchises to ever come about. He knocks it out of the park with his range as Adonis Creed, showing such hot-headedness all the while becoming a more focused fighter and father as the films go on.
To top off the film, Jonathan Majors plays the friend-turned-rival Damian "Dame" Anderson, and showcases just how good of an actor he really is. With recent breakout roles in "Devotion", "Lovecraft Country", and as the main antagonist and one of the few great parts of 2023's "Ant-Man and the Wasp: Quantumania", Majors is on track to become one of this generation's biggest actors.
We see someone who is as menacing as Drago, but still has the likability of Apollo Creed both in and out of the ring. At the same time, he possesses the underdog feeling that Rocky once had. It really adds some humanity and depth to an otherwise unknown character and makes us still want to stay on Dame's side in a lot of parts of the film.
One thing that is worth mentioning is the focus of the story itself. These "Rocky" sequels could have fallen into the same situation as "Cobra Kai", where we see each season, in this case, films, simply be a continuation of the originals and nothing very new to come about. As I said before, this is the story of Adonis Creed, not Rocky. It's fair to say that the pitfall of being nothing but nostalgia is avoided. Not to say this problem loomed over the previous "Creed" films, but it's still worth mentioning.
When it comes to music, this franchise is extremely well known for having some of the most thrilling, exhilarating, and motivational music from any film in history. Thanks to these films we got songs like "Burning Heart", "Eye of the Tiger", and the classic "Gonna Fly Now".
"Creed III" produces a very good soundtrack that is true to the characters in the film, as each movie does. Now I am much more of a classic rock fan than a modern music fan, but this film's training montage songs, "Training Montage" and "Adonis Interlude", had me pumped up in the theater. I felt like getting up and running until my heart stopped.
Overall I am so glad that this movie was a hit with not only me but my dad too. This is extremely surprising because in my almost 17 years of living, I've never seen him stay awake during a film, but to my surprise, he did and actually loved the movie. If that's not convincing that this movie is good, I don't know what is.
In all seriousness, this movie is highly entertaining without lacking a great plot. It knows exactly what it wants to be and brings these boxing films to a whole new level, just like the first "Rocky" film did in 1976. I would highly recommend this movie to anyone, and I'd say to catch it in theaters while you still can.
"Creed III" runs 1 hour and 57 minutes and stars Michael B. Jordan, Jonathan Majors, Tessa Thompson, Florian Munteanu, Canelo Álvarez, Wood Harris, and Phylicia Rashad. Released March 3, 2023, only in theaters.
View Comments (1)
Your donation will support the student journalists of The Woodlands High School. Your contribution will allow us to purchase equipment and cover our annual website hosting costs.
About the Writer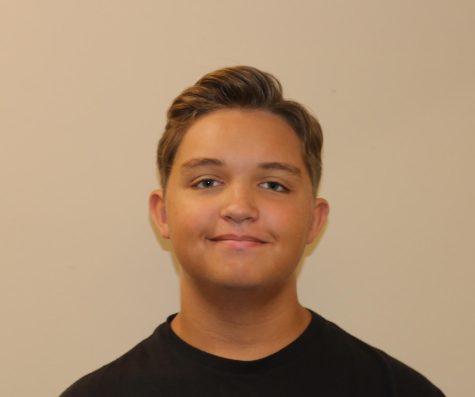 Patrick Sammon, Writer
After a year in journalism, junior, Patrick Sammon is onto his first year of newspaper. He has a dog and 3 older siblings, all former students of Mrs....