"John Wick Chapter 4" goes to new level of action
"John Wick Chapter 4" takes the series and action films itself to a level we have never seen before.
"John WIck Chapter 4" is the long awaited sequel to 2019's "John Wick Chapter 3: Parabellum" and its cliffhanger ending. We last saw the titular character (Keanu Reeves) defend the assassin hotel coined The Continental, against the High Table's foot soldiers. After then being shot off a rooftop and picked up by the Bowery King (Lawrence Fishbourne) to plan their revenge.
In this film, we see John Wick enact that revenge against the High Table, but more importantly try and fight for his freedom. A chance to try to rid himself of the world of assassins once and for all.
The past three films were no disappointment, and this one was leagues above the previous installments. I mean that in action, scale, cinematography, antagonists, story, and the list can go on and on.
While watching the movie, I couldn't help but be shocked by both the brutality and the creativity of the fight sequences. Some things we've never seen in the series before are just thrown into the mix here without being overwhelming.
Otherwise, the action is what we've come to expect from these films: getting run over continuously, jumping from near-death heights, fights around world-famous sights, and dogs. Without all these things we wouldn't have such entertaining action films with enormous impressions.
Just like the action and fun of the film, we of course have a star-studded and talented cast in the mix.
Keanu Reeves, the star of these blockbusters, does such a great job as always. His dedication is so clear to the audience, that there is no doubt he loves this character and the films. It really makes the viewing experience all the more lovable. He doesn't just bring his acting chops to the role, but his stunts and action ability too. It's a shame that in some cases we see actors who don't commit fully to the action of their films, but in this case almost all the action is clearly from Reeves himself. The audience will watch this movie and see that it's him driving, it's him using those nunchucks, it's him quickly firing his gun. The dedication of being the Baba Yaga, of being John Wick, is clear in Reeves throughout the entire two hour and 49 minute runtime.
As for the character of John Wick, we see him as we always have: ridding himself of High Table assassins and enemies every step of the way, while trying to find a way out. However, he is losing friends and places to go in the world. His connections are running thin, as well as his time. We see him try to make, what seems to be, his last ditch effort to eradicate himself of the assassin world once and for all. However, he isn't ready for the toll it may take on him.
As mentioned before, this is a star-studded cast, filled with returning and new cast members alike. None of them are out of place or misused, and they all fill a great importance to the story.
As the equal, and somewhat of an antagonist of this movie, we have Donnie Chen as Caine. Caine is a retired, blind assassin, who the High Table tasks with taking down John Wick along with their foot soldiers. He is a friend of John, but when it comes to protecting his daughter from the High Table he doesn't think twice. As dangerous he is, Caine is really the comic relief of this movie. I mean this is a good way, and not in the quippy, repetitive Marvel ways. He makes situations fun, like eating soup while fighting, or somehow being able to guess the cards in his hand. He is still a very big threat towards John Wick and his chance for freedom. When it came to the newcomers of the film, Chen was the standout.
Then there was Ian McShane reprising his role as Winston, the owner of The Continental and one of John Wick's only friends left in the world. Without spoiling some major moments in the movie, I do have to say that we see Winston in a much different, maybe even vulnerable position then the last three films. His good standing with the High Table is in even more jeopardy than the last film. It gives him more purpose to help John Wick than him just being an upstanding guy. Plus, there's something tragic that happens to him in the very beginning of the film that sets himself on the same path of revenge that John Wick embarks on. To avoid spoilers, I won't say what happened, but it's actually quite sad for not only the characters, but the viewers themselves. Overall, McShane did a good job as always, and he brought the class and professionalism of the "John Wick" movies with him.
We are introduced to a new character in the film, Tracker/Mr. Nobody, played by Shamier Anderson. He is another assassin after the bounty put forth on John's head, and he is accompanied by a ferocious canine dog. I thought that the introduction of this character may have been unnecessary at first, but throughout the film I started liking his character more and more. He goes through his own arc in this film of knowing what his true alliance is within the assassin world, and deciding what is best for him. The only downside I had for this character by the end, was the fear of his dog dying in the film. After the first "John Wick" I just wouldn't be able to handle it.
Now it's time to talk about the villain of the film, played by Bill Skarsgård. He is a really great villain in this film, and gives us a face to the High Table. His quarrel with John Wick comes from a very reasonable place. Him and the rest of the High Table are really fed up with John Wick's constant rule breaking and defiance. It's a very valid reason to want him gone, rather than being a generic motive or something we've seen before. Though, his personal flaws do outweigh his professionalism. As we see in the film, his stubbornness and egotistical manner make him vulnerable to John.
There is some very great camera work present in cinematography and the action sequences. It makes the action all the more immersive, with it feeling like a videogame for some moments.
The story itself is very straight to the point. I mentioned having the initial feeling of dread with the Tracker, simply due to him being a new character. The thing is that I felt that each time we saw a new character in the film, aside from Skarsgård's introduction. It was my biggest fear of this movie. Not having room to explore this story to its fullest, to the extent that it deserved. What this film did was make every single moment and plot point feel organic to the story. Instead of an unneeded character taking up screen time, I was intrigued. Instead of a fight scene feeling unnecessary, it felt needed for progression.
The ending for this film is very shocking and adds one final big twist to the movie that will leave fans with a mix of emotions. I wouldn't blame anyone for not liking it either, due to its nature.
After having sat thinking of this movie for a while now, I can only give it praise. It's a testament to film making to see four great films in one series released with consistent quality time and time again. It is definitely the best "John Wick" movie to date, and probably the best film of the year so far, tied with "Creed III" of course.
"John Wick Chapter 4" set new standards for the action genre, just as the first film did back in 2014. Almost 10 years later, it's clear the "John Wick" movies are still the best in its genre.
"John Wick Chapter 4" stars Keanu Reeves, Donnie Yen, Shamier Anderson, Lance Reddick, Ian McShane, Bill Skarsgård, Clancy Brown, Hiroyuki Sanada, and Lawrence Fishburne, now playing in theaters.
View Comments (1)
Your donation will support the student journalists of The Woodlands High School. Your contribution will allow us to purchase equipment and cover our annual website hosting costs.
About the Writer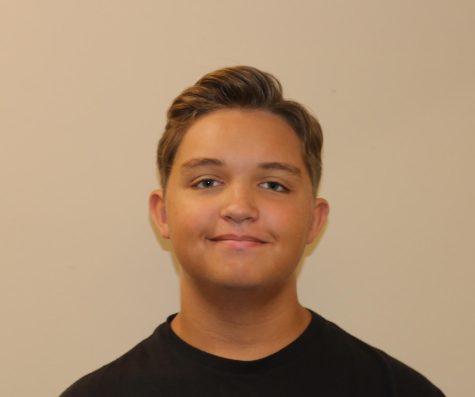 Patrick Sammon, Writer
After a year in journalism, junior, Patrick Sammon is onto his first year of newspaper. He has a dog and 3 older siblings, all former students of Mrs....