Barry Season 4 Premiere Non-Spoiler Review
"Barry" season four sets up a finale season loaded with the same darkly endearing storytellingstory telling that viewers have come to know and love.
Last season, Barry had been going through awful mental and real-worldreal world challenges. He had his old friend and mentor, Fuches, send the families of Barry's victims after him. He scared off the people that he cared for most in his life, his girlfriend Sally and acting teacher Mr. Cousineau. On top of all of that the FBI and LA police were getting closer than ever before to catching him..
At the end of season three, we see Gene give the performance of his life to trick Barry and put him behind bars for the murder of Detective Moss back in season one. In doing so it upends Barry's life and places him in a very unpredictable and isolating position.
Keeping in style, "Barry" juggles around the many plots and arcs of each character in their own darkly, comedic ways. Now the series puts everyone in their own unpredictable and awkward places.
Sally, portrayed by Sarah Goldberg, is on her own downward spiral. After finally having made it in Hollywood last season, to then losing it all, Sally's arc puts her in a position that mirrors Gene's fall from grace when he was younger. Just like Barry, she does have an uncontrollable side of thather she desperately wants to rid herself of. The only question isbeing: Can she tame this awful side of herself before she ruins herself completely, or is she really like Barry and destined to fall back into her bad habits?
Speaking of bad habits, there is still the bad habit of Fuches, played by Stephen Root.
Last we saw Fuches, he took the initial fall for the murder of Detective Moss and lied about his ties to the Chechen's, and in return gained a reputation as a not-to-be-messed-with assassin. After the outcome of season three though, he becomes imprisoned with Barry too. Leading to some awfully awkward moments between the twisted duo.
Fuches' constant back and forth with himself on whether he wants Barry to be his friend and be in a better lifestyle, or to be the biggest thorn in Barry's side and keep living his criminal lifestyle is so intriguing. Due to the nature of the series, it's also comedic gold. In the first episode of this season, it's shown in his indecision of wanting to help or bring Barry down in prison.
One person who knows exactly what they want with Barry is Gene Cousineau, played by Henry Winkler. Barry has looked up to Gene ever since season one, but after he found out he murdered Detective Moss, Gene pulls all the stops to make Barry's life miserable. First with setting Barry up to be arrested, to now trying his best to destroy what reputation he has as a "good" person. To see him go from Barry's biggest supporter to wanting to destroy him is wild. The only thing is that we don't know how far he may go with his revenge, and he doesn't even realize how dangerous the game he's playing is.
The scene stealer Noho Hank, played by Anthony Carrigan, of course, returns this season, and is just as great as always. AtIn the beginning of the season, Hank is returning back to life with Cristobal, after rescuing him from the Bolivians last season. Now that they seemingly have no one in their way anymore, they venture to make a more sustainable living for themselves and create their own criminal utopia.
Noho Hank has always been my favorite comedic aspect of the show. His delivery is always spectacular, and his nonchalant, yet fun-loving attitude in the criminal world makes him such a hilarious character to watch. For example, in the second episode, he plans a meeting between rival mobs at the only sensible location: Dave & Buster's. It's Hank's inability to mature in the criminal underworld that makes his character strong even after four seasons. His attitude is also his biggest weakness. In the life that he lives, he needs to be more conservative with his business practices, yet he just cannot mature to that level. With this being the final season, it's very possible that his personality can lead to his own undoing. Especially with who he sees as a best friend, Barry.
Barry's psych is so clearly astray. We saw glimpses of this in season three, but now he's becoming a full-on "psycho". This portrayal is both so enchanting, yet still sad for the viewers to see. When looking back at season one, we see someone who was ambitious, took care of himself, cared for others, and most importantly he wanted out of the life of a hitman. As each season progressed Barry both regressed and progressed as a character. Instead of being able to control his anger and let it out healthily, Barry becomes demented and just kills as a way to fix his problems. Now with his imprisonment, Barry has no cards left to play. There's no one left by his side. None of the people he loves even love him back. He's all alone now, but that just means he has nothing left to lose.
The turn from this internal to the external crisis has been maturing since season one. All expertly done by the co-creator, co-writer, director, and star himself, Bill Hader.
As we head directly into the final season it's worth noting that this show would never have worked without his vision and creative choices. He delivers a performance that balances the comedy and darkness all very well. In many shows like "Barry", there's never really a chance to evolve from what it once was, and then it gets stuck in a formulaic series that leaves viewers wondering what the point ever truly was. "Barry" doesn't get stuck in that hole and rather climbs up to give itself new ground. Instead of plateauing its development, characters, stories, and tone, we get a very diverse series that isn't afraid of becoming something different.
As a whole "Barry" presents an incredible two-episodetwo episode opening for its last hurrah. The comedy is still at its peak in performance and presentation. The same goes for the realism that "Barry" has always shown, even with its comedy. The balance between humor and realism mends together perfectly, with neither outshining the other.
It's very disappointing to see this series go into its fourth and final season, yet it's appreciated. I'm glad that it knows when to end rather than drag itself along for seasons without any self-respect.
"Barry" season four releases episodes weekly on Sundays on HBO and HBO Max. Starring Bill Hader, Sarah Goldberg, Anthony Carrigan, Henry Winkler, Stephen Root, Michael Irby, and Robert Wisdom.
View Comments(1)
Your donation will support the student journalists of The Woodlands High School. Your contribution will allow us to purchase equipment and cover our annual website hosting costs.
About the Writer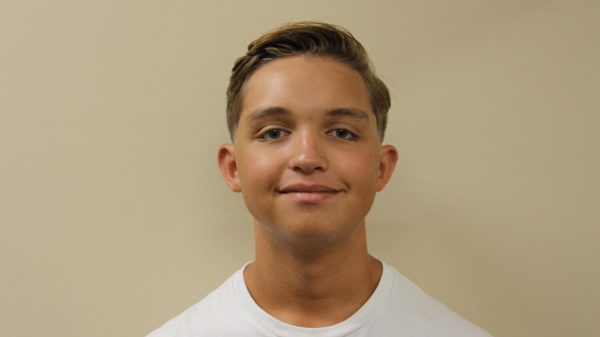 Patrick Sammon, Editor
Patrick is a senior at TWHS.  He is in AFJROTC and currently works as a head lifeguard for the Woodlands Township.  He loves to workout and write, most...