TWHS world guard takes 4th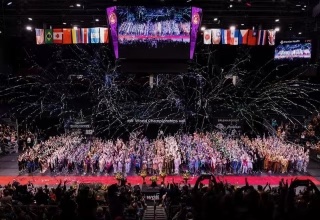 This year, the Woodlands High School Color Guard traveled to Dayton, Ohio to compete in the World Guard International Championships. Landry Rouse, Lieutenant officer of the color guard, helped guide her team to fourth place in the world charts.
"WGI championships -it's World Guard International Championships- so it's all of Color Guards around the world," Rouse says. "We're the highest rank that a high school guard can be in."
Color guard is a sport in which a team spins rifles, flags, and sabours, and also performs in a lyrical, modern style of dance. Every year, an important subject for color guard teams is the theme of the show.
"Our show this year was called 'How to Move'. We were basically just movers. We had dollies and on the dollies were these big foam boxes we could toss and dance on," Rouse says
Every year, the Woodlands High School competes in many rounds of competitions with consistently high scores. However this amount of success requires a lot of effort.
"We had 12-hour Saturday practices, but you know in the end it was always worth it," Rouse says.
The Woodlands High School Color Guard works very hard in all of their pursuits, and puts in many hours. Many of the members would agree that all of the hard work pays off in the end.
"It's just all the memories," Rouse explains. "In the end and having this experience, it's so much fun," Rouse says.
The positivity and excitement that the guard has for performing gives them confidence, and sends them to state with excitement. The guard also has a fun tradition for performing at World Championships.
"We all get light up cowboy hats 'Team Texas', and everytime we go out to perform they sing 'The stars at night are big and bright, deep in the heart of Texas.'" Rouse says.
The Woodlands High School Color Guard is used to competing, but World Championships is a completely different feeling.
"It's this really really big arena that holds like 15,000 people, and for finals all the seats were filled and it was just like insane. It really accomplishing knowing in there that you walk in there and every single person paid for a ticket to see you perform..they all sat in that seat wanting to be there to support us," Rouse says.
The World Championships is the most important competition of the year, that the guard works hard to prepare for in anticipation, and support is important to them. The entire competition experience is filled with emotion from excitement to nervousness.
"Before it is nerve-wracking… but after it's really accomplishing knowing we did the thing. We did what we need to do.'" Rouse says.
The atmosphere at World Championships is very positive, with lots of team support throughout the competition. After the guards compete, they are allowed to watch many of the other color guards perform.
"Being able to see the guards and watch them perform and cheer them on, it's always just fun. And at the end they were all there for us," Rouse explains.
In the Woodlands High School Color Guard leadership is highly valued among the team. Being a lieutenant in the color guard this year has been an exciting experience for Rouse, and even more so at World Championships.
Rouse says, "being on the leadership-side and being able to see what they went through last year, and being up in the front of the line for the retreat-it was just super fun."
As the competition neared its end and the teams awaited their results, they received amazing news. They had won fourth place in the world. They had also received the highest score a Texas color guard team has ever received at World Championships.
Rouse explains, "It was like insane. It was really accomplishing, and it felt like a really big step-up for the Woodlands."
To place in the world an enormous accomplishment. This was an incredible win and overall experience for the Woodlands High School Color Guard. One can only assume that they will find further success in the years to come.
"Yeah, next year's going to be a super fun and successful season," Rouse says.
Leave a Comment
Your donation will support the student journalists of The Woodlands High School. Your contribution will allow us to purchase equipment and cover our annual website hosting costs.
About the Contributor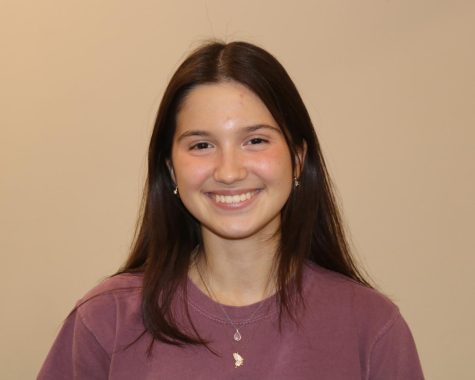 Caroline Salinas, Editor
Caroline is a co-editor for The Caledonian.  She loves to write and spend time with friends.  She will be writing stories and creating podcasts.