Jet's Pizza is a newly opened pizza place on 1488. It is a corner store across from HEB, operating in a similar fashion to Little Caesars. This of course means they only do carry out and delivery, but that shouldn't matter. What we care about is how good the food tastes, and that's what me, my sister, and my mom set out to find out.
Before we get to the food, it should be known now that this pizza is expensive. Not egregiously expensive, but still enough to be important. We ordered a large pepperoni pizza, two small personal pizzas, one supreme pizza, and one BBQ chicken pizza, which was one we had never seen before. These pizzas, and a side of cheese sticks and cinnamon sticks, all came to about $80 including tax and a $12 tip. To put this into perspective, the small supreme pizza came up to nearly $20 by itself. So while it isn't overly expensive, the cost is still a step up from other mainstream restaurants. But is the taste of the pizza worth it?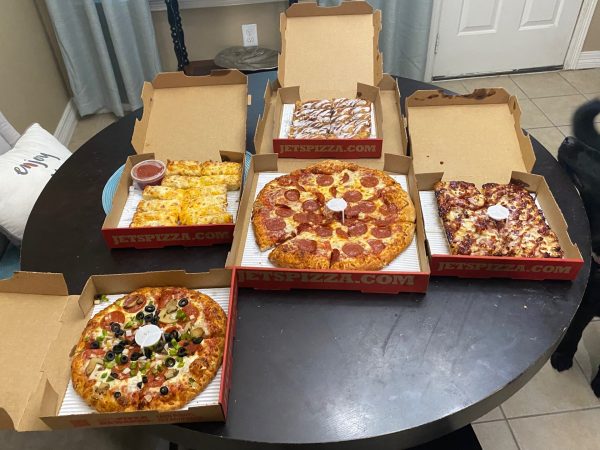 I had the luxury of first tasting both the standard pepperoni pizza and the cinnamon sticks. The taste of the pizza was solid, having some hint of it being homemade, similar to Digiorno or Red Baron. It was pretty thick as well, having a good cheese-to-sauce ratio. The sauce is also pretty good, with just the right amount of it as well. It is not too much to where one bite floods your mouth, but also not too little to where you only taste cheese.
The temperature of the pizza was also perfect. It didn't burn my mouth right after opening the box, and the pepperoni was not spicy in the slightest, which some brands still seem to struggle with. The crust hits that sweet spot where it isn't too crunchy, but also isn't a sponge. Though, I will suggest eating the crust soon to keep that balance, as it slowly hardened over time. Overall, a very solid start to this meal.
Now, for my choice of dessert, the cinnamon sticks: they were fantastic, to say the least. The icing was already put on in a very balanced fashion, with the cinnamon coat to the bread adding a lot of flavor.
My sister was the one to try their rather unique BBQ Chicken pizza and standard cheese sticks. The pizza had a good balance between every ingredient, including the BBQ Sauce, the cheese, the chicken, and the onions. Onions were never her topping of choice, but this pizza balanced it so well that she could ignore it while tasting some new and good flavor. The bread was squishy and soft. The cheese sticks were next, and we both came to a consensus that it was very solid. Nothing too special about it, but still very good to have as a side. It may cost three dollars more than Pizza Hut, but still great overall.
My mother had the supreme pizza, or the Jet 10.  She didn't have too much to say about it, other than the fact that the ingredients and topping tasted very fresh and good quality. While it wasn't as hot as she wished it would be, the taste of the cheese seemed to make up for it. She still had some complaints about the cost of it, but that's besides the point.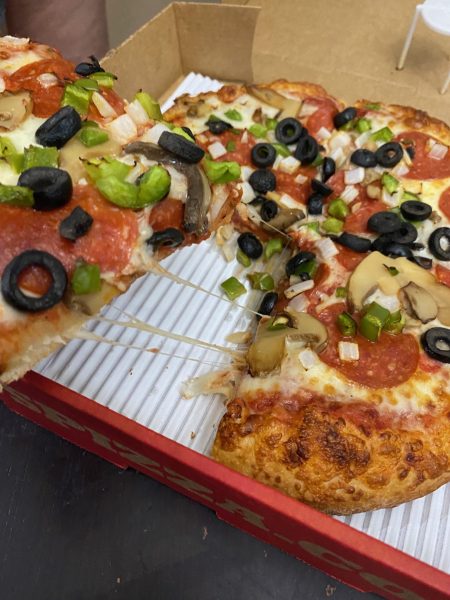 Of course, what we ordered wasn't all that they provide on the menu. They offer standard drinks, chicken wings, and a variety of dipping sauces. They also have salads, calzones, cookies and brownies, and a variety of different pizza combinations we had barely begun to even touch. Meat Lover's, BLT, Chicken Bacon, Hawaiian, and Veggie are just a few of the different combos they provide. If this doesn't cater to some of your other, more environmentally friendly friends, they even offer vegetarian and vegan options as well. A great variety for anyone.
Overall, Jet's Pizza stands apart from the other brands, but not in an overly flashy way. They offer a diverse menu, good service, and very good tasting food. Just be prepared to take a bit more out of your wallet than you'd expect to. The higher costs are worth it, however. So if you're looking for a very good pizza place, and are willing to spend a bit of a pretty penny, then Jet's is for you!
Jet's Pizza is open Sunday-Thursday 11-9 p.m., and Friday-Saturday, 11-10 p.m.