Local Table is a new, family- friendly restaurant that has recently opened up in The Woodlands, Texas. With other locations in Houston, Cypress, Fulshear, and Cinco Ranch, The Woodlands has just made its list. The restaurant opened up here on July 24, and is a fun place to try out.
Upon going to Local Table, the immediate energy that the restaurant gives-off is a calm and airy vibe. The entire space is open, and the sunlight fills the entire restaurant. As soon as you walk in, you know you are going to have a good time.
The interior design of the restaurant is urban. The walls are an off-white color, with royal blue used as a theme throughout the restaurant. There are bright, electric lights and washed down wood used throughout the restaurant as well. These elements all provide a very cool, calming atmosphere and each compliment the other.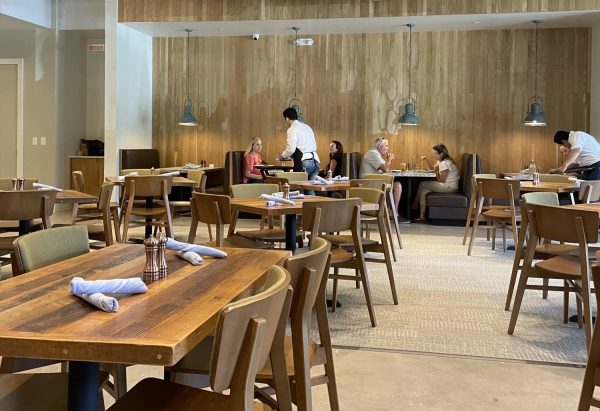 When we first walked into the restaurant, we were greeted by a kind and friendly hostess at the front desk. She was very helpful and made us feel very welcome.
Story continues below advertisement
After we were seated and got to take a look at the menu, there was a huge variety of options. The menu had brunch options, American-style food, Mexican food, sandwiches, and pizza. There were even vegetarian and gluten-free options. It was a menu that most people could find something to enjoy. Due to this, we were able to decide on what we wanted quickly. I ordered the Southern Crispy Chicken, my sister ordered the Southwestern Quesadillas, and my friend ordered the Chipotle Chicken Wrap with Homemade Chips. Our waiter was friendly and very nice.
The prices on the menu were reasonable and did not ask for too much. My meal and my friend's meal were $15, and my sister's meal was $16. While the prices are not as low as a fast food restaurant's meals would be, the prices are still agreeable.
While we waited for the food to arrive, the three of us girls sat and enjoyed each other's company in the restaurant. Even though we had come for a somewhat early lunch, there were still many people who came into the restaurant to enjoy a meal. Most of these people are adults, but the restaurant is still very family-friendly with games outside of the restaurant for kids to play with. We had a great time, and even enjoyed some Freshly Squeezed Lemonade, which was amazing and so sweet, but not not at all in an overbearing way.
Our table chatted for around ten minutes until our food came out, and when it did, we were beyond thrilled. Our plates were warm and smelled amazing. The food looked delicious, and we automatically felt that this was going to be a good meal.
My meal was great, but I thought that the best part of it was the sauce that was drizzled over the chicken. It was so creamy and delicious. It is definitely something I would order again.
My sister, Charlotte Salinas loved her meal and said, "This is everything a Southwest Quesadilla should be. So yummy."
All three of us girls agreed that the restaurant was great and is somewhere we would love to go to again. New businesses in The Woodlands are important, because they give all of these customers a new place to go to once they have gone to the same ones for many years. I believe that this restaurant would be a great location for families, older and younger couples, brunch dates, and even for celebrations such as birthdays. I personally would rate this restaurant at a 9.5 out of 10. Coming to Local Table was so special, and I can not wait to come again in the future.
Local Table is located at 4223 Research Forest Dr, The Woodlands, TX 77381, and is open Monday, Tuesday, Wednesday from 11AM to 9PM, Thursday and Friday from 11AM to 10PM, Saturday from 10AM to 10PM, and Sunday from 10AM to 9PM.