If you and your friend are hungry and you're both craving bowls, an impossible decision arises- Cava or Chipotle? Where are you going?
Two of the most popular fast food chains in The Woodlands, Cava and Chipotle, cause a lot of controversy over who is the ultimate self-serve style restaurant. Although the basis of the idea may be the same, these two chains have their differences.
Chipotle is a fast-casual Mexican restaurant that offers a "focused menu of burritos, tacos, burrito bowls, and salads prepared using classic cooking methods." They emphasize their ingredients as being very "real" and fresh. Chipotle doesn't have a traditional menu because they don't offer their customers pre-assembled food items. They simply place their organic ingredients in a display case where customers can view and select each, creating a bowl from scratch. Their many restaurants across The Woodlands offer a quick, efficient service that allows for an almost certain enjoyment of food because the ingredient assembly is up to the customer. The restaurant tries to make its appeal from the quality of its ingredients and service. Most of the time, they hold to this standard with excellent customer service and various fresh ingredients. Chipotle is a popular restaurant across our school, and it's normal to see students eating from the iconic beige bowls. Although Chipotle has been a classic for some time, a new down-the-line restaurant is coming after it in popularity.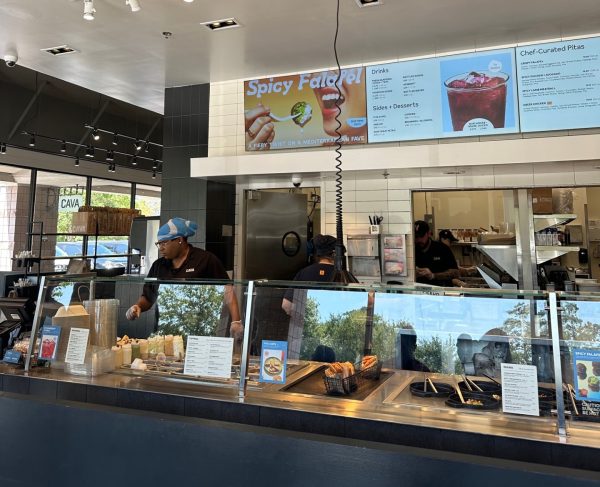 Cava is a "growing Mediterranean culinary brand with a healthy fast-casual restaurant experience featuring customizable salads, pitas, juices, dressings, & dips." Unlike Chipotle, Cava does offer pre-made bowls and salads. You can order the Harissa Chicken Bowl, but as the employee assembles it, you can customize it as much as you'd like. This is helpful for people who aren't sure what to put in their bowl, especially because Cava has what we may consider more exotic ingredients. They also allow you to make your own bowl, but many Cava fans find the appeal in the changing menu options that come with an explosion of Mediterranean flavor. Cava has many restaurants across our area, but they have opened more recently due to a rebranding that rippled across our area a few years back. Cava is owned by the Cava Group, which purchased Zoës Kitchen in August of 2018 and began a slow rebranding of each Zoë's Kitchen restaurant into a Cava. In The Woodlands, Zoë's Kitchen restaurants like those at Sterling Ridge Shopping Center and Woodlands Parkway closed and reopened as the fast-casual Cava in early 2022. Although still a relatively new chain in our area, Cava's popularity has skyrocketed and it is very uncommon to find an empty location. Many students are even opting for Cava over Chipotle when going out.
Will the up-and-coming Mediterranean restaurant chain be able to beat out the Mexican fast casual classic in student population popularity?
What do you think? Is Cava the healthier option? Is Chipotle the best option because of its simplicity? Is Cava better because of its sophistication? Is it too exotic for some? Is Chipotle overrated? Tortilla or pita? Black beans or lentils? Pollo Asado or falafel? Old or new? Build your own or pre-made? Mexican or Mediterranean?
Cava or Chipotle?
Sorry, there was an error loading this poll.