On Friday, Sept. 29, TWHS had their homecoming game against Grand Oaks at Woodforest Stadium.
While our football team might've been the main focus, this game was a special one for this reason: Students Lauren Stepanik and Bryce Walles completed the flyover before the game started.
How does a high school student become a licensed pilot, you might ask? Well, don't worry cause I've got you covered.
Walles and Stepanik are both seniors in the Woodlands branch of AFJROTC, which if you didn't know, stands for Air Force Junior Reserve Officer Training Corps.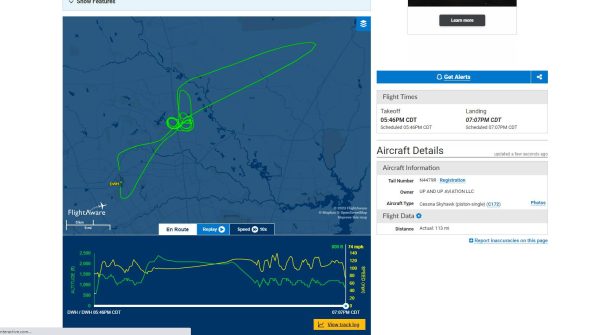 "It [AFROTC] has given me opportunities like the flight academy," says Walles.
The whole reason both these students joined the Corps was for the possibilities offered by the program.
"I think the aerospace class we took freshman year kinda helped us become more interested in it, same with the Young Eagles program" states Stepanik.
The Young Eagles program is a way for students to experience flying, and Lt. Col. McMartin is one of the pilots for it. Stepanik was one of the cadets who got to participate in it.
JROTC has also provided a way to get an actual pilot's license.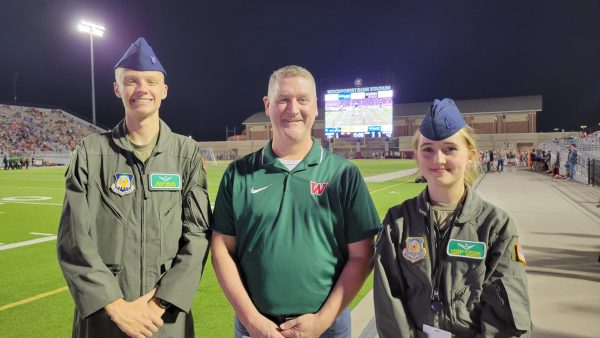 "I applied for the flight academy scholarship, I got it, and went to the University of North Dakota aerospace foundation in Arizona" says Walles.  "In 2 months we got our private licenses."
There are also different ways on how to earn your license.
"I did mine the opposite way of Lauren, I had the government pay for mine,"  says Walles.
Stepanik went a totally different route. Although JROTC has provided her plenty of opportunities, she got her license through the private sector.
In the end, they both successfully got licensed, without crashing, and are now able to show off their abilities in front of the whole school.
How did this happen?
"[Lt.] Col. just said that we are doing a flyover," states Walles.
And flyover they did.