There are a multitude of clubs within TWHS that allow students to experience various different activities with fellow classmates. Show your love for the cultures of the world with the various clubs sponsored by the language teachers, help create the next greatest shows with the Theatre Club, show your trivia and love for movies with the Film Club, or even surround yourself with the community of artists with the Art, Photography, and even the Creative Writing Club. But if you're looking for a place to tell enthralling stories, go on magical quests, or are just looking for a fun activity to spend with friends, then the D&D Club is the club for you.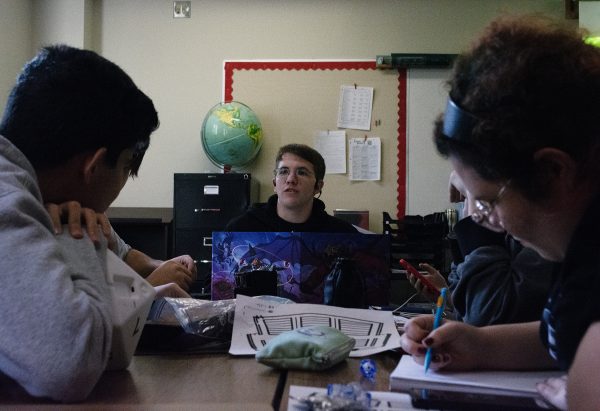 The club, sponsored by US History teacher Mrs. Rickman is a welcoming and beginner friendly club for those wanting to experience the game Dungeons & Dragons for themselves. For those who don't know, Dungeons & Dragons is a table top, role playing game that promotes the use of imagination and creativity to allow players to create fantastical characters and go on adventures. With the nature of the game, Dungeons & Dragons lets the hosts of these games (referred to as the "DM"or "Dungeon Master") create their very own, original stories with the tools that the game provides. Players are also able to affect the story itself in various ways, making it to where every story told won't be the same as the last. You could have one adventure that takes place in space where players go on a quest to find the answers of the universe, or another more traditional fantasy story to slay a fowl king, or even a story taking place in the High School itself where logic itself could possibly be flipped on its head. That's only scratching the surface of the amount of creativity in this game.
All players within the game are able to create their own characters, with their own stats, backstories, looks, and personalities with the character creation process the game provides. From a multitude of classes and races to choose from, every character can be unique in their own right. One character may be a hyper intelligent elven wizard, who deviated from his family's evil practices to explore the world and redeem himself. Another could be a huge orc barbarian, who thinks with his fist before his head. A dwarf cleric who uses the powers gifted to them by their god to aid their party members in combat. A feline rogue who uses their experience from their life of crime to pull off great stunts and be a master of stealth. Heck, if the DM allows it, you wouldn't even have to limit yourself to the races and classes the game provides. All of this character can be built upon the game's surprisingly in depth, yet easy to learn stat system, allowing players to create their ideal selves within the game without having to slave over learning the systems for days.
The club has a multitude of different Dungeon Masters within the club, so many people can join the club and hop right into a campaign with others. Everyone within the club is very welcoming to new players and are very helpful for the character creation process. It's a friendly environment that anyone of any background is allowed to join (except crack addicts). There aren't specific days that the club meets every week, since you'll show up depending on the days your DM is assigned, and every session starts around 3:00 and will last until 4:00 pm after school in Mrs. Rickman's room, 231. So you'll be able to come in almost any day of the week after school to get yourself a spot.
If you're looking for a welcoming environment to express yourself, make friends, and go on fantastic adventures, what more could you ask for than the D&D Club?