Post Malone's New Album Hollywood's Bleeding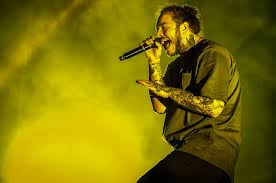 Austin Richard Post, or Post Malone, is a widely known rapper around the world. He has released many unique singles and albums that show his listeners who he truly is as a person. His most recent album, called Hollywood's Bleeding, was released Thursday, September 6, 2019, and has a very different tone and style from his other albums.
The album has a total of 17 songs and features artists such as Travis Scott, Future, and Ozzy Osbourne. Hollywood's Bleeding describes Post Malone's love for 90's rock, while also showing his real-life emotions in his day-to-day life, which is why listeners, like myself, have loved it. The different artists incorporated into the songs, like "Die For Me" featuring Future and Halsey, and "Enemies" featuring DaBaby, made many listeners excited to hear each one, as they were all recognizable and each part they sang or rapped was designed specifically for that person. Post Malone incorporated his personal music style into his album in a way that is distinct, and helps listeners understand him a little bit better.
The rapper put a twist on this highly anticipated album by giving it a more mellow feel, while also tapping into a 90's punk rock vibe. Each song has a different beat and tone to it, which is why with every new song I listened to I was eager to see how it changed from the last. By changing the music style of this album to something the rapper is very passionate about, listeners can really feel the hard work Post Malone poured into song like "Saint-Tropez" and "I'm Gonna Be".
In my opinion, "Hollywood's Bleeding" is a set of unique tracks that will definitely be hitting the top charts very soon.