Pep rallies are one of the most important aspects of our school pride. They bring together the many sports and organizations we love and cheer for. As the audience, we see only what is presented to us.
So what exactly goes on behind the scenes? Who plans these events? Who brings together these parts to make this grand presentation of school pride?
Well, there is a lot that our faculty itself does to make the pep rallies work.
Stuco Starts the Ball Rolling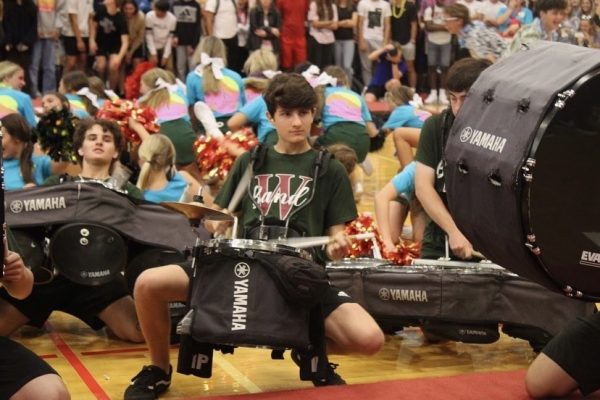 "I have a meeting the Tuesday before every pep rally, and I'm meeting with the head football coach, high steppers, cheer, band, and Dr. Landry. We all sit down with the pep rally schedule and we make sure it will flow, make sure that the things we're doing are fun, make sure we're not leaving anyone out." said Kristen Gartner, STUCO sponsor and teacher.
Of course there is the sports side of the pep rally.
"We try to recognize different sports at different pep rallies, so we have to figure out what sports are in season. So quite a bit goes into it." said Gartner.
"We plan out the pep rally minute by minute. We go 10:21 to 10:22 is the fight song, and 10:22 to 10:23 is the national anthem, and 10:23 to 10:24 is bagpipes," said Gartner.
This involves much insight from STUCO to help organize.
"Student council will go out and find the students and teachers who are going to be involved in that game. Then we meet on the Thursday before during advisory, so when we walk out there, there's not this "what am I doing" this way everyone know,." said Gartner.
Student Body President and school mascot, Timmy Prather has just as much to say for his own involvement.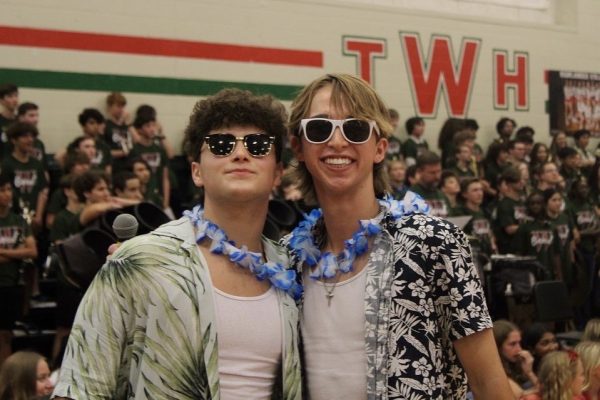 Mascot Mania
"The task of a mascot and task of the student body president kind of line up in some areas. I've had to make up student council games, as well as the themes." said Prather.
These themes are a huge part in the planning process.
"That's something we worked on a lot in the summer, to have that ready in advance. The beach pep rally is always the first one and homecoming is always western, so those are always set in stone, it's kind of just filling out the gaps for the rest of them." said Prather.
Those gaps take into consideration a few big factors.
"Most of the time it has to do with figuring out what would be highly participated in," said Gartner.
"What are good themes that we can get people to dress up for and for the people participating in the pep rallies to do something interesting for? How can everyone come and cater to this theme?" said Prather.
Prather gives some examples from previous pep rallies.
"So like circus, the cheerleaders did this really cool thing where they ended in a big circle, it was like we were at a circus. Then the high steppers did their blind folded danced." said Prather.
Prather elaborates.
"I just knew they were capable of taking that theme to the next level," said Prather.
"We decide what we want in it, like what do we want cheer to do? What do we want high steppers to do?" said Gartner.
How does this exactly affect the participating groups themselves?
Cheerleaders Chime In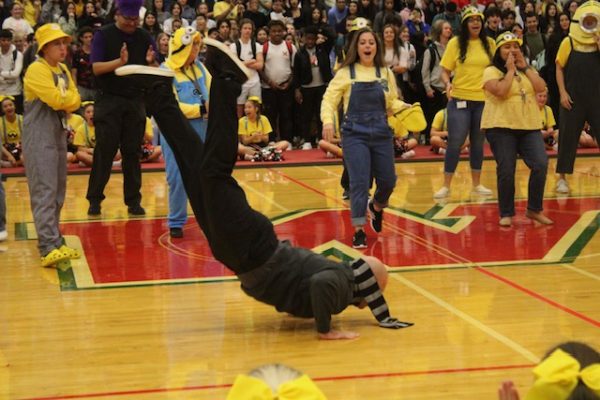 "Pep rallies take a lot more planning," said Cheer Captain Lexie McKellar.
"It usually starts three weeks before the actual pep rally. I cut all the music, make the songs for the dance, I spend time making up the dance in my dance room with our other Captain Nicole Evans and Jillian Sims, and we put all the formations together with the choreography. Then about two weeks before the pep rally we'll go in with everybody and teach it to them." said McKellar.
The same can be said for Highsteppers and Captain Grace Bernard.
Highsteppers kick it in
"Two weeks before the pep rally we'll start staying after practice until 6 each day. It gives us extra practice for our dances we perform until the pep rally itself comes around." said Barnard.
In no way are these efforts overlooked by the players these pep rallies support.
"Even though we're the ones playing the sport I think it's just as enticing and draws the students in as well." said senior linebacker Luke Smith, #14.
Smith speaks for the rest of the players in their gratitude for the pep rallies.
"Thank you to them, it does benefit our team for sure, and I think that all sports can relate." said Smith.
With relevant, intriguing themes and exciting activities, pep rallies have an important role in our school. The dedication and heart in these pep rallies are apparent not just in the gyms, but on the field too.
However, they wouldn't be anything without the people behind them, so it's worth shining the light on those who make it possible.