Rise Soufflé is a local French restaurant that opened in Creekside Forest during Spring 2023.
Upon entering the restaurant you are greeted by a mix of modern and rustic French decor. I went on a Saturday afternoon with my mother and grandmother. The restaurant was quiet and played soothing French music, making it a perfect family-friendly environment.
The hostess greets you in French and takes you to your table. We sat at one of the booths. The waiter was kind and patient, he explained the dishes on the menu along with some off-menu items.
The food is prepared in a very clean open kitchen. For appetizers, I ordered a Marshmallow soup (tomato soup with mini goat cheese souffle). The soup was delicious and thick, and the goat cheese marshmallows gave it a fun and delicious touch. We accompanied the meal with some amazing homemade fresh lemonade.
After that, I had the off-menus Crab souffle. It has a very vibrant taste and soft texture, but it can be mildly spicy. My mother and grandmother had the Jambon and Gruyere (hand and cheese) souffle; the fluffy texture had a light taste with the cheese adding a kick.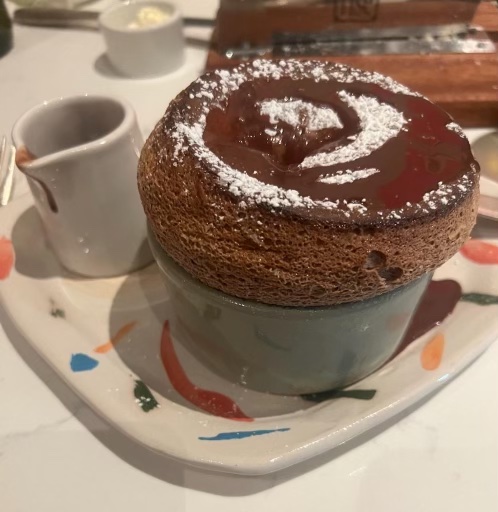 Lastly, we all shared a Chocolate souffle and a Lime souffle. The chocolate souffle was out of this world, it is soft and rich in flavor, but not too sweet to where it catches your tongue. As for the Lime souffle, it has a key lime pie taste, but with the softness of a souffle, you just keep wanting to go for another taste!
You are not put in any rush to pay. The food quality is amazing, but for the portion size, it can be expensive. When leaving the restaurant instead of mints you get a little paper with an inspirational quote. Overall Rise Souffle is a great place to go with family and friends, and it is a 10/10 experience!
Directions: 26435 Kuykendahl Rd Suite 100, Tomball, TX 77375