"Yesterday" great for today or tomorrow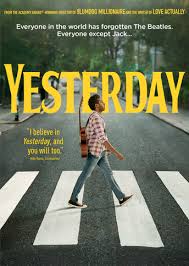 If you're a fan of The Beatles, music, or are curious to know a little about the band, then "Yesterday" is the movie for you. While it is not technically about the life/career of the band and its members, it still introduces someone into the world of The Beatles and lets someone like me, a giant fan of theirs, sit back and listen to some of the best and most iconic songs in the history of
music.
Directed by Danny Boyle, "Yesterday" revolves around a struggling English singer-songwriter named Jack Malik. Malik is a very talented musician with an incredible voice, but his career at this point peaked at kids birthday parties and festivals. One night, he is biking home when all of the sudden all of the power in the entire world goes out. He falls off his bike and ends up in the
hospital, not remembering what had happened at all. He soon discovers, when he decides to sing the iconic song "Yesterday" to his best friend, Ellie, and her family, that nobody in the world knows who The Beatles are. They asked him when he wrote that song and he was astonished to learn that they had never heard it before. And after a quick google search of "The Beatles" and
with no results coming up, he realizes that his world has changed forever.
The movie revolves around Malik going around, trying to remember all the lyrics to their songs, and performing them to the entire world. By performing all of these perfectly written songs, Jack Malik becomes an overnight sensation, and the biggest musician in the world.
In my opinion, the acting in the movie is very nice. Himesh Patel plays Jack Malik in the movie, and he does a very nice job singing (you can listen to the audio track on Spotify with a simple search of Yesterday Sound Track). The movie doesn't really have any "house-hold names" (despite Ed Sheeran, but he isn't an actor obviously) but even with this, I believe that everyone
did a really good job in the film.
While not all of The Beatles song's are in the movie, and it's
missing a numerous amount of their most popular hits, such as Eleanor Rigby, the movie still does a really good job at showcasing the band's more popular songs: ones like "I Saw Her
Standing There", "Something", "Here Comes The Sun" to their not so known ones like "Carry That Weight" and "Back in the U.S.S.R."
As very big fan of The Beatles, I really enjoyed watching the movie. Unfortunately, there aren'treally any movies documenting the life of The Beatles like there is for Queen with "Bohemian Rhapsody" or for Elton John with "Rocketman", I liked how there is finally
something for The Beatles. While it may not be the documentary type movie I was hoping for, I still really enjoyed and appreciated the fact that they made a movie that appreciated their songs and promoted them to people who may have never heard them, such as the younger generation.
If you want to watch Yesterday, you can find it on YouTube, Google Play, Vudu and Amazon Prime for $20.00 or on Hulu and HBO Now if you have a subscription for either. The movie isn't long either, topping out at an hour and 57 minutes. So sit back, relax, and get ready to listen to some of the greatest songs known to man.