Vick's Texas BBQ is rib-tastic
In what has been nothing short of a tumultuous school year, it certainly didn't hurt to learn there was a new BBQ place opening in 1488-conveniently close to my home. It had been several months since my family and I last had the BBQ dinner package from HEB, so I was certainly curious to see the buzz growing for Vick's Texas BBQ.
Located at the Knights of Columbus Hall in Conroe, the food truck restaurant officially opened business on September 19. Headed by Greg Vick and his family, a TWHS family, its open window hours vary, but usually fall within the range of 12-8 PM. It's opening day of Sept. 19 was a massive success, as they sold out within six hours of opening.
And boy, did they deliver.
I was lost in the chaotic shuffle that was its opening evening, surrounded by strangers circling this towering black truck, but connected to them through our shared passion for warm, delicious BBQ on a crisp Texas autumn evening.
After being greeted by the energetic, friendly customer service of the Vicks, my wait was awarded with my order, consisting of various meats, juicy brisket and chicken, tender ribs, and pork. Given how my order was intended to feed my family of five, the cost was, as expected, not the cheapest-but on the whole, the food truck business certainly offers attractive individual plate prices.
After a car ride which saw me constantly tempted to steal a bite of the pork, my family and I finally began chomping down on this authentic Texas BBQ. The results were as expected, of course, with no trace of food left and plenty of full bellies around the family dinner table. The brisket was moist to the right degree, the pork to die for with its savory taste, ribs so tender they fell from their bones-a feat which I thought differentiated Vick's from many of the BBQ places I had previously eaten in-and even its spices and sauces complemented the overall experience in quite the positive manner.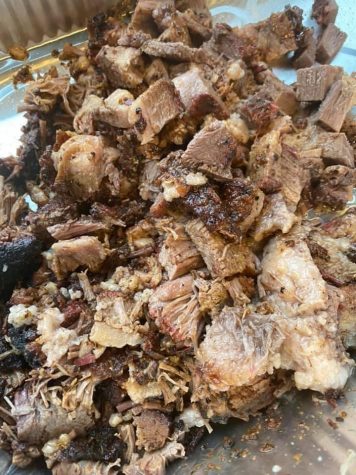 Through November, the truck will head up to the Ren Fest, so if you're up there, be sure to check it out inside the Ring of Fire campground 6 p.m. – midnight. The first weekend of December, the truck will return to Conroe.
I would certainly strongly recommend Vick's BBQ to those craving juicy meat, brisket, or chicken. Aside from supporting a fellow TWHS family, it certainly pays off to enjoy some authentic Texas BBQ amidst a year like this. Overall great eating experience, great atmosphere at the food truck, and great service.
5/5 stars.
Check them out for catering events too -email them at [email protected]
Vick's Texas BBQ, 2655 FM 1488. 936.697.2207
Leave a Comment
Your donation will support the student journalists of The Woodlands High School. Your contribution will allow us to purchase equipment and cover our annual website hosting costs.