Sapporo Isakaya serves sushi, smiles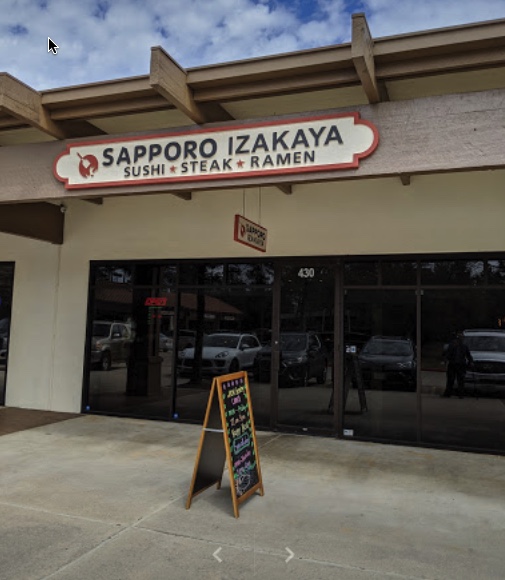 Spring Break 2021 consisted of me morphing into a couch potato and scrolling through social media sites while internally screaming out "why aren't we going on vacation?" But alas we are still in a Panorama? Parallelogram? Perpendicular? Oh yeah, Pandemic. My family decided to take a break from our spring break adventures and renovate our house, to satisfy our boredom as we took the precaution to avoid traveling and stayed in our own quarantine bubble. Our daily routine consisted of sleeping in until 11 in the morning, working on various projects my mother "assigned" to us, watching a marvel movie as a family, and going to bed at 2 in the morning.
Flash forward through the slowest days and fastest week passing by, I felt my phone vibrate in my hand, Em (my best friend), was calling to warn me she was pulling up in front of my house and taking me out to lunch. I scurried to get ready and look put together I had allowed myself to stay in the same pajamas days on end, with a messy head of tangled hair, and bags under my eyes from my effort to avoid sleep even though I got the whole week off to get sleep. I threw on a nice outfit, instagram worthy I might add, and hopped in her car to drive around the town for our own adventure.
After 12 years of knowing each other, our minds have formed a telepathic connection which allowed us to both crave sushi. With the helping hand of Google, we arrived at a Japanese restaurant with a bright logo on the overhead that read "Sapporo Izakaya Sushi Steak Ramen Restaurant."
Princeton psychologists have come to the conclusion that it only takes a tenth of a second to form a first impression; putting my brain to the test, I noticed the Maneki-neko or the cat figurine with a waving hand typically found in Chinese and Japanese culture. With that warm wave, along with the bright-eyed smile from the lady at the front desk (because of masks) I felt welcome in this semi-full walk-in restaurant. Seated at our table, we were handed menus that lacked the official business look and more a word doc. spreadsheet hidden behind a blurry laminate divider, and greeted by a friendly-faced waiter. After ordering drinks and receiving them in what felt like half a second, Emily and I scanned the menu for a dish that called our attention and our taste buds to order. The menu items were cheaper than I had expected, especially at a sushi restaurant, which was splendiferous to my wallet and my almost non-existent bank account.
I ordered the Shaggy Dog Sushi Roll (13.95, for 1 roll which contained 8 slices) and the Small Chicken Fried Rice (6.95); Emily ordered the Crab Puffs (6.50 for 5), Gyoza (6.50 for 6), and the Small Chicken Fried Rice (6.95).Although I was impressed that our waiter attempted to memorize our order, she unfortunately had to return to the table to have us repeat our lists, which was frustrating due to the fact that our stomachs were screaming in pain and our minds resembled a zombie-like state chanting "food" "me hungry". The Shaggy Dog was a sushi roll filled with avocado, cucumber, and shrimp, that was then decorated with strings of crab and a spicy mayonnaise sauce on top. This might have been one of the best sushi rolls I have ever had the pleasure of encountering, and on behalf of all the taste buds that fill my tongue, I want to thank the whole kitchen staff for their amazing work. The Small Chicken Fried Rice was not small in any way, filled with peas, carrots, and a dash of butter, it expanded my stomach by twice its size, forcing me to unbutton my pants secretly under the table. With the challenge of using chopsticks, I force fed myself rice because of the exquisite taste it left in my mouth, which eventually turned into me switching to a fork to scoop more and more rice from the bowl and into my open mouth.
I can't speak for Em in the sense of how her food tasted exactly but from the look of her across the table, she appeared to have a big smile and a thumbs up which meant she also enjoyed the food.We paid our cheap bills, thanked the waiters, the comfortable cushions in the booth, the quiet but current music playing, the fast service, and the small, tidy, COVID accommodating restaurant and drove off in a food coma.