The Rojo y Verde Mariachi is the Mariachi Ensemble for The Woodlands High School, who recently received their new uniforms. This is the third year that the Mariachi has been at TWHS. The Mariachi group this year is very motivated to grow and learn more about Latin culture outside of school.
"Which is very great because it isn't something that a lot of schools do and it's something very new for a lot of them especially if they're not part of the culture and haven't experienced it before," Mariachi director Christian Ponce said.
Along with learning about Latin American culture, it allows the students to enjoy the experience of playing Mariachi music.
"I decided to join because it's a group that represents my culture and is a genre of music that I enjoy," senior Delia Garcia said.
Garcia plays violin in both orchestra and mariachi.
"I really enjoy Mariachi music and playing as a Mariachi group. I thought it was fun,"  sophomore John Michael Calhoun said.
Senior  Samantha Lorenzo has been with the group since the start.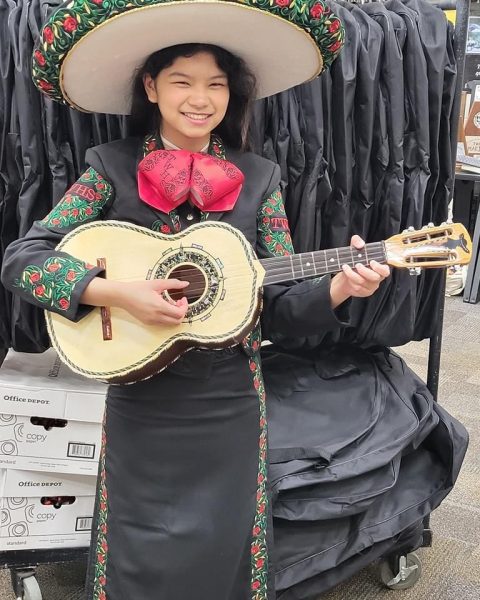 "My favorite part is playing with all my friends," Lorenzo said. "We're like a constantly growing family.  It's something I look forward to at the end of every week."
Last year, the members of Mariachi would wear their Mariachi t-shirt. Now with their new uniforms, they are wearing a more traditional outfit.
"It's another step forward, it sort of makes it more real to the kids," Ponce said.  "It sort of raised the level of professionalism a little bit in our group."
Mariachi performed at the Orchestra concerts last year as well as having the first one of their own at the end of the year. They will have two concerts, one in the Fall, on Oct. 12 in the TWHS auditorium, and one in the Spring, though they are still going to perform with the orchestra.
"We're gonna try to move into our own little realm of doing our own concerts and stuff," Ponce said.
They will have several performances outside of the school including, several elementary schools for their Hispanic Heritage Month, or Day of the Dead, and other festivals, before UIL competition events in the spring.