Robot food delivery in Mozambik a fun oddity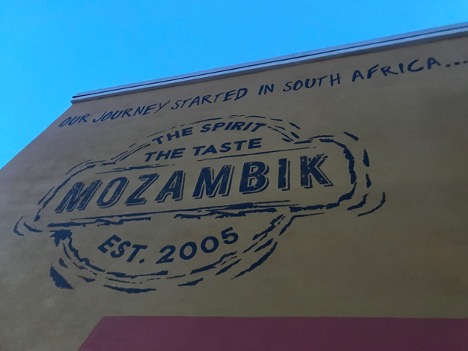 Journalism assignments are typically just writing. But this time, we were asked to go eat somewhere over Spring Break. I didn't know where to eat, but luckily my dad had the perfect suggestion.
Mozambik, a South African restaurant, was close to our hearts, my Dad and his family being from South Africa. We drove to the restaurant, my phone fully charged and ready to take pictures and my stomach ready to eat good food.
Upon arriving, the building was painted with fun, bright colours and the name. You are brought into the mood of the restaurant before even walking through the door.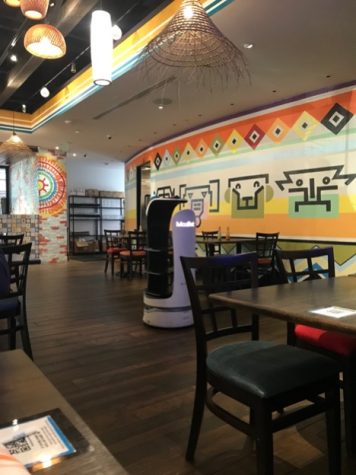 Walking in, you see a welcome sign, as well as more colourful art, and even a glass panel made to look like Nelson Mandela. The restaurant was a standard size, but most tables were empty. Only three other tables had people at them.
One, a crying baby. The sound was shrill and I was worried that the people would be there for the entire duration of our meal.
We were seated quickly, at a table of our choosing and given menus right away. We were asked for drinks and our waters were brought shortly. The atmosphere, apart from the screaming baby, was pleasant and calm.
When our food came, we got a fun surprise along with it. A Bellabot, a delivery robot for restaurants, brought our food out. These robots have been seen all over the internet, but I never expected to be able to see one.
The robot has a catlike appearance, looking like several platforms stacked on top of each other, unseen wheels at the bottom, and a screen with a cat face and catlike ears protruding from it. Because these were for the restaurant Mozambik, MozBot was inscribed on the back.
Being a cat-lover, I was instantly enamored.
I decided on the Hanging Skewers (Espetadas) of steak with sides of Steak Fries and Fragrant Rice ($39).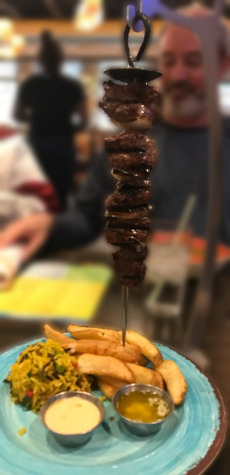 My dad ordered the Shrimp and Chicken Curry ($19), a signature dish at Mozambik, and my mum ordered the Seared Scallops Trinchado ($23). We ordered our food and waited. The wait was a bit long, but not so much that it was lamentable. The waitstaff were pleasant, but not super sociable.
One downside is when the robot brought the food, we had to wait for a human server to take the food off of the platform. Nevertheless, it made my experience much more enjoyable. I felt like an old person astounded at the newfangled technologies, eagerly taking pictures of the robot.
My food was plated nicely, with the skewer actually hanging from a metal bar, instead of just lying on the plate, and the fries and rice framing the plate. The plate itself was colourful and a pretty blue.
The meat was delicious, not too chewy, not too hard, and perfectly cooked and seasoned. I ate the whole thing quickly. The fries were good as well, I liked the flatness of them and the fact that they weren't coated in grease. The rice was a tad bit too salty, but still good.
Both my parents said that their meals were slightly cold, likely because they waited until my steak was cooked before bringing out any of the food, but still not bad. The scallop dish was a lot creamier than expected.
While the meal was expensive, the steak more than made up for it in my opinion. It was the best steak I've had in forever.
They don't have much business at the moment, so if you want good food, go to Mozambik! They are open Monday-Thursday from 11:30am – 9:00pm, Friday-Saturday from 11:30am – 10:00pm, and Sunday from 11:30am – 8:00pm. They accept both cash and card, and no reservations are required.
Overall, it was a pleasant experience for me and I'm glad I went. We probably won't be back for awhile, on account of the prices, but the delicious food will draw us back again sometime. I would absolutely recommend trying it out! 4.5/5 Stars.