TWHS Alum Stars in Footloose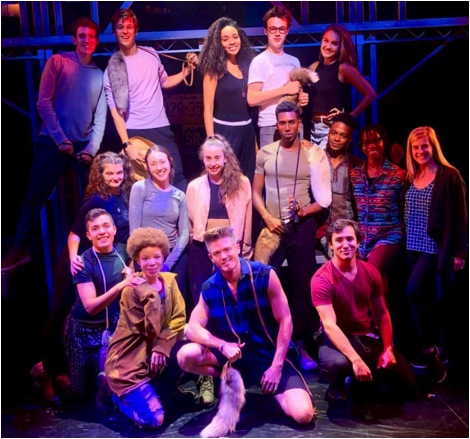 Peter McPoland is running when he answers his phone. Granted, he's running everywhere from dance auditions to acting tape sessions to practice for Footloose at the Kennedy Center in Washington, D.C.
TWHS alumni, Peter McPoland, is playing the part of Willard Hewitt in the Broadway musical Footloose which opens Oct. 9, 2019 at the Kennedy Center in Washington D.C.
"[Willard Hewitt] is comic relief. He's not the brightest…or essential to the plot but he's funny. He brings enjoyment to the show." Peter says.
In order to land Willard Hewitt, Peter McPoland sang the song It Takes Two in Hairspray, sent a video of him performing lines he was sent twelve hours before in an acting tape, and attended a dance audition.
" I was definitely lucky getting a role this soon. The first two months [of auditions] was definitely rough," McPoland says. "Constant auditioning, not getting any calls…it's hard."
Alongside Peter McPoland, J. Quinton Johnson, Isabelle McCalla, and Michael Park are some of the many talented actors and actresses on the cast. Three-time Tony Award Rebeccca Luker and four-time Tony Award nominee Judy Kuhn will also be starring in Footloose.
"[Working alongside the] Tony-award nominees is definitely cool. Everyone is super helpful and nice." McPoland said. "However, rehearsal can be very intimidating. I'm the only one who hasn't gone to college, and everyone else kinda knows each other from different programs and stuff. You know, everyone comes in with their lines already memorized and…it's really hard."
Peter McPoland has been acting since he was nine years old with The Woodlands Class Act.
"I played ensemble roles for the first seven years." McPoland laughed. "The bartender, the small roles."
When at The Woodlands High School theater, Peter played a variety of roles: Mayor Shinn in Music Man, Rails Head in Guys and Dolls, Prince Eric in the Little Mermaid, Romeo in Romeo and Juliet, and Jimmy Ray in Bright Star.
"While the high school theater definitely prepared me for [Footloose and other professional acting], there is a definite transition between acting for a high school audience and the Kennedy center. If I was to handpick a role for myself, I would have chosen Willard Hewitt. There couldn't be a better part for me." McPoland said.
Footloose is running from October 9-14, 2019 and tickets range from $59 to $175 dollars at the Kennedy Center in Washington, D.C.