Alum performs at legendary comedy shop "Second City"
Picture yourself on the same stage as comedy legends Tina Fey, Amy Poehler and Aidy Bryant. A microphone and bright lights.  An audience.  Now think about trying to be funny.  TWHS alum and current senior at Columbia College-Chicago, Shelby Steele can do more than picture it – she's done it. She's currently studying comedy writing and performance while minoring in voice over.  Steele recently performed at Second City in Chicago as the capstone of a semester-long program.
 Second City is a comedy club based in Chicago with theaters and classes in Toronto, Los Angeles, and New York.   Steele described Second City as a "comedy mall."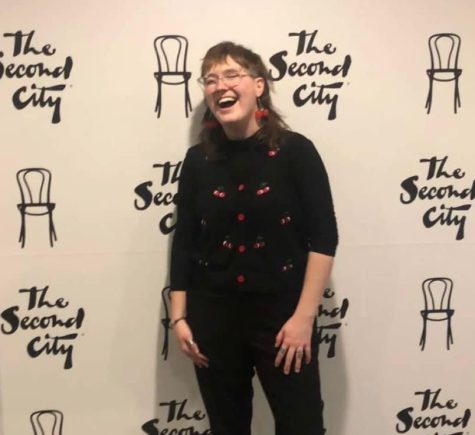 "The Second City building has a multitude of theaters," Steele said.  "All things comedy, under the sun, are in that building." Second City has launched the careers of many famous comedic actors – John Belushi, Bill Murray, Gilda Radner, John Candy and Martin Short to name just a few more.
Preparation for her role was very intense, according to Steele.  Columbia College Chicago offers opportunities for comedy students similar to a semester abroad in which she spent a whole semester working with Second City for 4-5 days a week. 
Within the program she took a number of classes ranging from songwriting to the history and analysis of modern comedy, to clowning and experimental impressions which she applies to her day-to-day life, especially when hosting her podcasts. As the performance approached at the end of the semester, the cohort compiled all of their favorite sketches to display everything they've learned throughout the semester. But how did she get to where she is today?
During high school, Steele started in the improv troupe her freshman year and continued all four years along with theater and choir, and she attributes some of her success to those experiences. 
"All of those things worked in tandem to get me to where I am because I still use aspects from all of them," Steele said.
Her high school improv troupe director, Matthew Peters, has fond memories of Shelby's time in high school.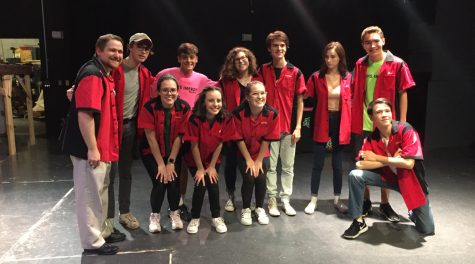 "Anytime we played Storybook [an improv game]," Peters said. " She was so great at it and her energy during that game couldn't be matched." 
Because comedy is such a unique profession, how does she come up with so much material? Experience and notetaking is Steele's best friend, and she uses those to her advantage.
"There are  always ideas surrounding me," Steele said. Even through the bad situations, she finds light within them. 
"In the moment, it might hurt so bad but I know later I'm going to find some morsel of joy in it and I'm going to celebrate getting out of it," Steele said.
Throughout her short career, Steele has experienced the highs and lows of the comedy industry. One thing she admires most about comedy is how it brings people together. Steele finds that "there is such a power in laughter."   In addition to being able to act in something she and her peers have written, she has the ability to write things that pique her interest.
"
 "I get to put my best foot forward and I get to present what I think are the best parts of me. It's a beautiful way of expression." 
— Shelby Steele
According to Peters, it's Steele's work ethic that will take her far.
"Honestly, it's her willingness to take notes and improve that was her biggest strength. She was always looking to be better and wanted to be the best she could be," Peters said.
In addition to comedy, Steele works at her college radio station, WCRX 88.1FM, as a production director. Within the radio station she hosts, writes, and produces two podcasts; "She/Her/Hers" where they cover many things regarding what it means to be a woman in today's imaginative environment  and "Closet Clues" which is a comedic take on queer history.
Steele will continue to work hard on her craft.
"Somebody's 'no' is 10 other peoples' 'yes'," Steele said. "Keep trying new things, never settle, utilize what you have around you now and try new things, you either learn that you love it or you hate it." 
Leave a Comment
Your donation will support the student journalists of The Woodlands High School. Your contribution will allow us to purchase equipment and cover our annual website hosting costs.